After my brother's birthday and the weekend full of family visits, I went to Texel for 5 days with my parents. Texel is one of the Dutch islands (like Vlieland and Terschelling). Texel is the largest of the islands, and the easiest one to reach from my parents. My dad had to wait for their new kitchen to be delivered on Tuesday morning, so my mum and I travelled there by train, ferry and bus. We rented a small bungalow in Landal Park de Sluftervallei.
It was a very rainy day, but by the time we reached our bungalow, it started to clear up. We had only just arrived when these two pheasants decided to pay us a visit. I had a new lens with me (a Canon 75-300 mm telezoom), they were perfect "victims" to try it on 😀
We rented bicycles, and I decided to go for a bike ride after dinner. I cycled to the north tip of the island, where the lighthouse is situated. I also cycled past the ferry "terminal" for the ferry between Texel and the next island (Vlieland). This ferry is only for pedestrians and bikes, and is used a lot by people who are "island hopping" by bike. This is something I would very much like to do one day 🙂 In summer, all the islands are connected by small ferries, so you can cycle from island to island without returning to the mainland.
The sun came out eventually 🙂 I cycled back through this tunnel of trees, with wildflowers on the sides – so pretty.
The next day I went cycling with my mum. We followed the cycle path along the edge of the dunes, until we came to some stair leading to the other side. Here we went for a walk along the Slufter, a dune valley where the water is connected to the sea and experiences tides. It started to get quite warm, and we really enjoyed watching all the birds and flowers along the path. We even saw a spoonbill (lepelaar), a very pretty bird that unfortunately I didn't get a good photo of.
After our walk, we cycled to the small airport where there is a nice cafe with outside terrace so we can see all the small planes land and take off, and people parachuting. Pity my youngest brother couldn't come to visit us, he just got his small plane licence! Our visit turned quite strange when we witnessed a parachuting accident – the parachute got tangled in its lines and the guy came down upside down. He came down so slowly and (seemingly) controlled, that I thought he was an acrobate who did it on purpose. We didn't see his landing as it was behind a building, but he was taken away by helicopter ambulance a while later. From what we've heard and read, he was lucky – he was conscious and had feelings in arms and legs after the crash, but complained of pain in his back. In the local newspaper it was mentioned briefly as a "unhappy landing" so I think everything ended relatively well, but it was strange to witness something like that.
Anyway… in the mean time my dad had driven to Texel and we cycled back to our bungalow to meet up with him. After some sunbathing in the garden, I took my parents on the same bike ride I took the previous evening. This time the ferry to Vlieland was about to leave, it was fun watching all the cyclists getting on board!
It was a really nice evening, and I decided to cycle to the beach to watch the sunset. It was so beautiful and calm there… only a few people left, some fishing boats close the beach, and no wind at all. A couple of people were fishing from the beach, it was fun to watch them – and with the new lens I can be paparazzi without them noticing 😉
The next morning it was rainy, a perfect time to visit Ecomare. This museum is most famous as a seal sanctuary, it takes cary of several baby seals that are orphaned, as well as older ones that can't be released (due to illnesses/handicaps that they wouldn't survive with in the wild), but it's also a really great museum about the nature on Texel and the Wadden Sea. We spent several hours here, it was really interesting 🙂
In the afternoon it suddenly cleared up completely, and after an early dinner we decided to go for a bike trip. We cycled along the dyke, full of wildflowers (and sheep), with the sea and lots of birds on the other side – so pretty!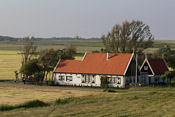 We visited Oosterend, a small village built around a church. Really nice 🙂
It was a beautiful evening and to our surprise we found a cafe that was still open – time for ice cream and cold drinks before the last kilometres to our bungalow. Well-deserved after nearly 30 km of cycling after dinner!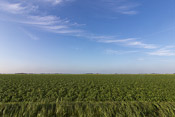 The disadvantage of staying on the north side of the island, is that it's quite a long way to get to the southern part (about 25 km). But my dad had a solution: he managed to put all three bikes in the back of the car, and we drove south to a nice place to start a bike trip from. Our first stop was Oudeschild, the only real harbour on Texel. It was nice to watch people work on the ships, maintaining the nets, etc. The boats here mainly fish for sole and plaice on the North Sea, and there are several shrimp boats that let you join on their trip. You can read more about fishery on Texel here.
The day started grey, but it soon cleared up to a warm and sunny day. We watched a navy boat come in (the Dutch navy has its headquarters in nearby Den Helder), and a fishing boat coming back. Most of the fishing boat are beam-trawlers (80% of fish caught by the Dutch is caught with this technique), some are now replaced by pulse-trawlers which use (weak) electrical shocks instead of heavy weights to get the flatfish from the bottom – and is therefore friendlier to other marine life living at the bottom of the sea.
We cycled to the beach on the other side of the island, and passed this lake full of birdlife on the way.
It was warm enough for some paddling in the sea, but we could see some threatening clouds on the horizon. We decided to make our way back towards the car just in case. We found these heath spotted orchids (gevlekte orchis in Dutch) in a field along the way. Unfortunately we didn't manage to escape from the rain shower, although by the time by had all our rain gear on, the rain had stopped already 😀
We spent some time in Den Burg, the capital of Texel. Quite a nice place! After some shopping, and a coffee/tea break at a bakery, it was time to cycle back to the car.
The next day it was time to leave Texel… it was a beautiful sunny day but VERY windy so it wouldn't have been good for cycling anyway 😉 It was sad to leave, Texel is such a nice place, and I could have easily spent another week there.
It was a perfect little holiday, but that evening it was time to fly back to Tromsø – with a suntan and many good memories 🙂