Pallas to Hetta: 4 days of skiing in Finland
It's become one of our traditions to go on a longer ski trip around Easter. This year we had planned to return to the area near Abisko, where we went last year, but the weather forecasts looked terrible: rain and strong winds for days on end 🙁 One day before departure, we decided to change our plans and head to Finland instead, where the weather looked very promising 🙂 We chose the Pallas-Yllästunturi National Park , a 5 hour / 400 km drive from Tromsø. We drove there after work on Wednesday, and spent the night in a cabin in Muonio.
Here's a map and height profile of our trip – click to enlarge…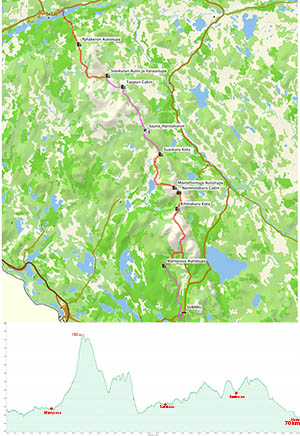 Day 1: Car park to Mäntyrova – 11 km (3.5 hrs)
We visited the information centre at Pallas before finding a car park and starting our ski trip in the late afternoon. It was cloudy and warm – it even started to rain after a while. Never mind, we knew this was the last day with this type of weather – plenty of sunshine was forecasted for the following days! The warm weather and old (melting and soft) snow did give us some headaches with waxing our ski's. I was lucky on the first day, as I had a mysterious mix of old layers of wax that miraculously worked perfectly, but Paul struggled to find something that would work. Just before 19:00 we reached the Mäntyrova Wilderness Cabin, which to our surprise was still empty – this national park is very busy around Easter. Two minutes later, a Finnish girl arrived at the cabin. She was very friendly and we enjoyed sharing stories all evening. She had come from the opposite direction and was a great source of information on cabins and trails that we were planning to visit. Nobody else joined, and we went to bed early that night.
Day 2: Mäntyrova to Suaskuru – 26 km (12 hrs)
The next morning we found out that the weather forecast was correct: sunshine! The rain had turned to snow during the night, and it was really beautiful around the cabin…
The Finnish girl told us that the summer trail over the Pallastunturi mountain near the hotel had been prepared as a ski trail, and that it would be a beautiful route on a sunny day. So we skied to Pallas Hotel (4 km from the cabin) and started our way up the mountain from there.
Actually the track up the mountain hadn't been prepared, but there were tracks from other skiers, and with our ski's with metal edges we don't really need a maintained track anyway.
The views were great…
Going up was no problem, going down was a lot harder – at least for me. The snow was icy in some parts, while in other parts there was a crust through which you could fall into much softer/wetter snow – quite a challenge, and not always that much fun. We were glad to reach the Rihmakuru "kota" – a large wooden tent with a stove in the middle. We took a long break here to eat lunch, and enjoy the sunshine.
We considered staying here for the night, but it was only 3 km to the next cabin, which we had heard was brand new and beautifully located. So after a while, we dragged ourselves out of the kota and back on our ski's…
We didn't regret it, as the weather was gorgeous and the views were fantastic. We took lots of photos, but it still didn't take long to reach Nammalakuru Wilderness Hut. This hut only opened in late October 2013, it's brand new! It has a locked half where you can reserve a bed (for 10 euros), with place for 12 people. The other half is open and has room for 20 people. All open cabins are totally free by the way – quite amazing!
We got there at 18:00, and the only other people there were a Finnish couple who appeared to have just had a fight (?) – which made the atmosphere a bit strange. We were well rested after our long lunch break, the sun was still shining and it didn't take long to decide that we could continue a bit further. The next cabin was only 1 km away, though this one was much older and much smaller…
It didn't have a gas stove, only an open fire place, and only room for about 4-5 people. While we sat in the cabin contemplating our plans, a group of 4 guys came in, intending to spend the night there. In the Finnish cabins it's the last person who arrived who had the right to a bed – based on the philosophy that others will have had a break and can continue to the next cabin. We didn't fancy the idea of sharing this tiny cabin with 4 large guys, and we should have really decided to ski back to Nammalakuru at this point… but we were a bit ambitious and decided we could ski another 7 km to another kota.
Half of this route was an annoying downhill on a narrow scooter track through the forest – but luckily the snow here was firm enough to walk on, so I took my ski's off and just walked down 😛 At the bottom we joined one of the maintained tracks, which made our progress a lot faster. We were getting tired and hungry though. We were relieved to reach Suaskuru kota, but a bit discouraged when we found out that a group of 8 Scouts (age group 13-15 years old I think) were staying there, and that this kota had an open fire inside. The scouts asked if it was ok for them to stay, and of course we weren't going to send a whole group of kids away 😉 but we were not really up for skiing another 5 km to the next cabin, so it was going to be a tight squeeze.
The open fire meant we couldn't prepare dinner very easily (so instead we had the next day's lunch and snacks…) and it also meant it was really smokey inside. Oh well, we were tired enough to sleep like a log – we had skied 26 km that day, on challenging trails!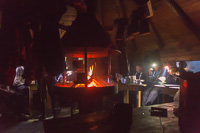 Day 3: Suaskuru to Sioskuru – 17.5 km (9.5 hrs)
The next morning was sunny again 🙂 The only problem was that we (and all our stuff) smelt like a campfire :S. We had originally planned to do a loop in the national park, and return to our car by ski's. Since we had pushed so far north yesterday, we started thinking of just continuing all the way to Hetta (or Enontokiö, not sure why it goes by two names). This would mean no boring backtracking on the same trails, and having new terrain in front of us, but it also meant we'd have to find some way to get ourselves back to the car in the end – worst case it would mean a 100 km taxi trip.
We started our day by skiing the 5 km to Hannukuru Wilderness Hut. Here there were lots of facilities: a large reservable wilderness hut, a large open one, a kota, AND… a sauna! 🙂 It was the middle of the day and the place was deserted. It had also started to cloud over, and there was even some light rain – what a perfect time to have a sauna, to get rid of the campfire smell and to get clean!
We really enjoyed the sauna, and didn't see anyone while we were there. Just when we were getting ready to leave, two groups of skiers arrived, all keen to use the sauna. Lucky for us, as we had enjoyed having the sauna to ourselves, and lucky for them, as they arrived to a sauna that was already warmed up 🙂
The Finnish girl in the first cabin had told us that the landscape just north of Hannukuru was really beautiful – and indeed it was! We left in light rain, but after an hour it cleared up and we had sunshine again…
Just after that panorama was taken though, we were hit by very strong headwinds. Force 7 means resistance while walking, so we reckon it was at least force 8 😛 It was tough, slow-going but also quite spectacular. I wish I could have taken photos, but I was afraid that the contents of my bag would blow away as soon as I opened it! We had a short break at the cozy Tappuri Open Wilderness Hut. There was an old man there, who seemed very friendly but unfortunately didn't speak a word of English. If we wanted to reach Hetta the next day, it would be better to continue to the next cabin (3.5 km away). We hesitated because of the strong winds, we'd have to climb up to the open terrain again before reaching this cabin. But luckily the wind wasn't so strong anymore, and we reached Sioskuru Open Wilderness Hut within an hour.
This cabin had a reservable and an open part, and we shared the open part with one Finnish lady. We enjoyed a good dinner and went to bed early.
Day 4: Sioskuru to Hetta/Enontekiö – 15 km (4 hrs)
The next day started really sunny again, and we had breakfast outside! It was lovely to sit out of the wind in front of the cabin, and after a while the first people on a daytrip from Hetta passed the cabin.
By the time we left it had gotten a bit more cloudy, but it was still a nice day. The route went uphill at first, but later it was downhill all the way to Hetta. We stopped halfway, at the Pyhäkero cabin, which had a cafe! 😀 Unfortunately our 5 euros only bought us one slice of cake, but it was still nice.
After the short lunch break we skied all the way to Hetta. There were large flat bits in between the downhill sections, and with the very soft snow it was hard to get some speed. In the end we had to resort to the skate-skiing technique, which our ski's are not really made for – but it worked a lot better 🙂 We reached Hetta by around 15:00. It was Easter Sunday, and everything was closed. We knew the national park visitor centre should be open, but we didn't know where it was, and my phone was nearly out of battery. Luckily we managed to find out that the visitor centre is 1.5 km east of the town centre, and it was indeed open 🙂 the helpful girl behind the desk told us there were no more busses that day, but she had a list of taxi drivers we could call. In the end we paid 135 euros for the hour-long drive back to the car – but I think that still worked out cheaper than staying in a hotel, and getting a bus + taxi the next day.
We really enjoyed this trip, the Finnish hut system is perhaps our best discovery this year 🙂 I would love to come back in autumn, but apparently that's also a very busy time. Perhaps January would be a better time for our next visit, they have tykky here too – see here for some fantastic photos taken during the polar night.