Cycling around Hiiumaa (Estonia)
(Better late than never right? This cycling holiday in Estonia was 3 months ago…)
We visited Estonia in early May, and after a few days in very pretty – but very touristy – Tallinn, we left for a cycling trip to an island called Hiiumaa. We rented bikes from Citybike who are based in Tallinn. They are excellent! They can arrange almost everything. You can book complete trips with accommodation included, but we decided to design our own trip. We arranged a transfer from Tallinn to Haapsalu, an easy cycle away from the ferry to Hiiumaa.
Here's a map of our 5 days of cyling… (click to enlarge)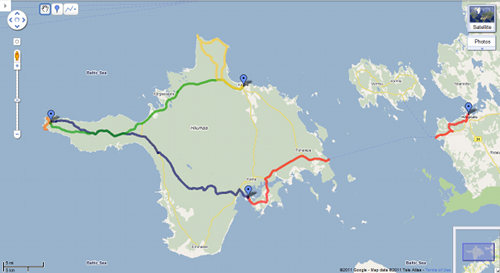 Day 1: Haapsalu to Orjaku (36 km of cycling, plus a ferry crossing)
We had visited Citybike the day before, and picked up our panniers so we could pack them with our clothes and quite a lot of food. We knew we'd be staying in quite remote areas without many facilities so were took almost all the food we needed with us. We left the rest of our luggage behind at City Bike.  Toomas (the owner) drove us and two Russian ladies to Haapsalu, which took about 1.5 hours. From there, it's 10 km to Rohuküla, from where the ferry to Hiiumaa departs.
I managed to buy a gps map of Estonia before we left Norway. This was quite a challenge as the Garmin website (and instructions) were only in Estonian, and credit cards were not accepted for payment, but the customer support people were really friendly so I managed in the end. I had preloaded our planned routes into the gps as well. This was a HUGE advantage on our trip, as we never had to study the map. The gps even worked as a satnav, and came up with alternative route suggestions if necessary.
After a quick stop for lunch at a supermarket, we left Haapsalu. It looked like a really nice town, full of colourful wooden buildings housing art galleries and cafes. Too bad we had a ferry to catch! Just outside Haapsalu we came accross the old train station (not in use anymore) from where there used to be direct trains to St Petersburg. Now there is a museum and lots of old trains on display. The second photo was taken just before the ferry crossing – lots and lots of wood coming from Hiiumaa.
The day had started grey, but on the island we had sunshine. It wasn't very warm though, we were actually really happy that we brought gloves with us! After the cars from the ferry had passed us, the roads were almost empty and the cycling was very easy.
When we crossed the bridge to the Kassari peninsula, we noticed lots of people. They were all fishing 😀 This turned out to be a very popular activity on Hiuumaa, the only times we saw lots of people were at fishing spots…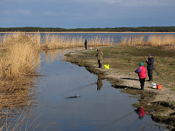 We reached our accommodation in Orjaku at around dinner time. We stayed in wonderful Dagen Haus, a beautifully renovated old building. Look at that window in our bedroom… I could watch that view for days! We were the only guests, and we used the kitchen to make dinner. Afterwards, we went for a walk along the water. This area is perfect if you like bird watching 🙂 I wished we could have stayed there longer, it's one of the prettiest areas of the island.
Day 2: Orjaku to Ristna (52 km)
The next day we woke up to… SNOW! Can you believe it? It was wet snow and luckily not sticking on the ground, but this shows what the temperatures were like. The owner of Dagen Haus prepared a really nice breakfast for us, including a large slice of cake :D. By the time we left, the snow had turned to rain. Our destination of the day was the western tip of Hiiumaa, and to get there we took minor roads through the central part of the island. These are all dirt roads, and with the rain we ended up caked in mud…
Still, it was nice cycling through the countryside, with very nice farmhouses.
After a while, the countryside gave way to a forest. There were hardly any houses in this part, and we didn't see anybody for hours.
Later on we joined the main road again and shortly after we reached the Kõpu peninsula. The road here was asphalted, and very straight. It was a bit of a tough day, with so much rain and quite a distance to cover. We were really glad to reach the Kõpu lighthouse, which was open AND it had a cafe! Tired, cold and hungry, we couldn't believe our luck 🙂 The tourist season had only just started, the lighthouse had opened just 2 days before, on the 1st of May. There were 2 guys in 2 separate parts of the building: one selling tickets to visit the lighthouse and also running a small tourist shop, and one running the cafe. I honestly think we were the only tourists on the island that week so I bet they were glad to see us 😛
After a nice meal of sausages and fries, we visited the lighthouse itself. Kõpu lighthouse is one of the oldest lighthouses in the world, built in 1531. A very interesting building! We enjoyed our visit, even though it was cold and windy on the top. From our tickets, we could see we were visitors number 2 and 3 that season, no surprise 😀 but I do wonder who the first one was!
From the lighthouse, it wasn't very far to our accommodation. We rented a cottage from the owner of Dagen Haus, the small Puumetsa cottage. On the way, we passed a small farming village where we found this Russian phone booth. The other photo shows our cottage, very pretty! It had a fireplace, and a wood-fired sauna, which was excellent at the end of such a cold and wet day 🙂
Day 3: Around Ristna (about 10 km)
We booked the cabin at Ristna for 2 nights, so that we could spend some time exploring the area. Close to the cabin, we came upon this abandoned Russian building. Estonia was part of the Soviet Union from 1944 to 1991, and you can find traces of this everywhere around Hiiumaa. On the walls of this building were layers off wallpaper that were peeling off, and underneath were Russian newspapers from the 80s. This illustration is about the Falkland War…
We also visited this Russian watchtower. Paul was brave enough to climb to the top, I didn't like the look of the falling apart building and preferred to stay outside. Afterwards, we visited Ristna lighthouse. This one also opened on the 1st of May, but we couldn't find any sign of somebody to buy tickets from. The door was open though, so we climbed the tower anyway.
When I came down, somebody had arrived so we bought our tickets 😀 She also ran a small cafe which unfortunately didn't serve warm food yet, instead we stocked up on crisps as we were quite hungry!
Afterwards, we went for a walk along the beach. We hardly saw anybody all day, it was lovely. Close to the sea we found this funny hairy flowers.
Speaking of flowers, here are some more flowers I found on Hiuumaa. So pretty!
Here is Paul cycling back to our cabin at the end of a fun day 🙂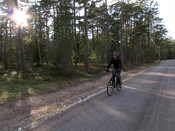 Day 4: Ristna to Kärdla (47 km)
The next morning the sun was still shining and it was noticeably warmer. We had breakfast outside, with this view overhead…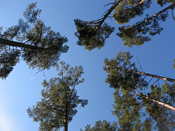 The cycle from Ristna to Kärdla was really pretty, especially when we followed minor roads through the forests. We found this windmill, slightly falling apart. We also visited the Hill of Crosses, an impressive place full of crosses made of natural materials. If it's your first visit to Hiiumaa, you're supposed to add a cross to the hill. You can read more about the origin of this place here.
We reached Kärdla, the capital of Hiiumaa in the early evening. What a nice town! It mostly consists of detached houses with large gardens, and it feels more like the countryside than the capital. We stayed in Nordtooder, a hotel right on the central square. It's really nicely decorated. They were just changing ownership, and the restaurant wasn't actually open, but it was a very friendly place. In the evening we tried to go out for dinner, but everything closed very early as it was still off season. Finally we had a burger in the supermarket cafe 😀 and bought some more munchies and a game of dominos to entertain ourselves in our hotelroom.
Day 5: Daytrip from Ristna to Tahkuna Lighthouse (47 km)
We had breakfast with pancaked, yum! It was served by one of the owners, a very quiet man. Suddenly he grabbed a guitar and started singing. The song was in Estonian so I have no idea what it was about, but it was beautiful and full of nostalgia… so beautiful. What a surprise, a serenade for breakfast 😀
We started our day by visiting the tourist information, where they were very happy to see us, and really helpful 🙂 We also went to the bus station, where we were supposed to leave our bikes later in the day, to be sent back to Tallinn by cargo bus. It was a bit of a hassle, as they said the bikes would have to be packed in cardboard, but luckily a quick phone call with Citybike sorted everything out. After buying some food for lunch, we were off on our daytrip to the Tahkuna peninsula.
We took a small road through the forest and reached the northern part of the peninsula relatively fast. Our first stop was the lighthouse 🙂 A very pretty white one. The top had been replaced at some point, and the old top was standing in the garden.
The views from the lighthouse were very nice, you can see a lot of the coastline with beautiful sandy beaches and the forests behind. After our visit, we had lunch on the beach with a nice view of the lighthouse.
But first we also visited the memorial to the MS Estonia, a ferry that sunk on 28 september 1994, killing 852… I remember watching the news of this terrible accident back then, I was 13.  Tahkuna was the nearest bit of land to where the ship sank, that's why the monument has been placed here.  It's a bell hanging from a cross, and apparently the bell starts ringing in strong winds. That must be eerie… The bell had childrens faces, obviously modelled from a doll.
There are many Soviet bunkers on the Tahkuna peninsula, and all of them are open for exploring! You're even encouraged to bring a headtorch and have a look around. And so we did… of course these bunkers have been stripped from almost everything they contained, so there is not that much to see. I can't stand walking around in these cold, dark, concrete buildings for very long, but they used to have electricity so perhaps it wasn't so bad back then.
Most of them are small, but we also visited a large one which had several floors. Suddenly we heard voices in the distance… you'd never believe it, but a whole group of DUTCH students was entering the bunker with a tour guide. During our entire stay in Hiiumaa we didn't meet a single tourist, but here in an underground bunker we meet a busload of Dutch ones 😀 I think they were students on some kind of history tour.
After our visit to the bunker, we had to more or less hurry straight back to Kärdla, as we had to deliver our bikes to the bus station before the office closed. The road went mostly through the forest so we didn't see much of the beaches. At some point we found a little path leading to the beach, so we went to have a look. So beautiful… we were both frustrated that we had to continue instead of spending more time at this lovely coast.
We went for dinner at the restaurant by the sea, which was closed the night before. This time it was open, but they were holding a belly dancing event, so we were asked to sit in the corner. It turned out the local belly dancing club was giving a performance, and it seemed like everybody in town was there to watch! It was a lot of fun watching everybody arrive and seeing some of the dances. After dinner, we went for a last walk around Kärdla – we were leaving the next morning.
Day 6: Kärdla to Tallinn (by plane)
On Saturday morning we had an early breakfast (without any concerts). The bus stop for the airport was just a few steps from the hotel. The bus was tiny, and we were the only passengers. For the enormous fee of 0.60 euro per person we had private transport to the airport 😀 It's located 7 km out of town and it's very small. One of those airports where  everybody is multitasking 😉 The flight to Tallinn takes only half an hour, and there were 2 more passengers besides us. We only paid 20 euros each for our tickets… crazy!
It was a pretty flight, and the flight attendents came about 3 times with a bowl of sweets 😀 What a nice experience!
In Tallinn, we delivered our panier backs back to Citybike and picked up the rest of our luggage. We took the ferry over to Helsinki in the afternoon, where I was attending a course for a week.
We really enjoyed our trip to Hiiumaa, it's a very pretty laid-back island without much traffic – perfect for cycling. I'm sure it gets a lot busier in summer, which will add a bit more life. We'd love to come back when it's slightly warmer and we can swim in the sea 🙂 We're hoping to come back at some point, and also explore the island of Saaremaa to the south. It was such an easy cycle trip to arrange with the help of Citybike, can recommend it to anyone!