We spent the first week of October in Crete, to catch some last sunshine before the dark and cold time starts there – and actually have a week of SUMMER which we hadn't had this year! We chose Crete because there is a direct (charter) flight to Chania from Tromsø. The flight time is about 5 hours. I left my gps on during both legs of the flights, so you can see our route below 🙂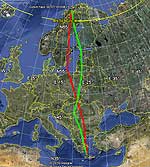 We rented a car, as our accommodation was at the other side of the island. It took quite a lot of time searching the internet before we found something we liked. Most of the accommodation on Crete is in big blocks next to the beach, and we wanted something more private and less touristy. We found a cottage called Sarich Cottage. It was located in the east of Crete, in a very small village. It took about 4 hours to drive there from the airport. Here are some photos of the cottage (which Paul refused to call "cottage" as it didn't have a thatched roof…)
The next morning we drove to a nearby beach and sat in the shade underneath a tree enjoying the view and the warm temperatures.
We also visited a really nice village on the sea, called Mochlos. It's very small, but it has many tavernas right on the waterfront. We ate there a couple of times, a great place! The second photo shows the view as we drove up from the village. Olive trees everywhere!
We drove a dirt road into the mountains, stopping at a very old olive tree – claimed to be more than 3000 years old! Very impressive.
A bit further up we decided the road was getting too difficult to drive, and we went for a walk. Nice views! The white flowers were everywhere, not sure what they are, but they are pretty. We watched the sunset from the top of the hill, and suddenly we felt the earth move quite clearly. Not violently, and no rocks started rolling or anything, but it still was a strange feeling to feel the hill move back and forth. We later found out it was a 5.0 earthquake in the sea not far from where we were.
We walked around Pachia Ammos, the village on the beach closest to our cottage. It was a very windy day, and the waves were crashing on this little pier.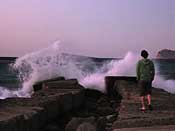 The next day we explored the south coast. We had both bought snorkelling gear, which we were eager to try out. We found a nice little beach and had fun snorkelling. The beach was right underneath a monestary (Moni Kapsa) overlooking a gorge called Perivolakia gorge. We decided to go for a walk in the gorge. There are a lot of gorges on Crete! This one was really beautiful, steep rock walls glowing orange in the evening sun.
There were some goats walking around, and lots of caves. Paul climbed up to one of the caves; he said you could smell the goats use them as shelter ;). We walked quite deep into the gorge, and at some point you could smell wild thyme – so nice! It's possible to walk all the way to the other side and come out in a village at an altitude of 500 m, but this takes several hours and not sure how to arrange transport back, so we turned around and went back to the car.
This is the view from the beach where we went swimming, towards the monastery and (on the left) the entrance to the gorge.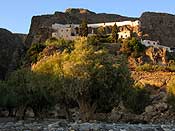 The next day we went to Elounda, because we had read this is a great place to go snorkelling. There are ruins of a "sunken city" which sounded very exciting. On our way to that place, I took this photo. Paul thought I was being mean taking a photo but this couple just made me giggle… each to their own, but not my idea of the perfect holiday 😀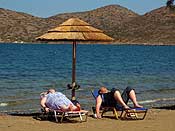 The "sunken city" was not as excited as we were hoping for – mostly piles of rocks under water. We did see nice fish though. Afterwards we drove to another village (Plaka), from where there were lots of boat trips available to Spinalonga island. We didn't go on any tours, just walked around and enjoyed a nice ice cream.
There were some nice shops there too!
What I loved most about our holiday was being able to eat outside for every meal. I was usually up before Paul, and took a book and a croissant to a comfy spot on the terrace. I was never alone though, there's always company – cats! There are a LOT of them, and they are stray cats though they look like they are taken care of and fed quite well. I love cats, so I didn't mind the company 🙂 There are stray dogs too, but luckily not as many – I am a cat person and definitely not a dog person, they scare me.
Paul enjoyed eating pomegranates, they grow them a lot on Crete so he didn't have to buy them – even in our garden there was a pomegranate tree.
We drove to the mountains, to a plateau (Katharo plateau) at 1100 m altitude. Quite impressive to drive up so high in the mountains, through more or less deserted landscape, until you suddenly come to a fertile plateau with lots of farms. We stopped at a big tree to have a break in the shade.
There was also a taverna there, where we had some fresh orange juice, and traditional yoghurt with honey – very nice!
On the way down we stopped and followed a path leading to a cave. It wasn't a very deep one, but I had never before visited a cave that you can enter by yourself 😉 and was quite impressed.
We stopped at Kritsa, a nice village on the way down to the coast.

It was built on the hillside and it was a maze of narrow streets, fun to explore! There were also a lot of shops selling cloth, which was the speciality of this village. I really enjoyed visiting this village, as it didn't seem so crazy touristy as most of the places on the coast (even though this village is a tourist attraction too).
We made a day trip to Vai, supposedly the only palm beach in Europe, on the eastern most part of Crete. Unfortunately we chose the only rainy day during our stay in Crete for this trip! The beach was beautiful, and the snorkelling was really great there.
While we were snorkelling, the rain turned into a proper thunderstorm with very heavy rain. We decided we might as well stay in the water, while everybody else was leaving the beach as fast as they could. We thought it wouldn't last that long, but it did… So in the end we did come out of the water, to find our bag on the beach half soaked. Try to change clothes while it's raining heavily… we thought we could use the changing rooms, but it turned out everybody had left the beach, including the shop/cafe owners, and they had locked all the toilets and changing rooms :|. In the end we waited for the rain to stop while in the car with the blowers on 😀 When the rain stopped, we went for a walk around the palm forest. It's quite big, but unfortunately you can't walk through the forest as they are trying to protect the palms.
On our last day before leaving, we decided it was time to explore the village we had been staying in 😀 It's called Vasiliki, and it only has about 150 inhabitants – of which I estimate the average age is somewhere around 80 😀 We ended up walking in the mountains, to a viewpoint where you can see both the sea on the east side and on the south side. This is the view walking up…

It was a nice walk, and we also saw a big bird of prey from the top. It was too far away to see what it was – they have vultures here which I would have liked to see!
In the evening we went to our favourite beach for a last swim. It was another windy day and the waves were huge. I wonder whether it's just always that windy on Crete or whether it was coincidence? I'm not complaining though, it kept the heat tolerable. We watched the sunset from the deserted beach, it was wonderful to watch the waves crash on the beach.
Our last day was spent driving back to Chania for our flight back, but we stopped in Knossos on the way. I think we picked the perfect day to visit – there weren't many visitors and it was cool weather. I never took Greek in school so I didn't know much about Knossos and the myths attached to it, but it was really interesting to see the ruins and learn more. Knossos is the site of a palace that was built from about 1700 BC! The archaeologist who dug it up tried to rebuilt part of the palace himself, as he thought it would have looked like. Of course you can question whether that is scientifically the correct thing to do 😉 but it was very pretty and you got a better idea of what the castle might have looked like.  It must have been an amazing place back then… An interesting visit!
It was sad to have our trip come to an end… we really enjoyed the relaxing week, all the swimming and the great meals outside. Having a week of holiday (and summer!) after Paul's cruise and before the winter starts was a great idea, we might do it again next year 🙂