We spent two weeks in Florida in mid December. We started our road trip in Miami Beach on a sunny day…
---
Miami Beach
---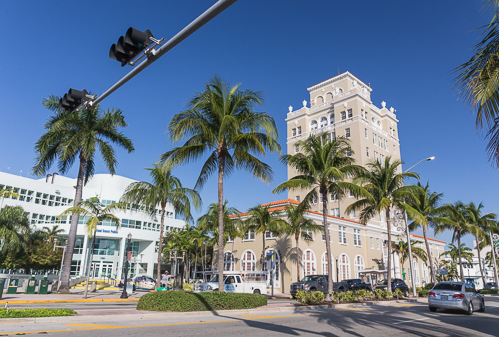 We spent the first day walking along the beach, where I had fun taking photos of as many colourful art deco lifeguard huts as I could – they are so pretty!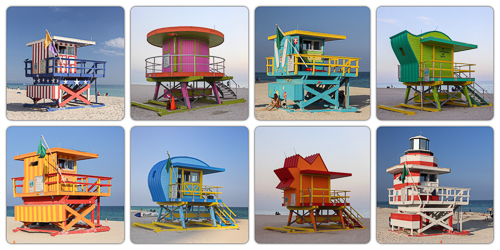 A bird posed for me on the most American one…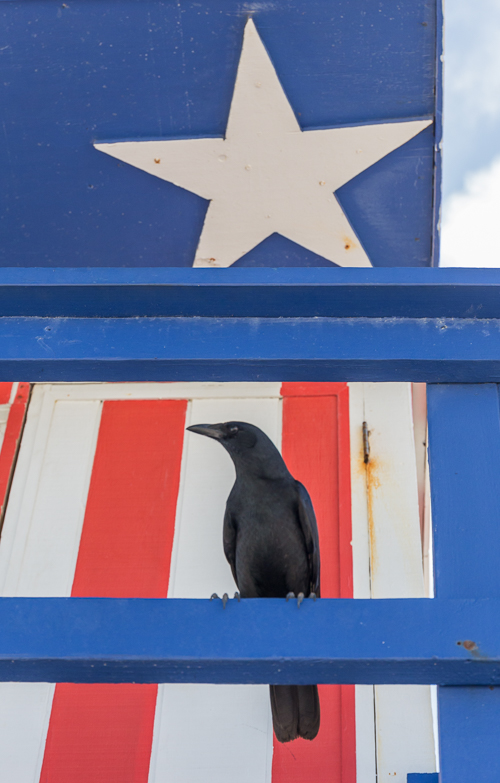 Of course we also admired the art deco buildings along Ocean Drive…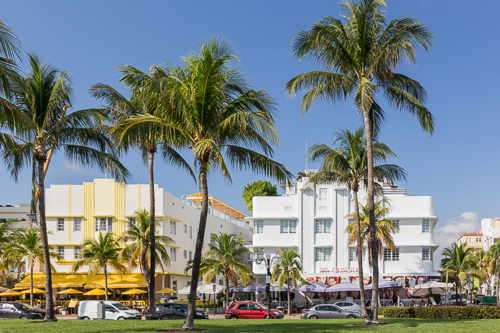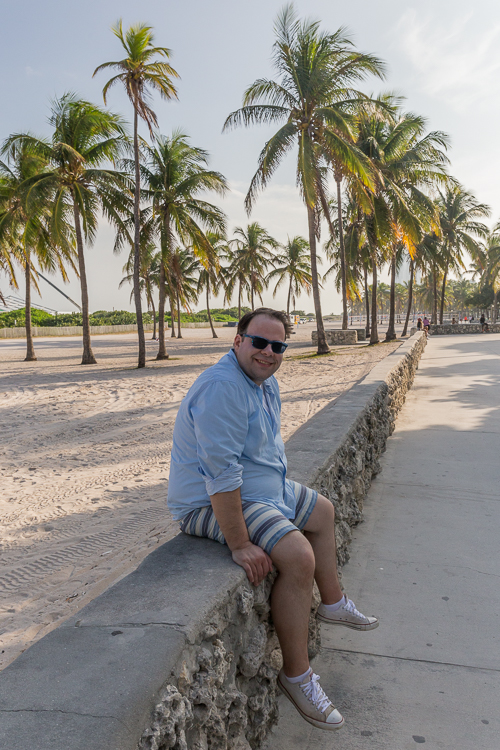 We walked on the beach until sunset. I found a group of Black Skimmers (Amerikaanse Schaarbek) on the beach that let me come very close – such funny creatures!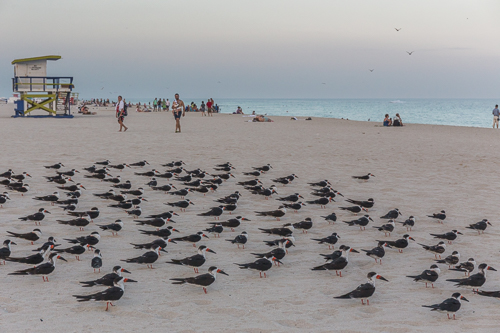 At sunset we could see anticrepuscular rays over the sea – like rays of sunshine but on the opposite side of the sunset.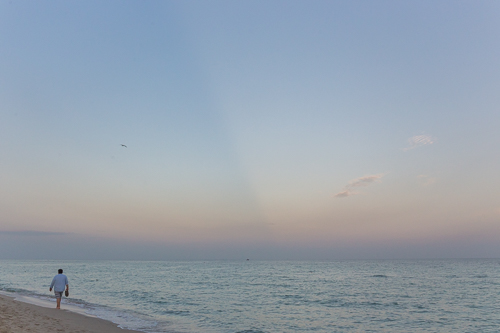 In the evening we went for sushi at a fantastic little place called Sushi Song – highly recommended!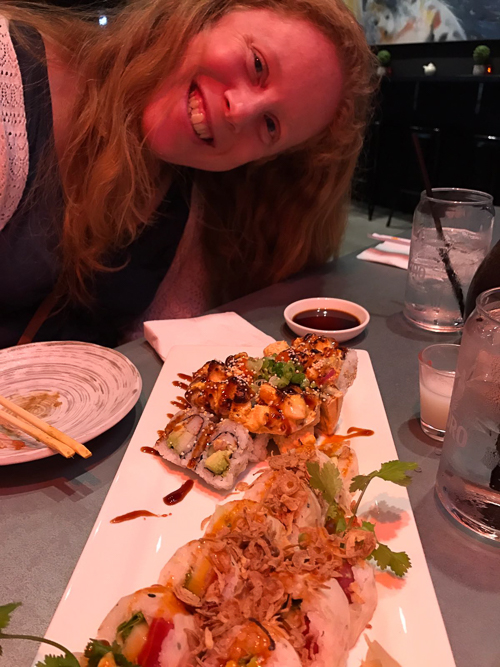 11th Street Diner is where we had breakfast both days. Great place and even better food!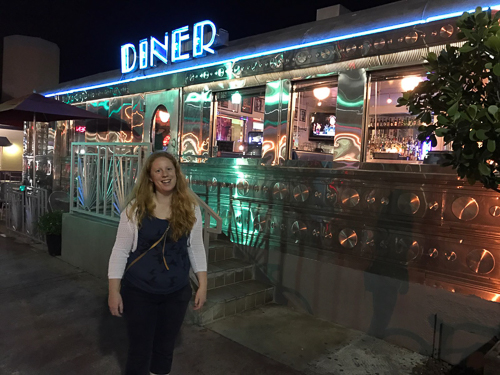 ---
The Florida Keys and Key West
---

We spent a day in Fort Lauderdale where we had dinner with friends I had met during my trip to Brazil. It was a windy and rainy day so I didn't take a lot of photos. The next day we drove to Key West, which took about 5 hours. This drive gets more and more fun the closer you get to Key West, as the road basically becomes a bridge.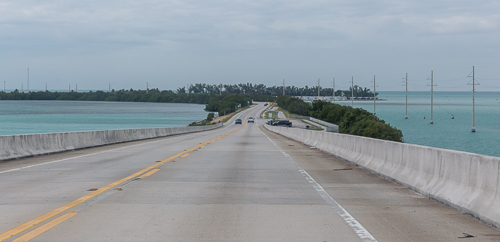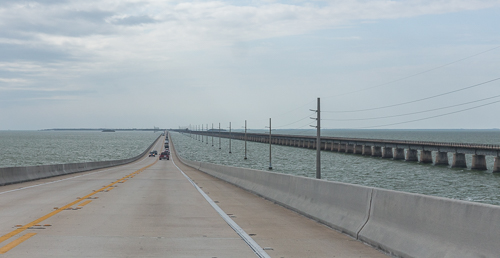 We stopped for lunch in Islamorada and explored around there…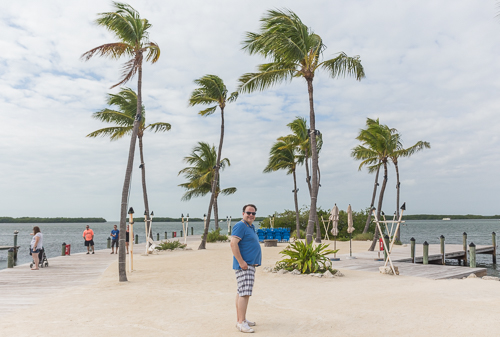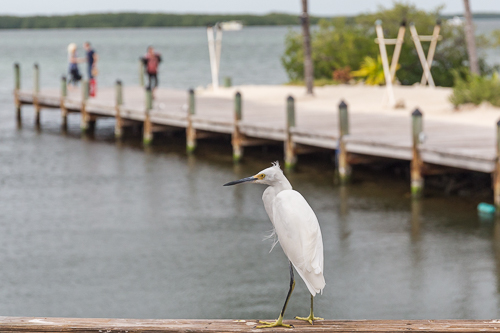 We arrived in Key West in the afternoon, and immediately set out for a walk through the town. I loved the houses and the atmosphere of Key West!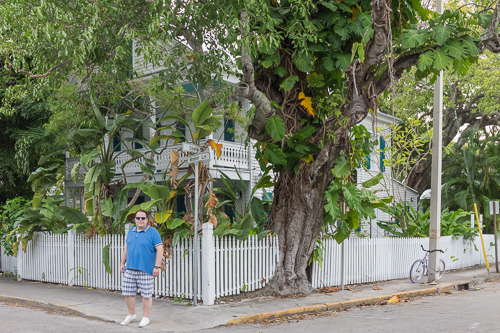 Impressive big trees in some of the gardens…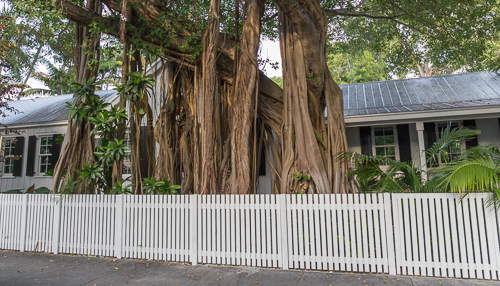 Duval Street, the main street in Key West.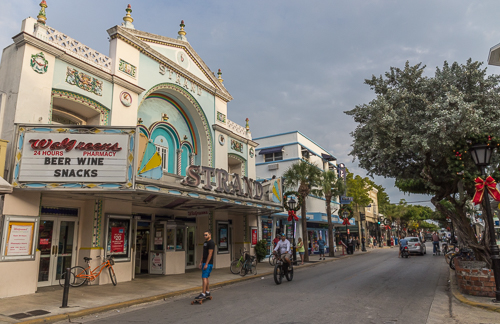 Everyone gathers on Mallory Square for sunset and street performers. A bit tacky, we preferred to enjoy the sunset from a terrace a bit further from the crowds.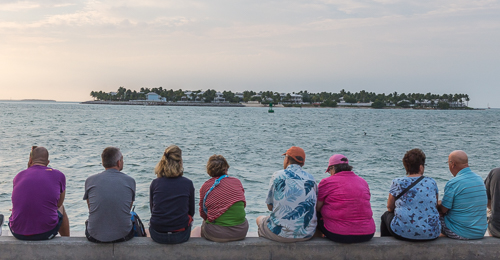 No complaints about the sunset though, very pretty…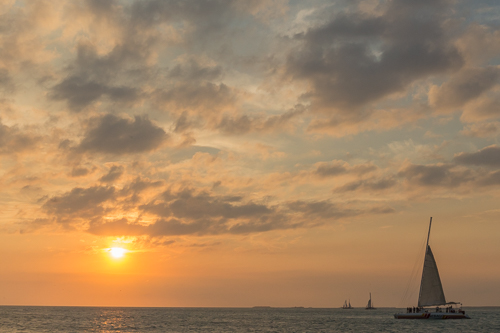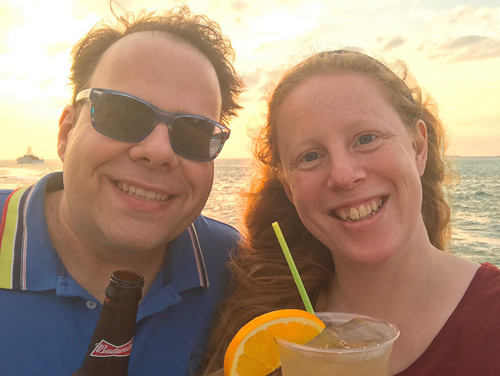 Everyone seemed to recommend us to visit Blue Heaven which indeed is a really nice restaurant. We enjoyed a very tasty meal, with live music just in front of us! They had a dessert called Banana Heaven which was just that – amazing!!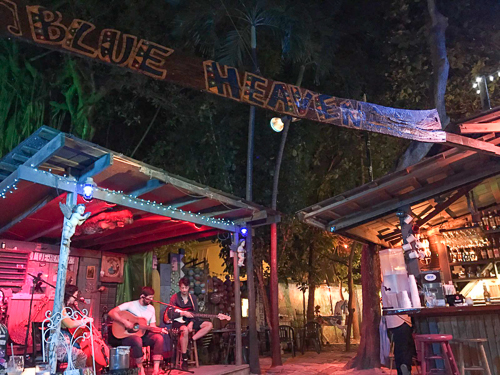 The next day we drove back along the Florida Keys, stopping a few places to explore. Our first stop was National Key Deer Refuge. We went for a short walk here.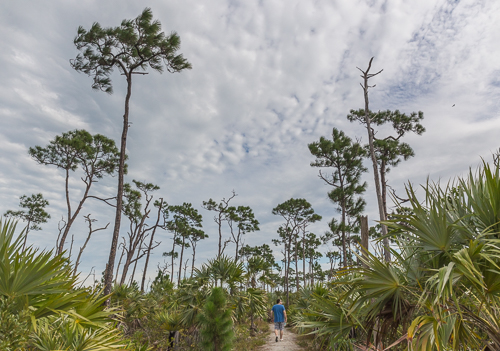 And we spotted one of the tiny & cute Key Deer!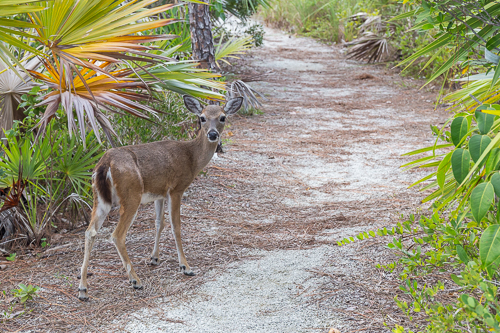 We also stopped in Long Key State Park and walked the Golden Orb Trail, which went over this pretty mangrove boardwalk…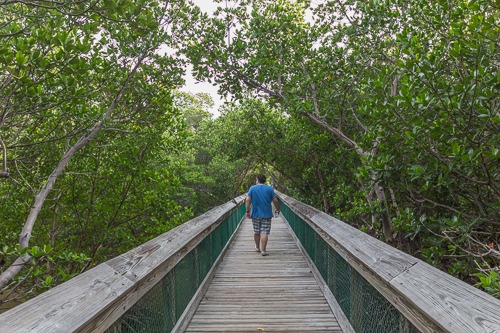 We explored Duck Key and took photos of the many tacky mailboxes found on the Florida Keys… hehe!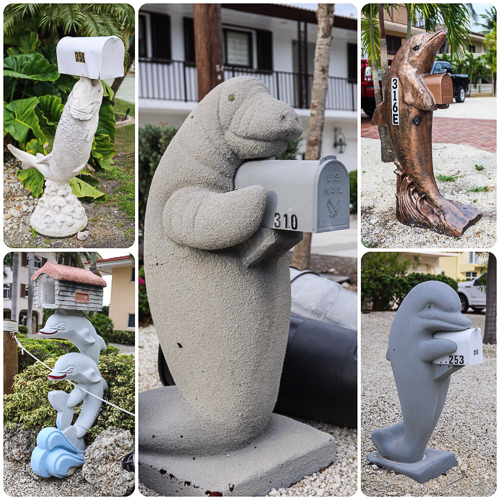 We stayed in Key Largo that night, ready to explore the Everglades National Park the next day.
---
Everglades National Park
---

Our first stop in the Everglades was at Shark Valley. We rented bicycles here and cycled the 24 km tram road loop. This road is only used by cyclists, walkers and the occasional tourist tram.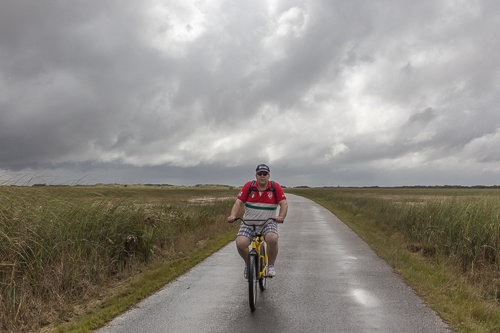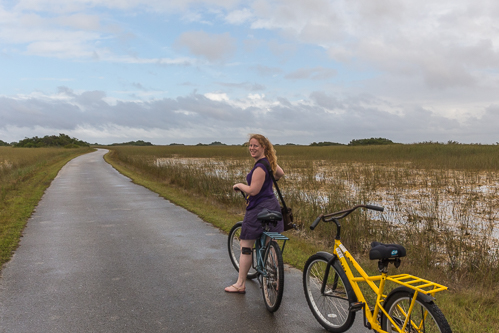 The wildlife along the trail is so impressive! Right from the start you find alligators lying right next to the road. Sometimes you almost cycle over their tail, but they hardly even look at you. Besides alligators, there are SO many birds – most of them very big. I loved it!
Halfway through you read the Shark Valley Observation Tower, a very cool building!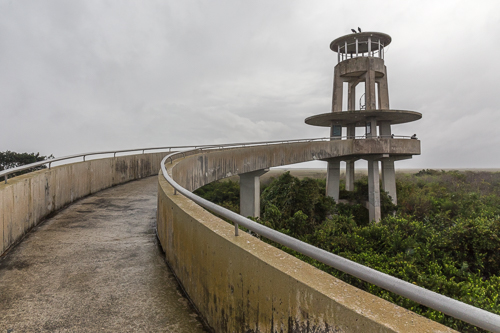 With nice views back at the road.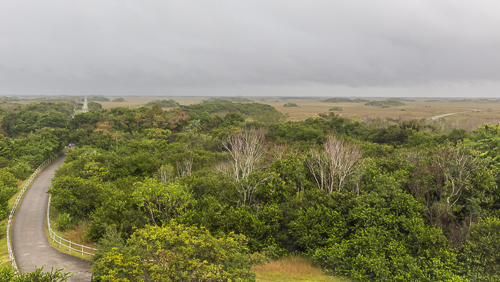 Unfortunately it was a very rainy day. It was warm, so you would dry up quickly after a shower, but we still got really soaked by a heavy shower at the end of our trip, with not enough cycling left to dry up before getting to the car…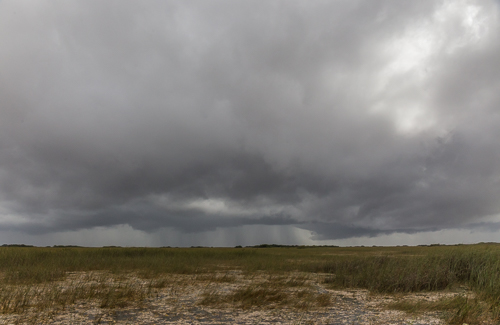 Later in the afternoon we went for a kayak trip with Everglades Area Tours. We started out on a relatively wide and open area…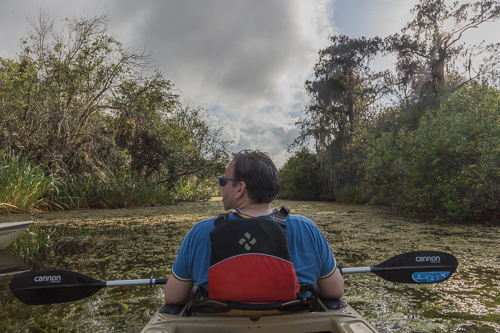 But soon we were inside the Mangrove Tunnel. Very impressive! You could hardly use your paddles though, we found it easier to move forward by pulling ourselves forwards on the roots above us!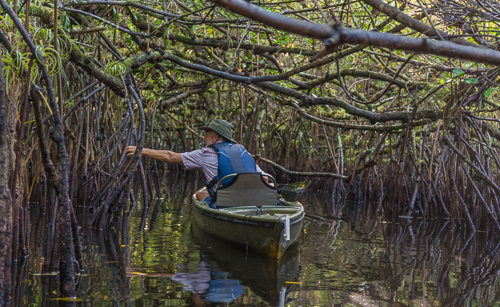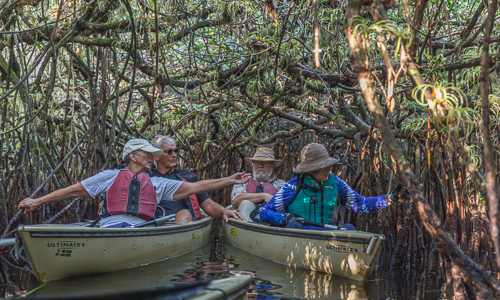 We stayed in Everglades City that night, a fascinating but sleepy small town which feels a bit "end of the road".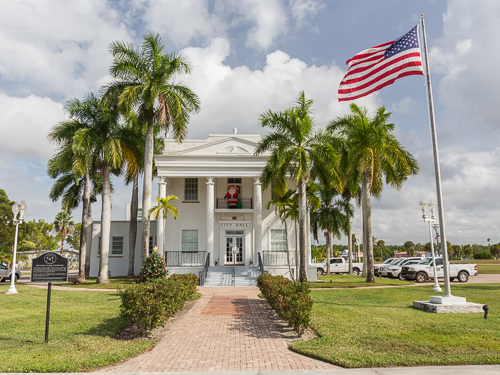 The real end of the road is in Chocoloskee, a little further down the road. We had a great Cuban breakfast here, and explored the really quiet town… we only saw this crazy pelican!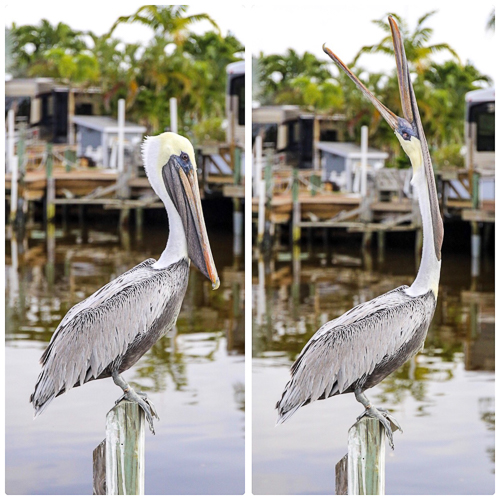 ---
Naples
---

We drove on to Naples that same day, and explored the city beach. Very pretty!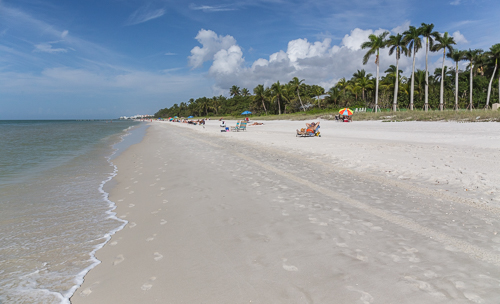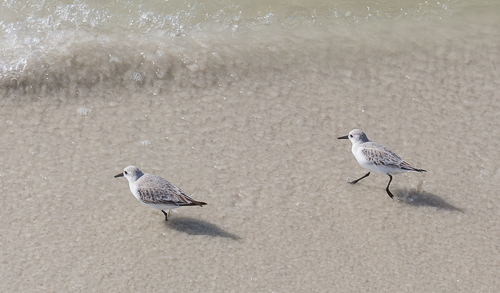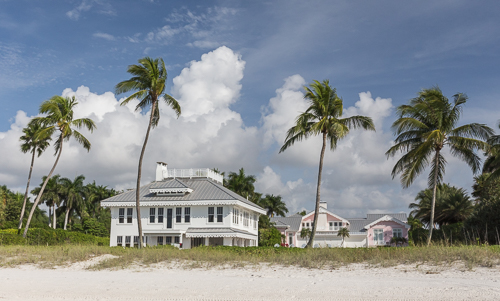 We spent some time on the pier, eating ice cream and spotting a dolphin.

At night we had a relaxed evening on our hotel balcony, with this fantastic sunset view…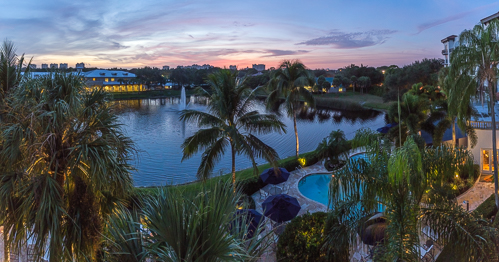 ---
Lovers Key State Park
---

The next day we visited Lovers Key State Park, inspired by some photos in a magazine in our hotel room. We went for a very pretty walk in the park…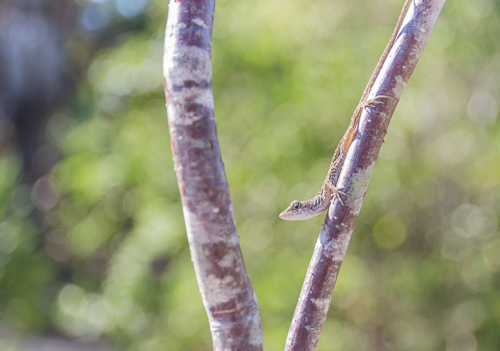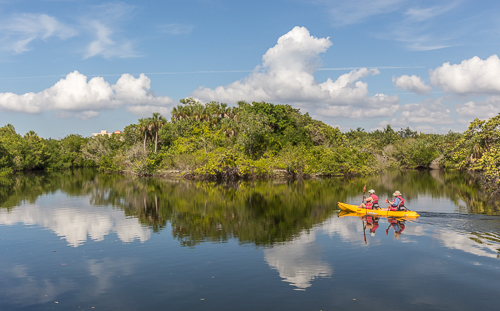 And afterwards we visited the really beautiful beach. We found lots of seashells here, and I spotted dolphins nearby while swimming. So much fun!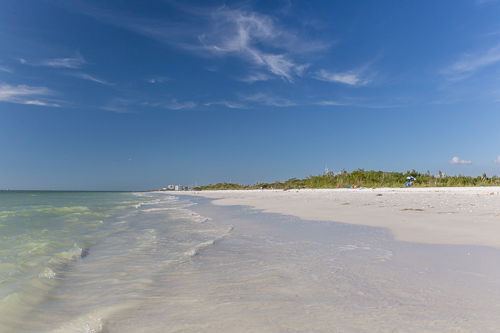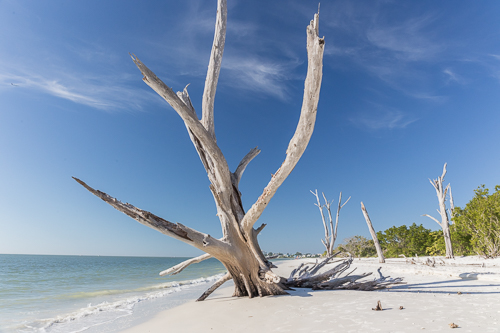 ---
Lee County Manatee Park
---

On our way to our hotel in Sarasota we stopped at Lee County Manatee Park. It's a tiny park where you pay $2 to park your car, and then you can walk to a canal where warm water from a power plants attracts the manatees. It didn't take long before we saw one! At first we only saw their back in the water, but later they came closer and we could see them very well. There seemed to be a mum with a baby, and their pet fish!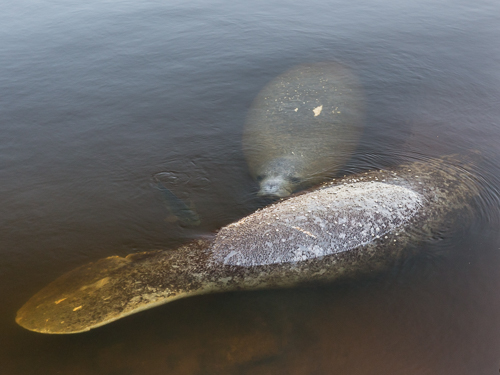 ---
St Petersburg
---

From Sarasota we continued to St Petersburg over this impressive bridge…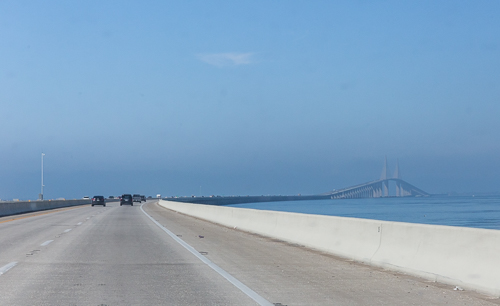 We spent most of our day in the amazing Dalí museum. It was a lot of fun learning about interpreting his paintings with the free audio guide. We were also lucky that there was a Frida Kahlo exhibition that had just opened – I love her work and it was a really good exhibition. Besides all this, the building itself is fantastic!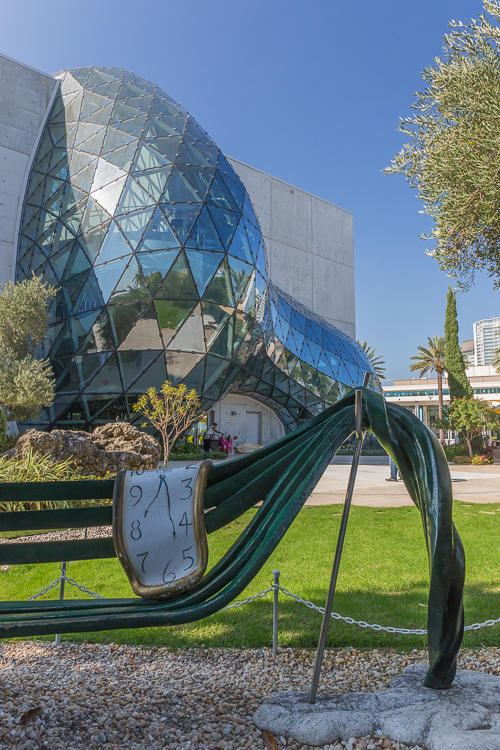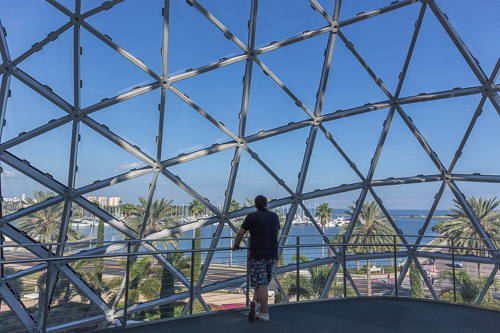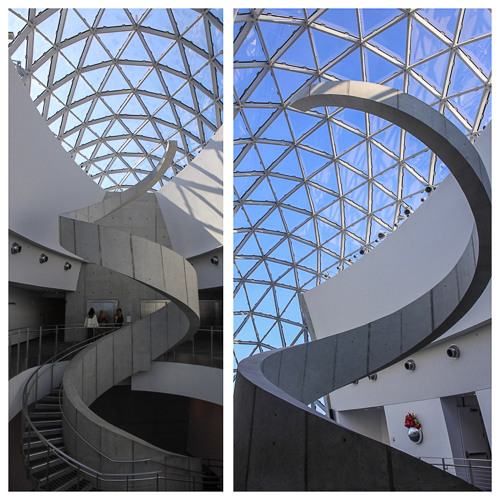 We stayed in a B&B in the city centre and had a stroll through town in the evening. We went to a brewery pub, ate sushi and admired all the crazy Christmas decorations (including an ice rink!) in tropical Florida.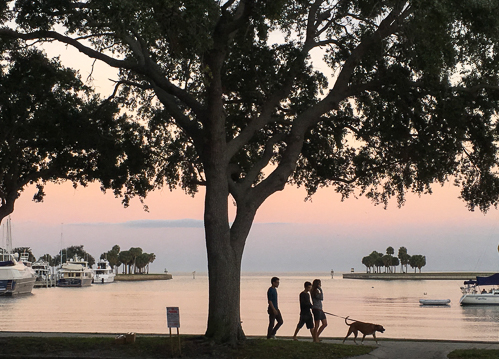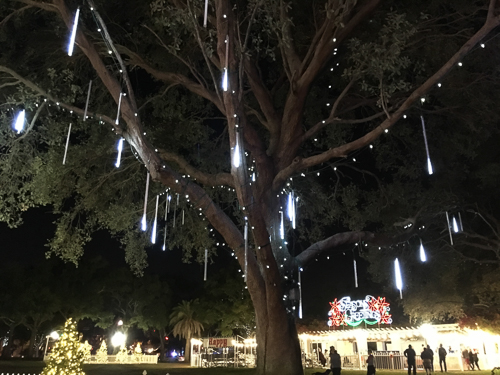 ---
New Smyrna Beach
---

We spent two nights in a nice hotel in New Smyrna Beach (back on the east coast of Florida). A fun beach town with lots of nice little shops and restaurant. And great beaches. On our first night here, we went for a walk during a sunset which just turned prettier and prettier…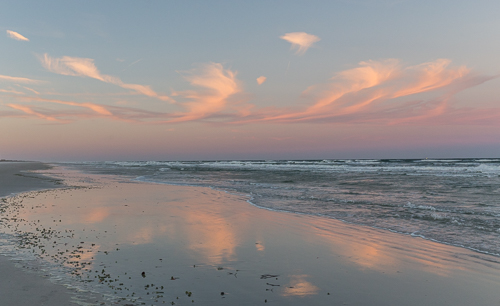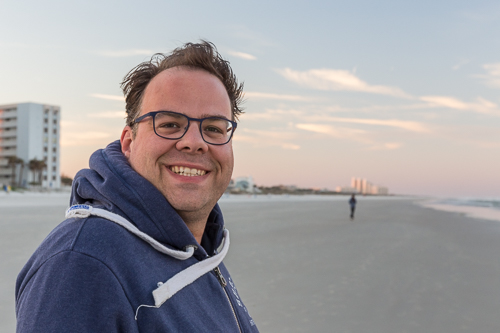 You're actually allowed to drive your car on the beach (for $10, between sunrise and sunset) – the sand is hard enough for that. A bit crazy, but must be fun!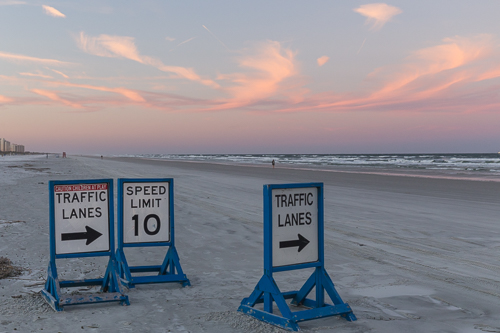 Perhaps more fun with a bike…
I couldn't stop taking photos as the colours were so pretty.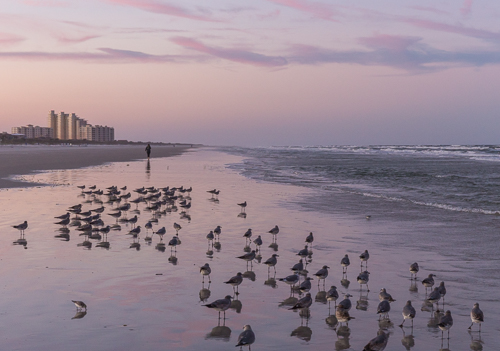 Selfie on the beach…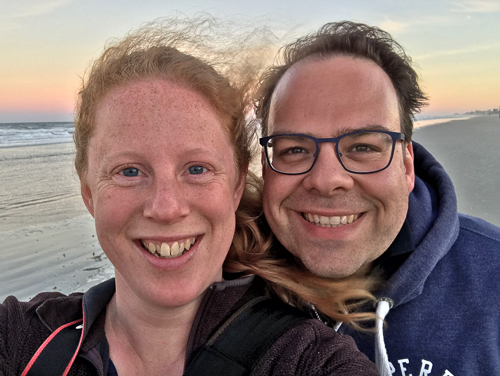 ---
Canaveral National Seashore
---

While staying in New Smyrna Beach we also visited Canaveral National Seashore. We first went for a walk through the forest, really nice – except for the mosquitos we met at the end of the trail!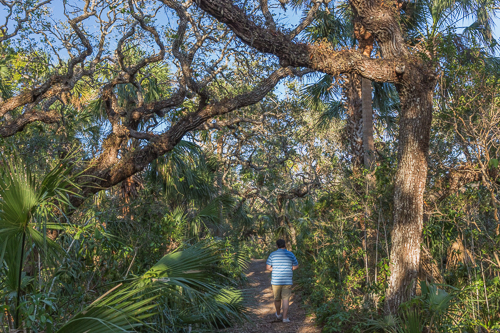 We saw two armadillo's while in the park, so cool!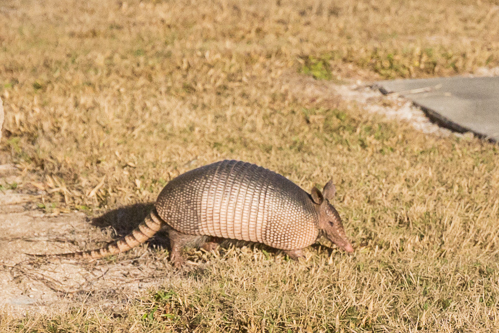 Canaveral National Seashore has the longest stretch of undeveloped beach in Florida, nearly 40 km long and very pretty!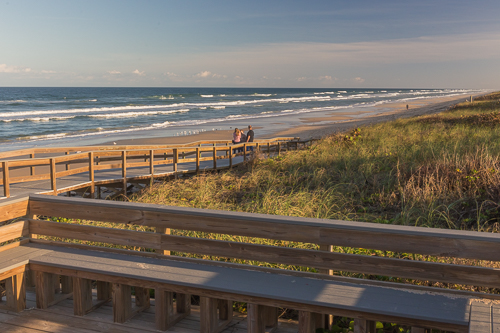 We stayed in the park until sunset, taking lots of photos…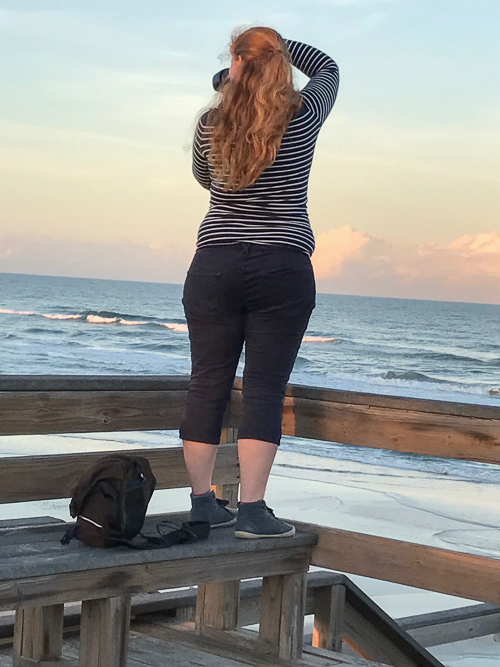 Of another pretty sunset!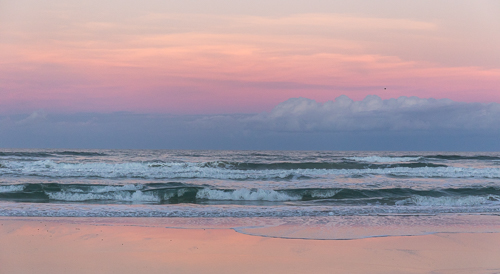 ---
Kennedy Space Center
---

On our last day in Florida we visited Kennedy Space Center – a dream come true for this nerd girl who once upon a time wanted to become an astronaut…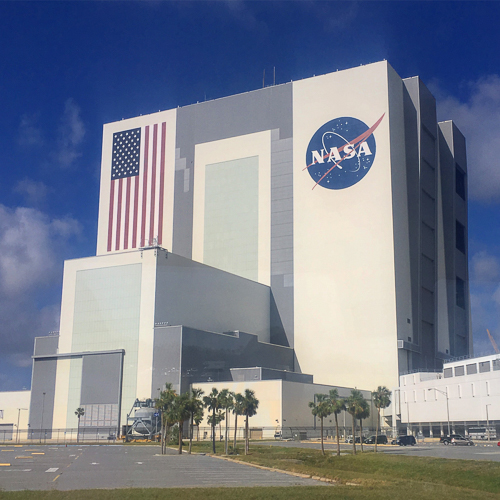 The highlight of our visit was the Atlanta exhibition which shows the actual Atlanta Space Shuttle. So impressive!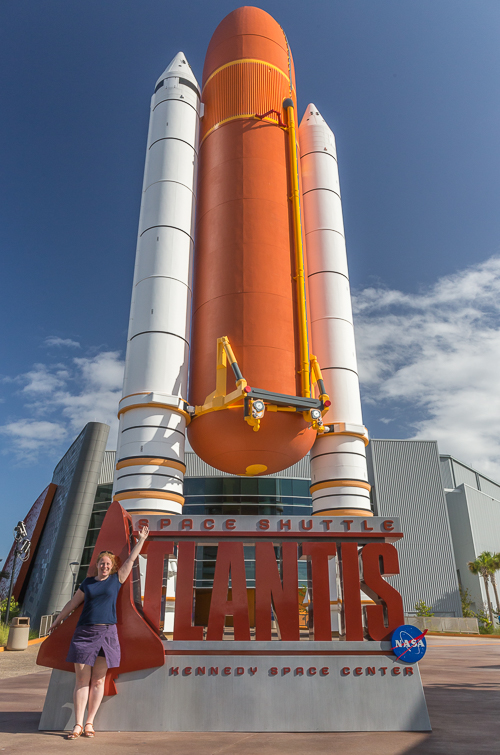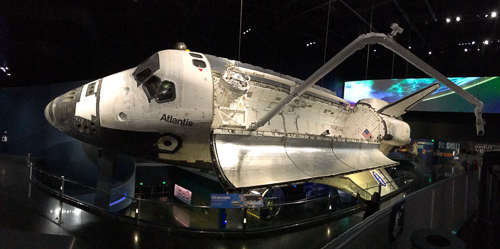 The next day we flew back from Orlando. We really enjoyed our trip to Florida, and wished we could have stayed longer!