Looking Back: October 2018
It's January now, but I still wanted to finish the monthly posts I started with last year. I like writing them, if only for my own memory 🙂 So here starts my attempt at catching up: October 2018.
October was actually a nice quiet break after a busy period, and before an even busier period starting in November. During the first week, I worked a lot, but after that my schedule was relaxed. This photo was taken from the office on the 1st of October, I love these kind of skies – and of course the rainbow!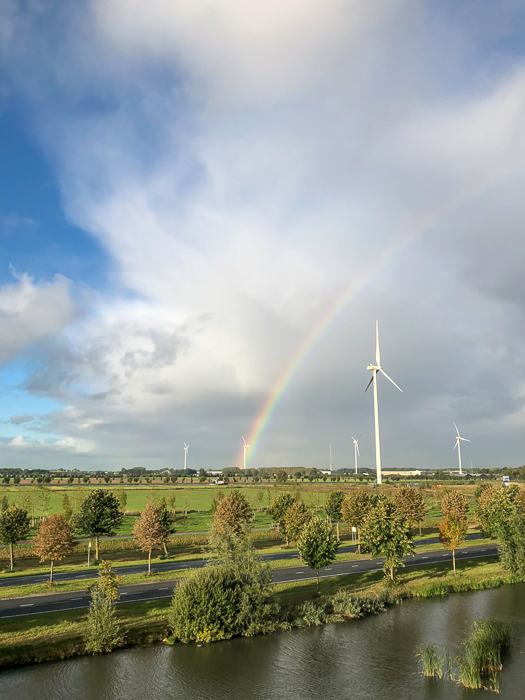 A few days later I went to the city center of Rotterdam to buy a present for a friend – it was a beautiful day, especially with the beginning autumn colours!
That weekend we did something unusual one night: we watched a water polo game in the swimming pool right next to our flat! My sister's boyfriend plays waterpolo and this time they were playing a match in this pool – I love this place, for a while I went swimming there regularly. Michiel had never even been inside!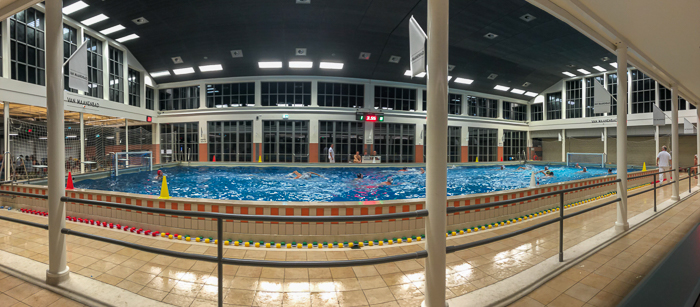 We were about the only supporters 😀 so we had to make a lot of noise! It didn't help though, they lost rather badly 😉 but it was a fun evening!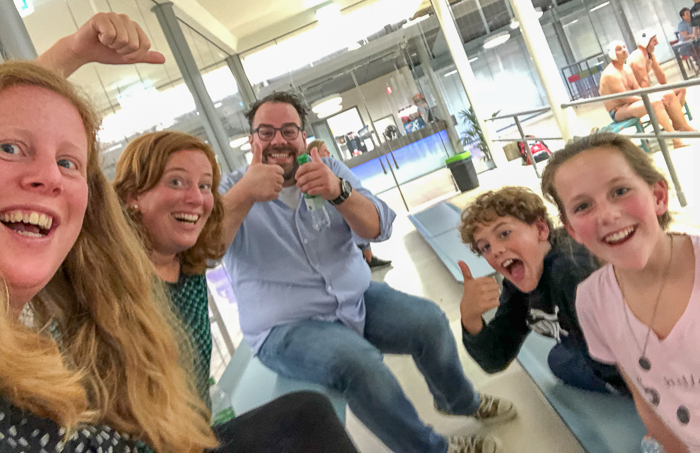 My friends had been asking for a belly picture, which I didn't even really have. So Michiel took one for me 🙂 here I'm about 23 weeks or 5 months pregnant.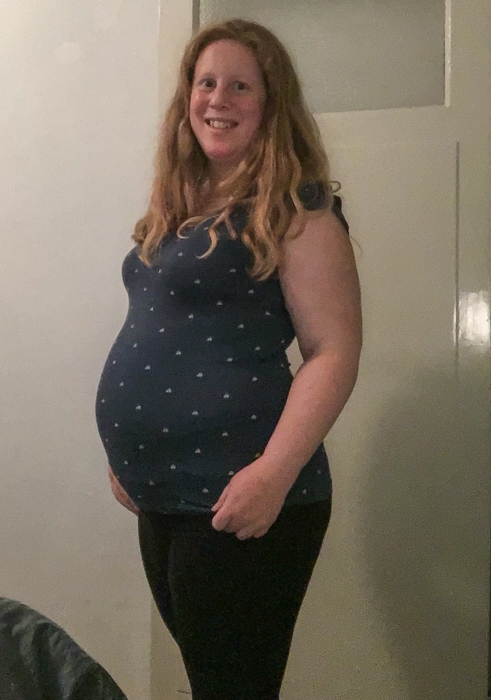 I took this photo from the metro, on the way back from a dentist visit 😀 love those views! Rotterdam is such a cool city.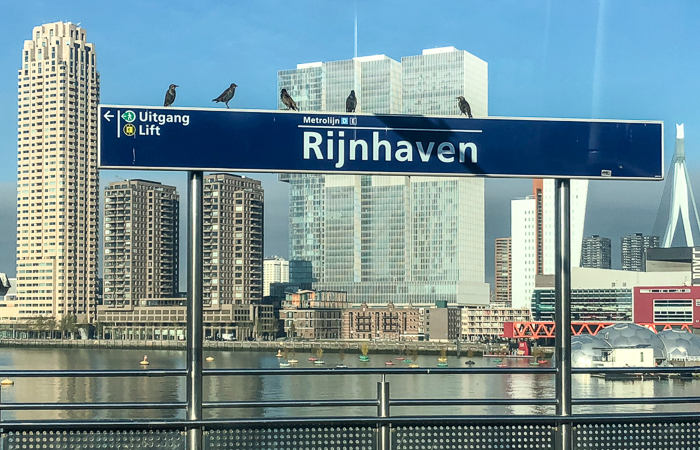 Another nice view of the "Kop van Zuid", our favourite area in Rotterdam…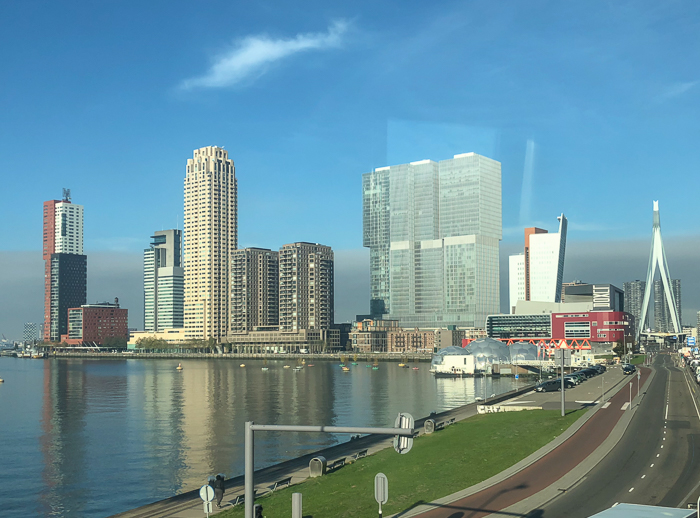 It was such a nice day that I decided not to go straight home, I got off the metro and walked to the Kunsthal to see an exhibition. On the way, I saw some really cool murals 🙂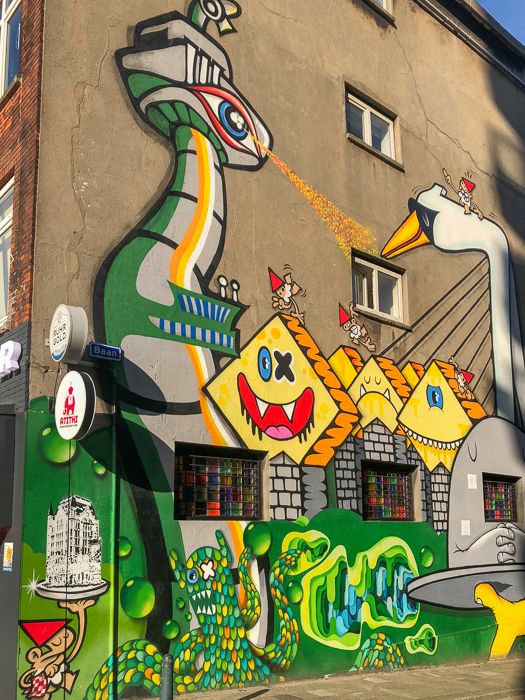 I went to see the exhibition Action <-> Reaction, about 100 years of kinetic art. It was fantastic!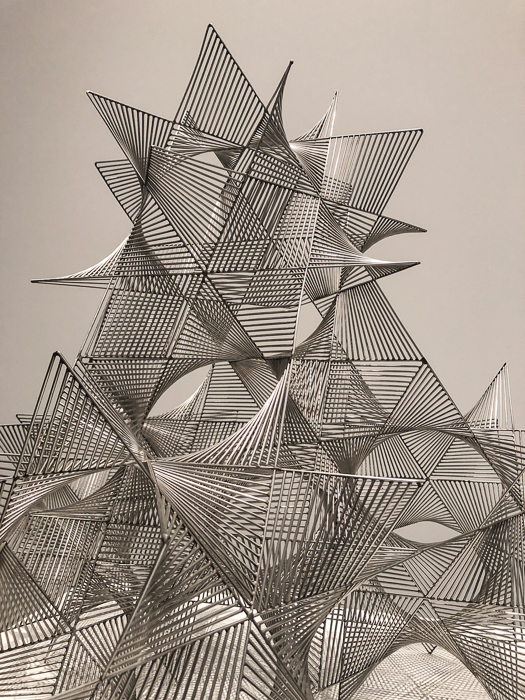 I loved this installation, with lots of mirrors. No surprise it was one by Yayoi Kusama, I love her work!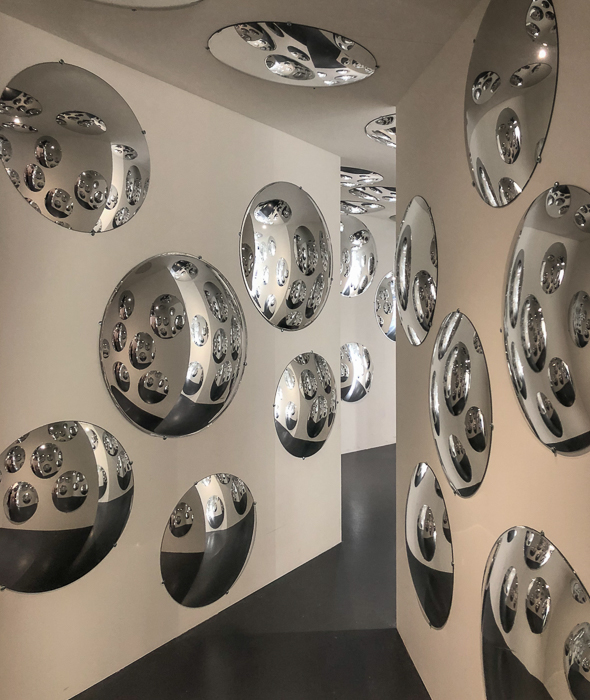 A play with light and shadows…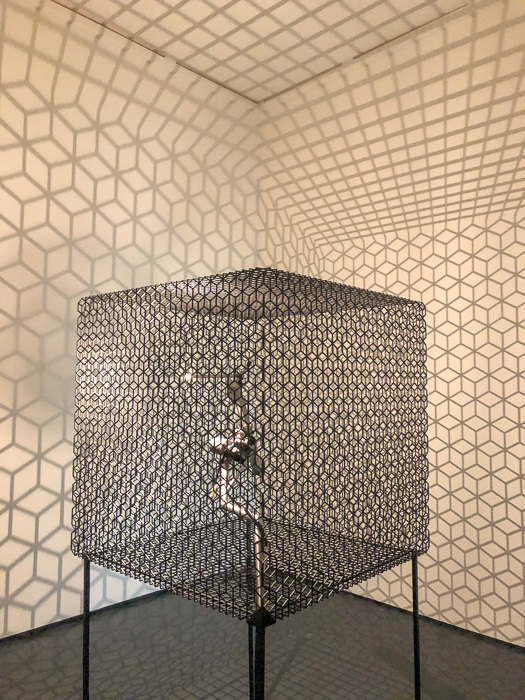 I really enjoyed this exhibition and spent a couple of hours there.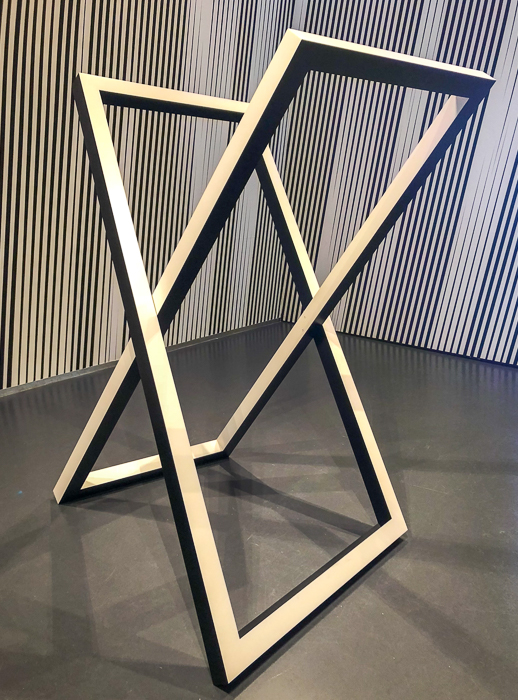 A couple of days later I decided to visit my parents, who were staying in a hotel in Wassenaar close to the beach. The same hotel we stayed at back in August, we thought they might enjoy it as well! It was a beautiful sunny and quite warm day, and I rented a bike from the hotel and we went for a cycling trip through the dunes.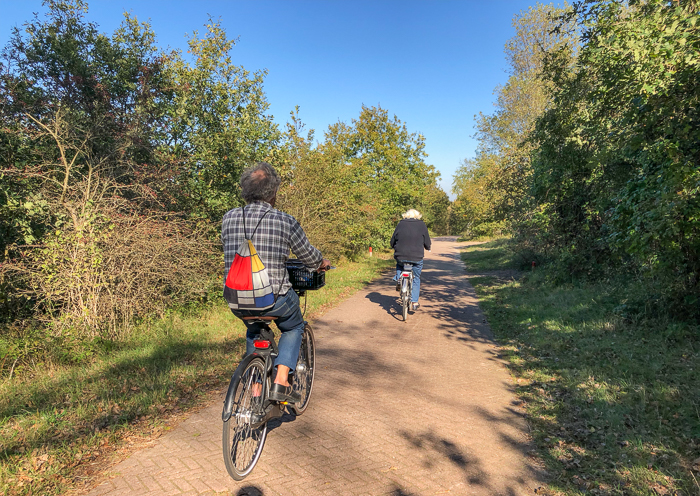 A break along the way 🙂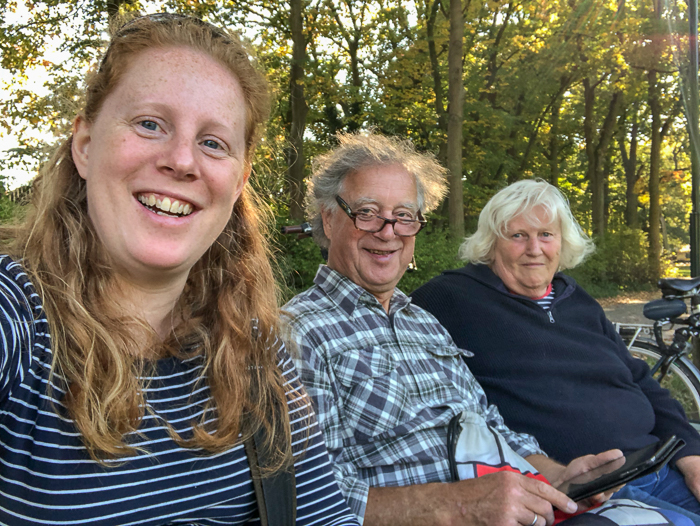 This is the hotel, really nice place!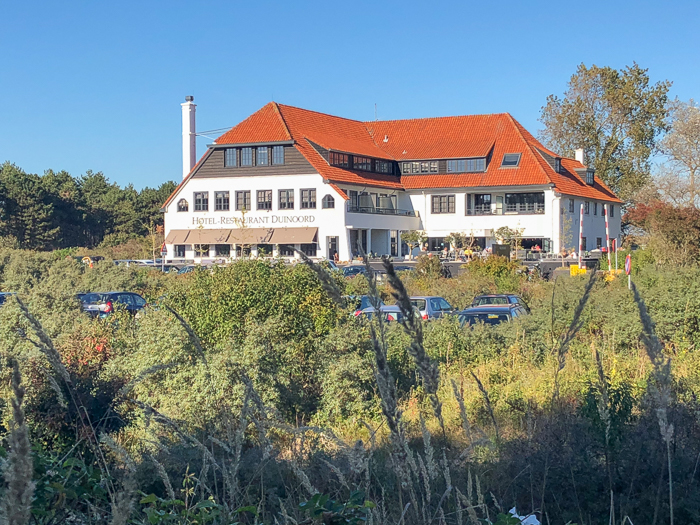 As the weather was so nice, we decided to have a drink on the terrace outside the hotel. My dad was drinking jenever (Dutch gin) – I loved the reflections in his glass 🙂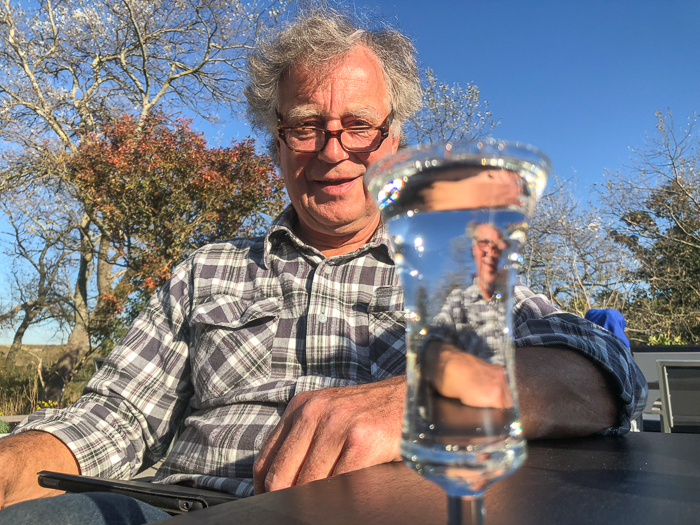 I spontaneously decided to stay for dinner as well. With a very yummy dessert 🙂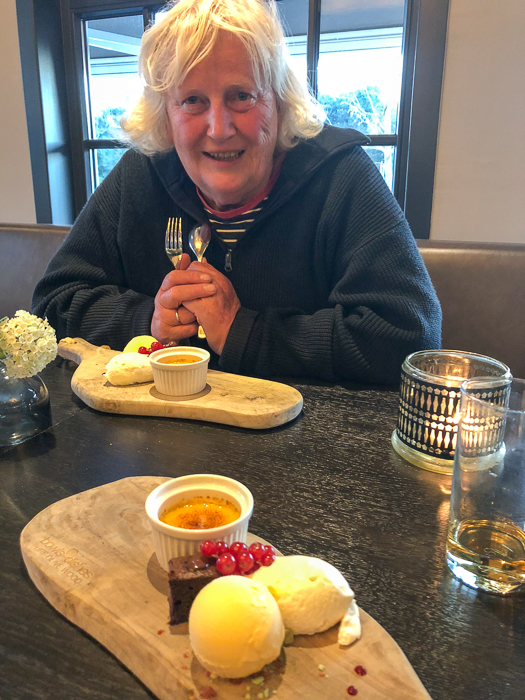 Later that month I went for a short walk on the city walls of Gorinchem after a checkup by my midwife. The autumn colours were fantastic, and I looked forward so much to Gorinchem becoming my home town – soon!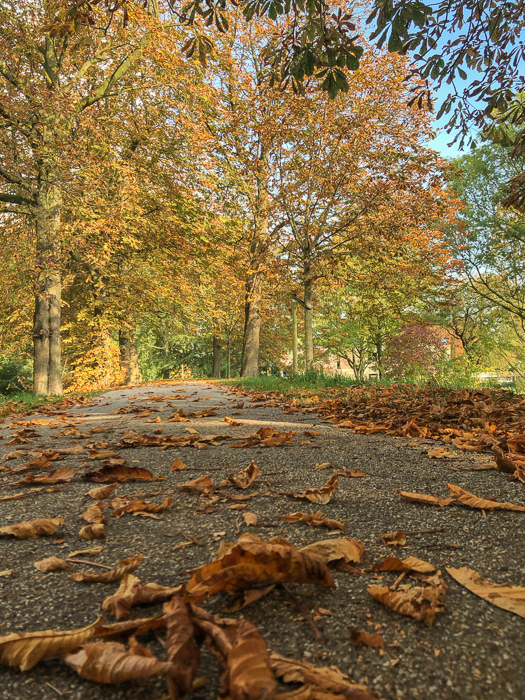 A few days later we signed some (expensive 😉 ) paperwork – a cohabitation agreement and wills for both of us – to make sure all the paperwork is in order before our little girl arrives!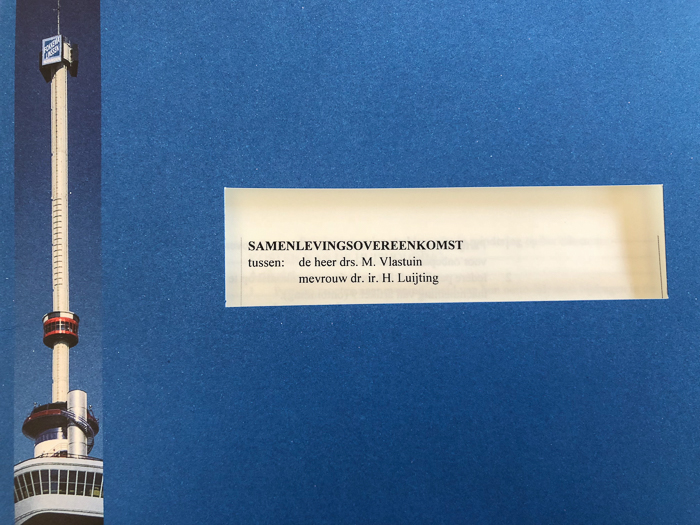 We celebrated with a Bossche Bol 😀 (traditional Dutch cake)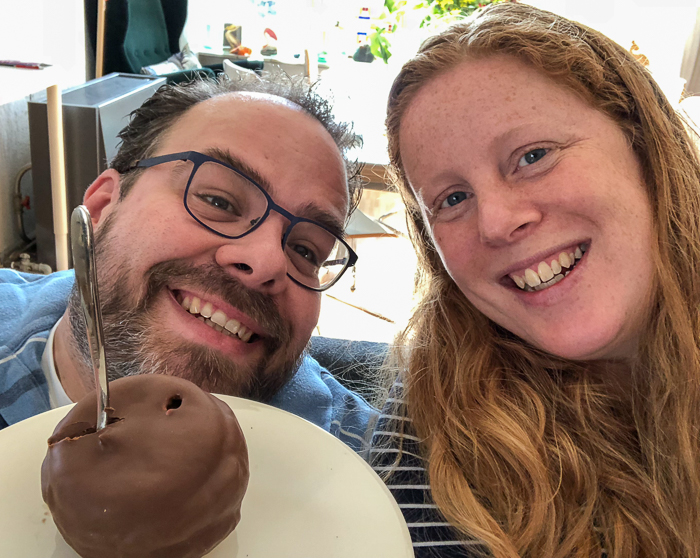 That evening, we left for Noordwijk for the weekend. My parents had organized a weekend for all of us (including my aunts and uncles) to celebrate my dad's (and his twin sister's) 70th birthday, and my parents 45th wedding anniversary. As a present, they had asked that we (the 4 kids) organize a day out for everyone on the Saturday. Nobody knew what we were doing that day… my brother drove all of us to Schiedam first, where we arrived under a fantastic sky!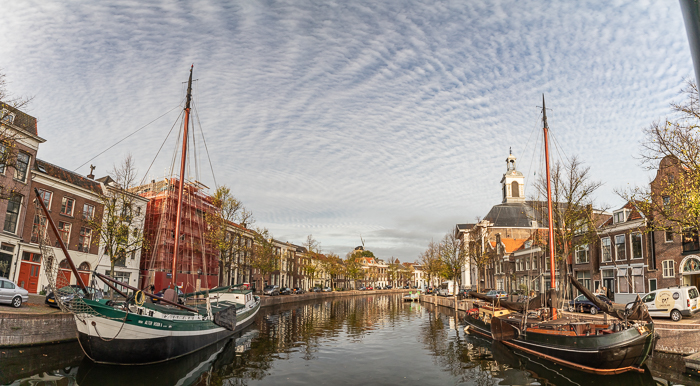 Our destination was a chocolate shop called De Bonte Koe, in a very pretty building…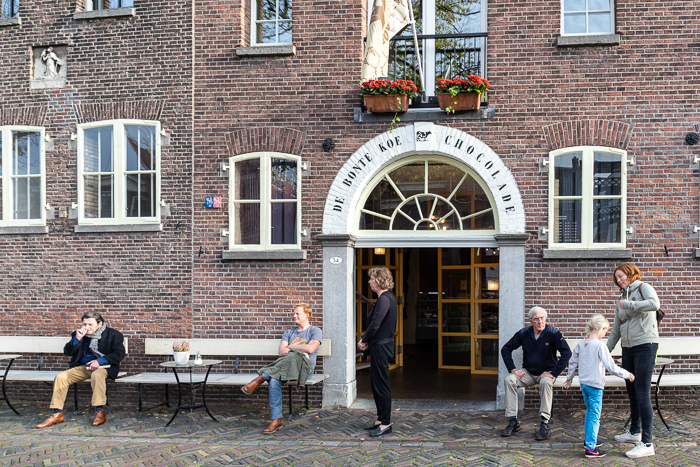 We did a workshop in praline making there! We all had to wear funny clothes for hygiene, and learnt how to make chocolate…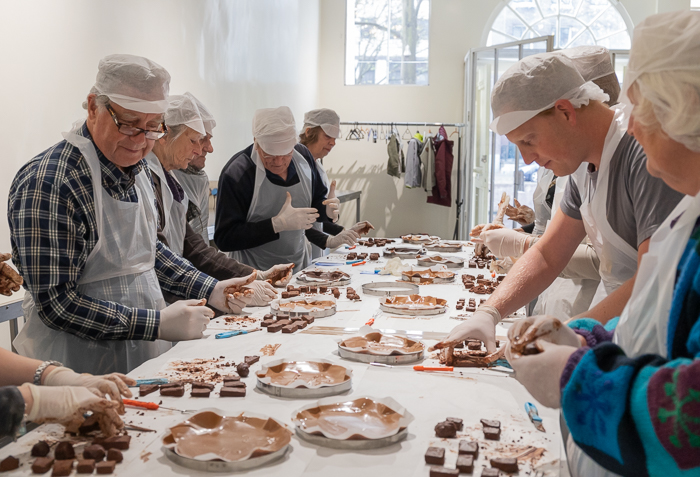 It was a lot of fun, and especially my dad took it very seriously!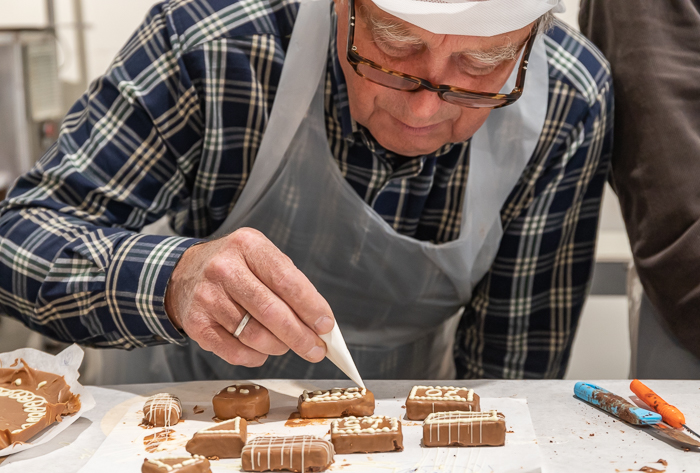 I think he made the prettiest chocolates of all of us, mine were in no way looking this neat 😀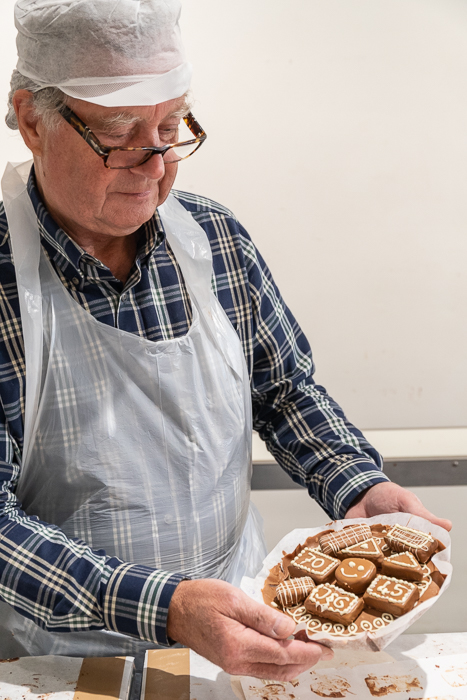 After the workshop, we drove on to Futureland, an exhibition center in the middle of the enormous port of Rotterdam, from where you can take excursions by bus and boat. We went on a bus excursion which was really fun. These are gigantic pillars for offshore windmills…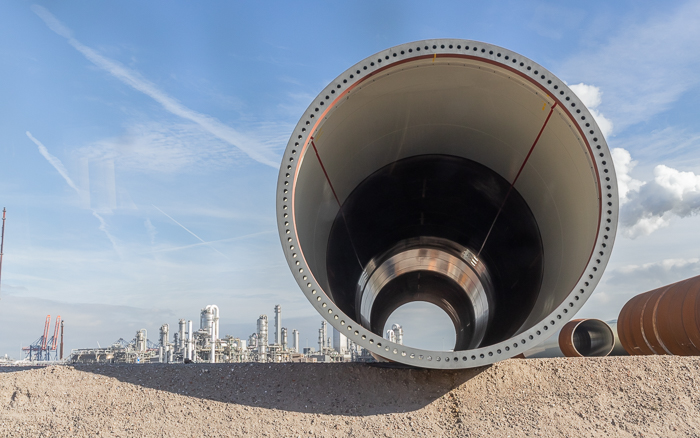 The coolest part is watching the crane load/unload container ships, all completely automatic with self driving trucks. Fascinating!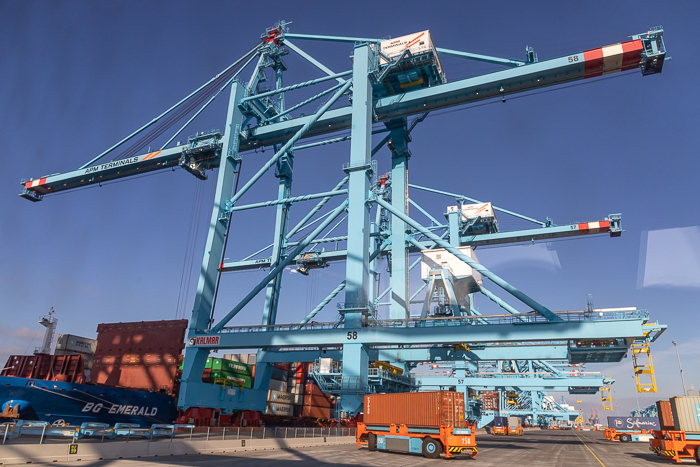 It was a really fun weekend, and my parents enjoyed the surprise day out 🙂 The next day, we went for a short walk on the beach before returning to Rotterdam.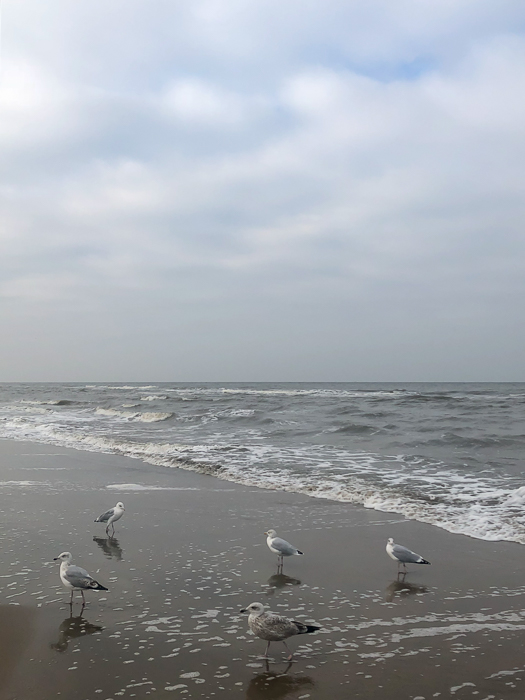 At work, things have been changing. Another company joined us, which doubled the amount of colleagues – quite nice actually! It also meant some changes in our work schedule, and for the first time I had to work an evening shift. I wasn't too happy about that (they finished at 22:15, and with parking being a nightmare late in the evening in Rotterdam, it would often be 23:30 before I got home) – but watching the sunset from the office was quite nice at least 🙂

A few days later I went "baby shopping" with Sofie. We had given her a gift voucher a while ago for a day out with us, anything she wanted to do – and this is what she chose 😀 we went to a huge baby shop, it was a lot of fun actually. We also enjoyed a nice lunch followed by cake 🙂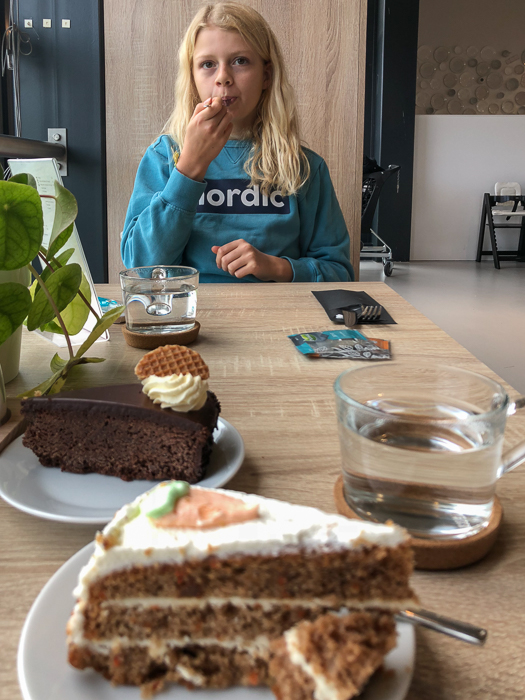 At the end of the month it was time for holidays! One early Sunday morning we met Jessica and Sander at the airport, ready for an adventure!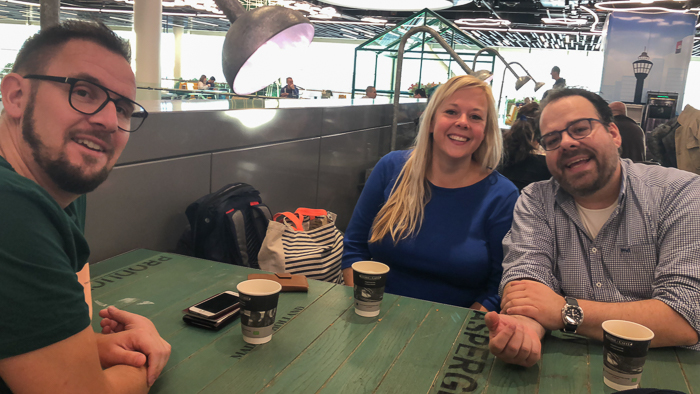 We waved goodbye to the Netherlands…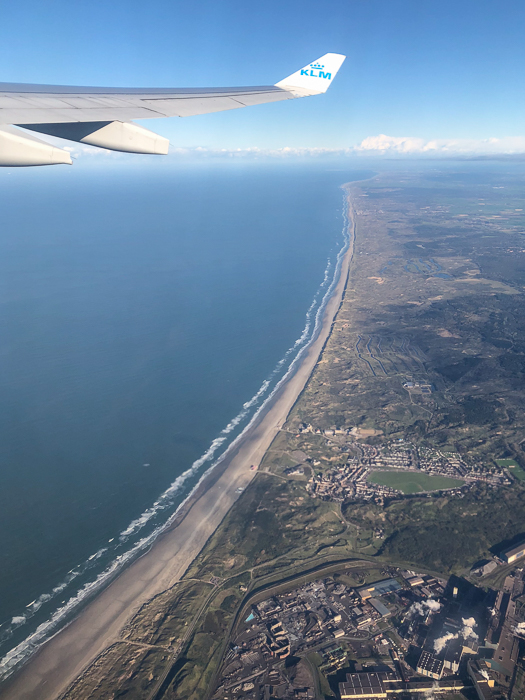 .. and said hello to FLORIDA 😀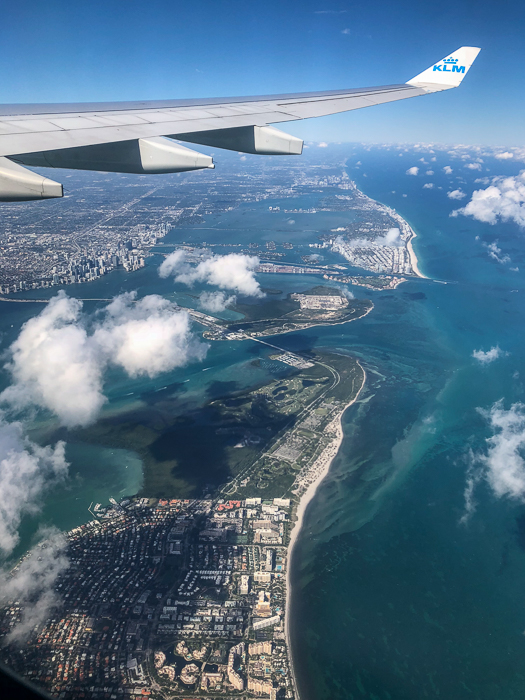 The trip went smoothly and fast, and that evening we were having drinks in the middle of Miami South Beach 🙂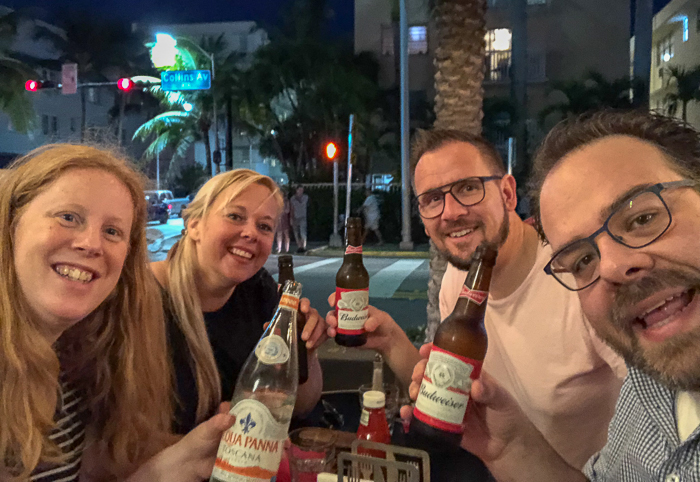 It was Jessica's and Sander's first visit to Miami, and our second. Of course we had to photograph the amazing beach houses again, we couldn't get enough of them 🙂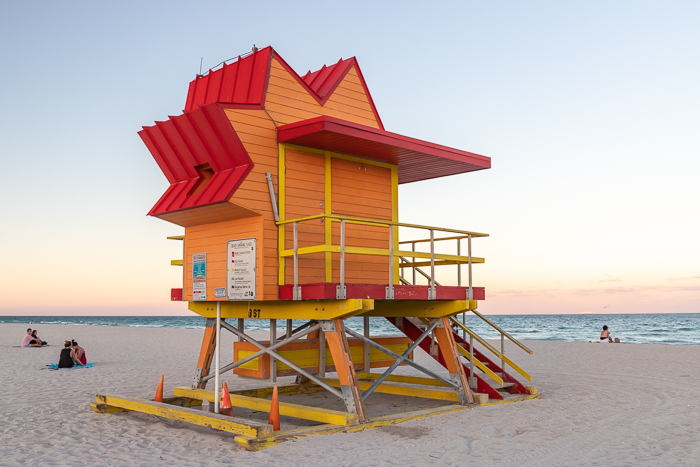 We had a wonderful time in Miami, and after that we left on a road trip to another exciting city: New Orleans! But by then it was November, and anyway – this trip deserves a blog of its own 🙂
More soon!