I've been back from a fantastic trip to Switzerland for more than a month, but I'm still sorting through the 1000+ photos I took there! I have a set on Flickr that I keep adding photos to, but eventually I would like to write a blog article.
Meanwhile though, I'd like to share some photos from last weekend's autumn trip with Tromsø Fotoklubb to Kråkeslottet on Senja. We drove there on Friday afternoon. Kråkeslottet literally means Crow's Castle, but it actually means something like ramshackle castle. It's a fantastic building, built on poles on the outer coast, so you always hear the waves crashing. It was a labyrinth of stairs and rooms and quays – and it was filled to the brim with art. I've never seen such a magical place, I loved it from the moment we set foot in it 🙂
On Saturday we all went to the old (abandoned) Skaland Grafittverk (a graphite mine, or put very simplistic: a pencil factory 😉 ). The factory was abandoned in the 80s, and we had permission to walk around the old buildings.
Lots of old stuff to photograph 😉
After lunch, it cleared up, and I went on a trip to the nearby beach with Merete, to take some photos of our "palace" 🙂
There was a nice big beach right next to Kråkeslottet…

Afterwards we decided to drive to Tungeneset, a well known viewpoint towards Okshornan (the bull's horns). The light was fantastic, and every now and then some huge waves crashed over the rocks. We weren't alone there, another photo club or workshop was taking photos as well, so we had to be careful not to get in each other's way.
We stayed quite late, and were worried we'd be late for dinner. But when we drove through the tunnel to get back to Kråkeslottet and we saw the amazing sunset, we realized nobody would be eating while the sky gave a show like this…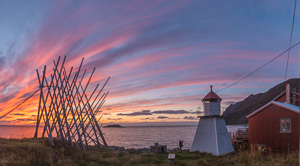 We had a great dinner (whale!) and a nice evening. The next day was cold and showery, and while almost everyone went to the beach, I enjoyed sitting in the kitchen, drinking tea and reading magazines – a proper lazy Sunday morning 🙂 In the afternoon I joined Jens Kristian and Erlend on a "topptur", though even by Dutch standards this one didn't classify as a mountain 😛 It was a small hill right behind Kråkeslottet, but the views were very nice!
After this exhausting trip we decided it was time for a sauna 🙂 And when we stepped out to cool down, we found it had started snowing! In the late afternoon we made our way back to Tromsø, but we just had to stop at the viewpoint at Bergsbotn – the autumn colours were fantastic, and the mountain tops had a sprinkling of snow.
I had an early shift the next day (06:30, ouch), and this is the view that greeted me from work… 9 cm of snow had fell overnight!! Autumn has hardly begun and it looks like winter – a bit too early for my liking 😉 It was only 3 months and 5 days after the last snowfall on the 16th of June – crazy!!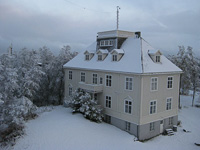 The snow has melted from the roads at least, and we're expecting a lot of rain tomorrow. Good – I prefer autumn before winter 😉