Looking back: June 2018
Looking back: June 2018
Since August starts tomorrow, I figured it's high time I write a blog about JUNE. Ahh I am so behind 😉
We spent the first weekend in June in Groningen, celebrating Michiel's birthday 🙂 It's a beautiful city that I used to visit a lot, but it had been a long time… nice to be back!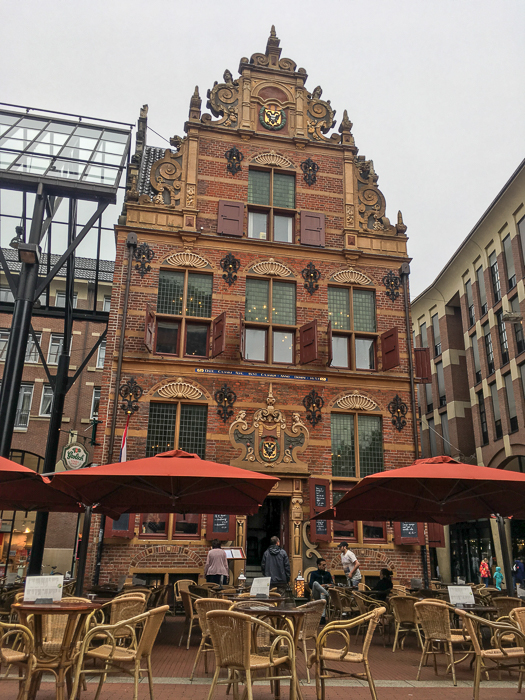 We first explored the city by following an architecture walk, which ended at the Groninger Museum. This is the most famous museum in Groningen, and well worth a visit. Inside and outside, it's a really cool modern building with lots of surprises inside. A very nice afternoon!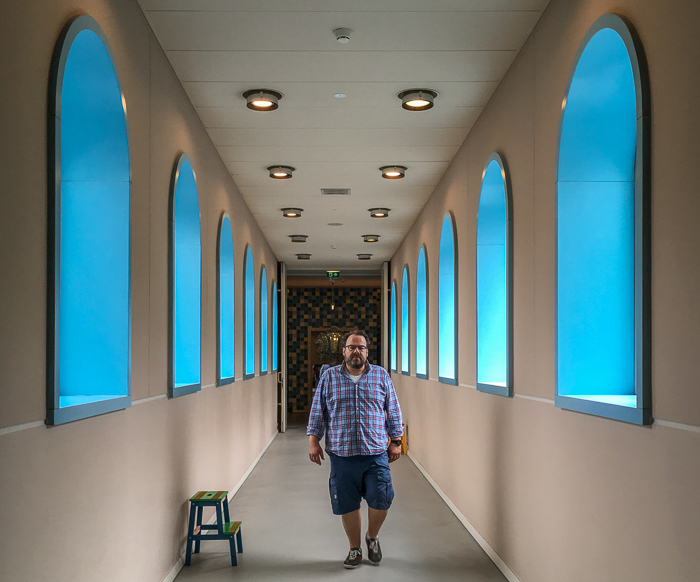 A selfie in our hotel room before going out for Michiel's birthday dinner.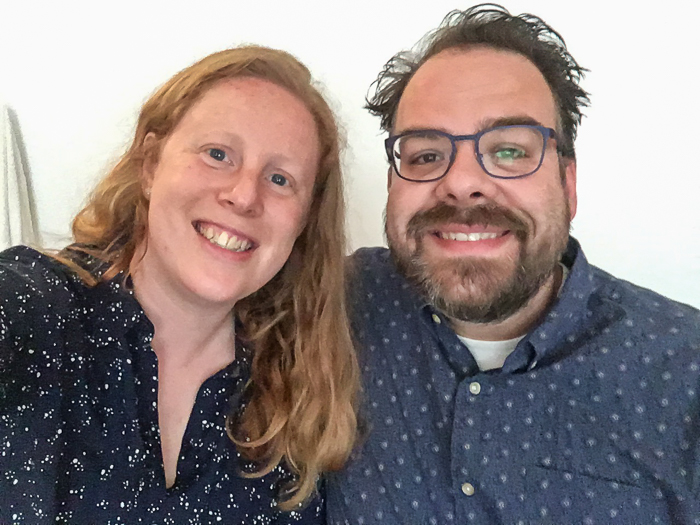 I found a really nice sounding Italian restaurant through TripAdvisor: Gustatio. You have to book in advance as the restaurant is tiny and quite popular. It was AMAZING! An Italian restaurant in the best possible way: run by Italians, serving classical, simple Italian pasta dishes that are SO tasty, served in a really relaxed way and not expensive at all. Somehow I only have a good photo of our desserts, which were heaven 🙂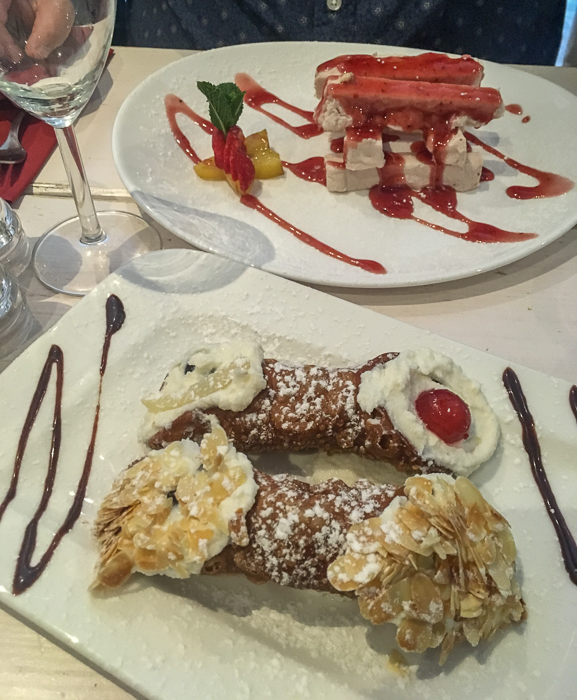 After dinner, the clouds finally broke and the light was beautiful. We walked around the city, finding some beautiful places.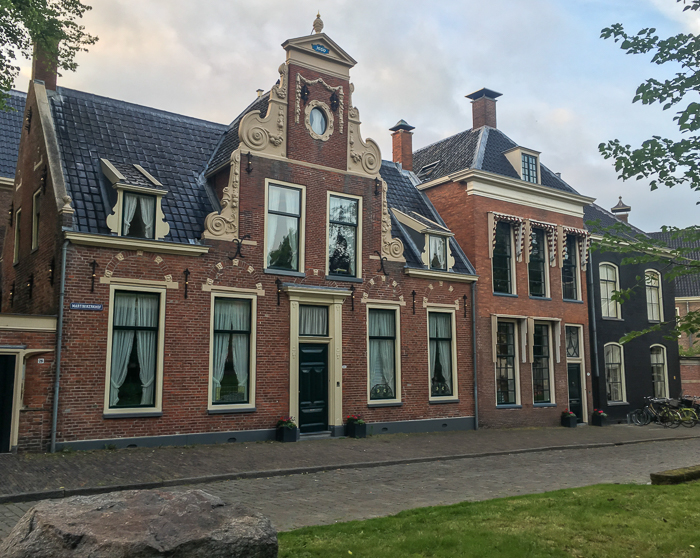 The Martini tower, a famous landmark in the city…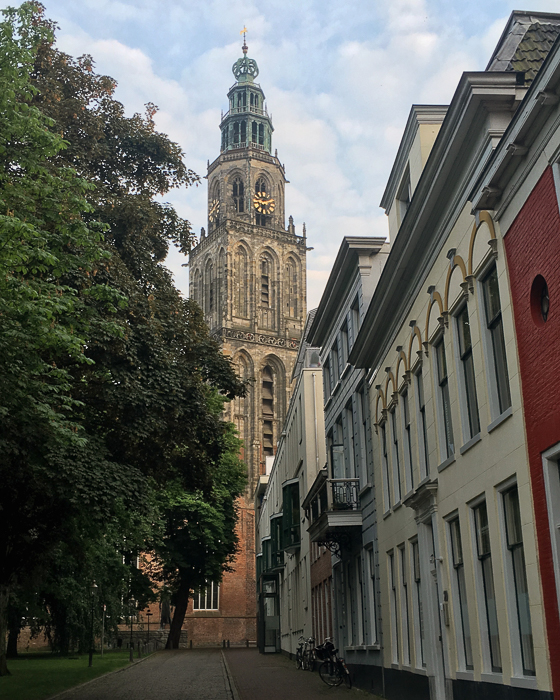 Beautiful houses near the Martini tower…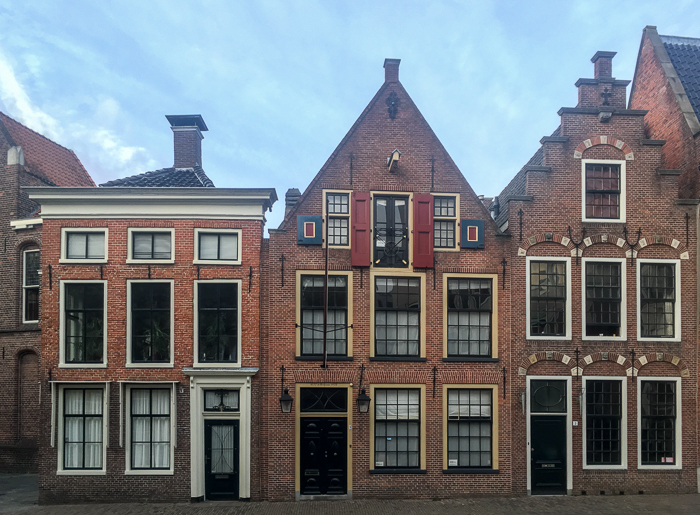 The next day we decided to drive over the Afsluitdijk (a 30 km long dike!), because Michiel had never driven over it. That's unacceptable for a Dutch person, so we had to fix this 😉 On the way to my brother's birthday party, we stopped for lunch in my favourite little village: De Rijp. Always beautiful…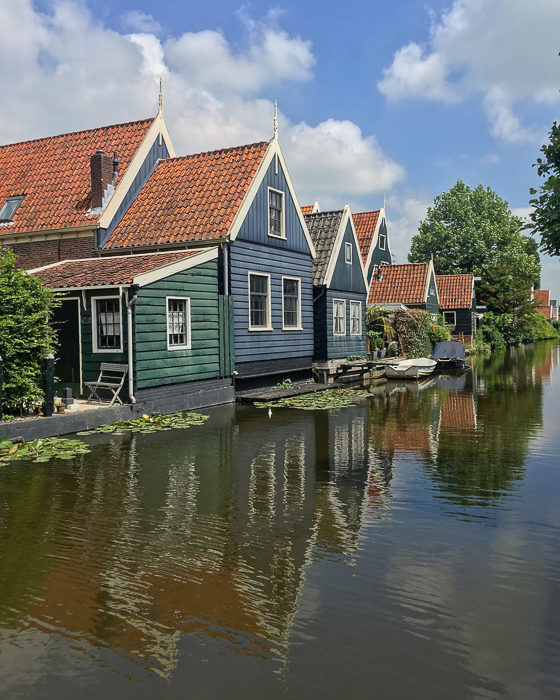 The next day I was working, and after work we were going to a Beck concert in Tilburg with Maarten and Suus. I finish work at 14:00 and had to wait for Michiel to finish, so I went for a walk in a neighbourhood of Houten (where we both work) I had seen on Instagram and was keen to see for myself. Quite an amazing colourful place with houses built right on the water, very cool!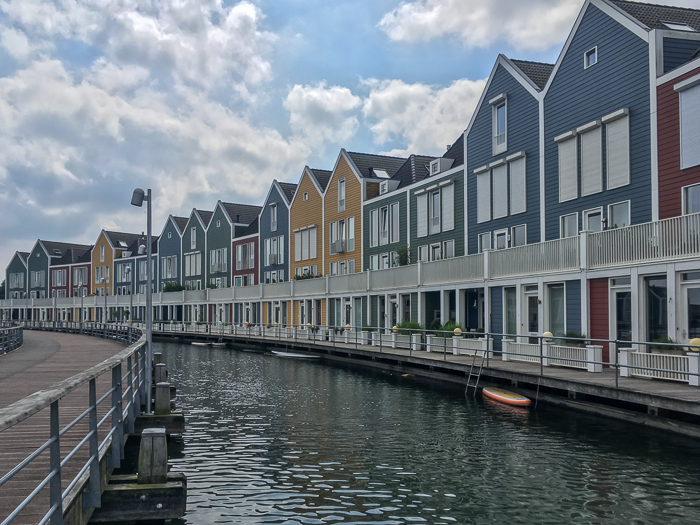 Basically a modern version of those old wooden houses in De Rijp!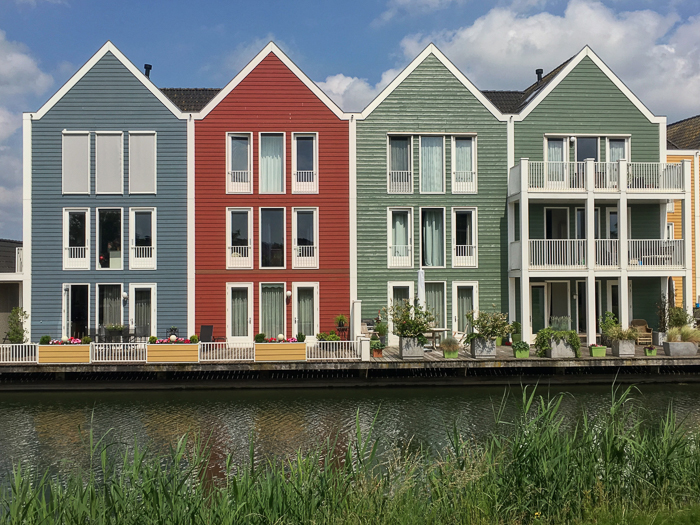 I spent the second weekend of June working, but after work on Saturday we went to Reeuwijk to have dinner with Jessica, Sander and the boys. We had something to celebrate: they sold their house! They had already bought an amazing house in Gouda, so plenty of reason for a toast!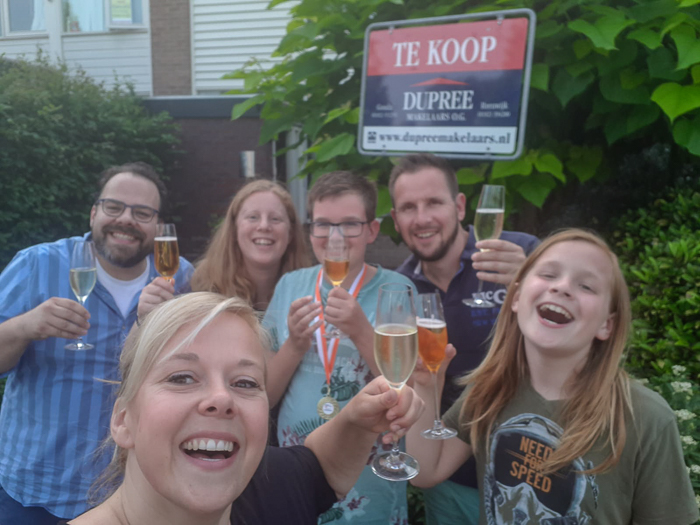 After that weekend, I had some days off. We went to visit Michiel's mum in Wageningen. The weather was beautiful and we went for a walk just outside the city – I love this area!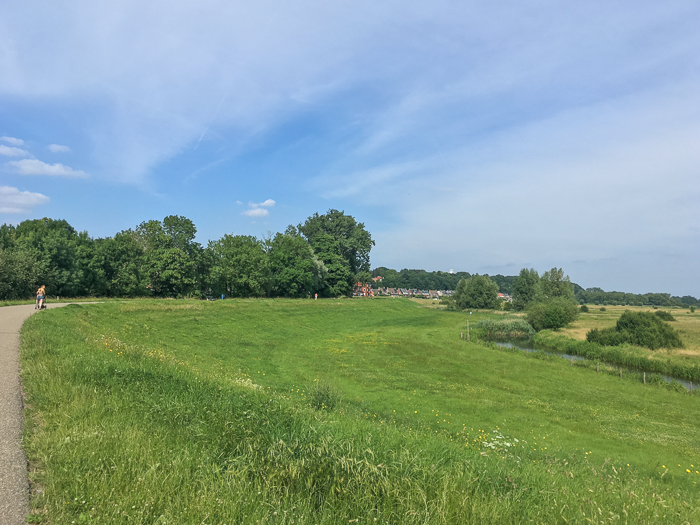 Back in Rotterdam, I finally managed to visit the Hyperrealism exhibition in de Kunsthal (modern art museum). It was fantastic, some sculptures were so realistic it made you confused. Others were quite bizarre, but so fascinating. You can read more about it here (although the exhibition has now finished).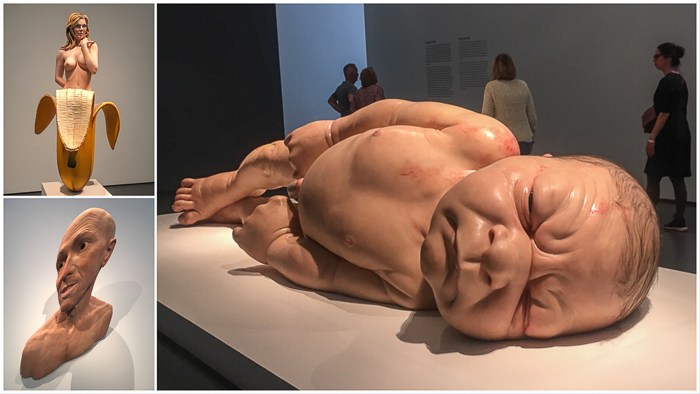 During the next weekend, the Architecture Days took place in Rotterdam, with lots of excursions. I booked us on an excursion to visit the inside of the Erasmus bridge. It was really cool! We got to see the gigantic hall inside the bridge, with the mechanism for opening the bridge. We were even allowed to stay there when the bridge opened, an impressive experience!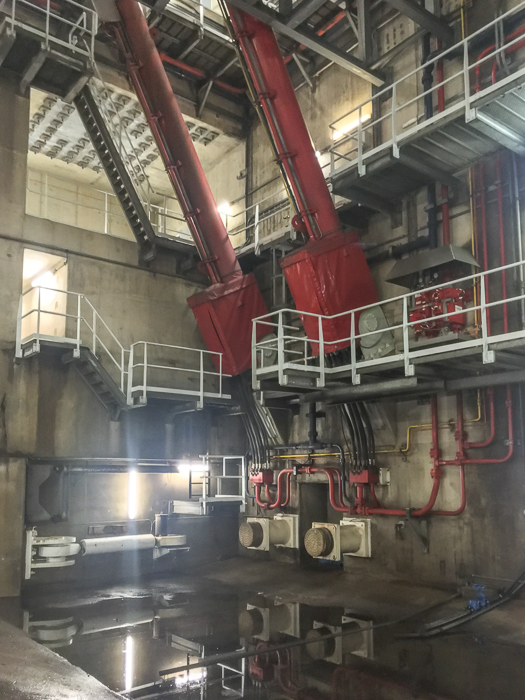 Impressive to see the cables…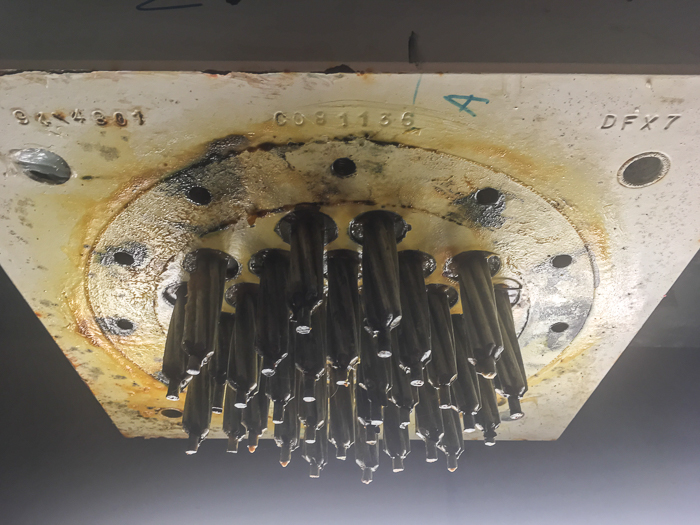 A few days later my parents came to visit us in Rotterdam. We had a nice dinner together, and the day after I took them for a bike ride to the Kralingse Plas and the Heemtuin. This summer has been crazy hot and sunny, but that day was an exception: it was cold, cloudy, windy and rainy. Oh well 😉
We got caught in a rain shower, which was a good excuse for a coffee break! Here my mum looks very sceptical of me taking a photo, as usual 😛 And yes, I was having a hot chocolate, it was that cold!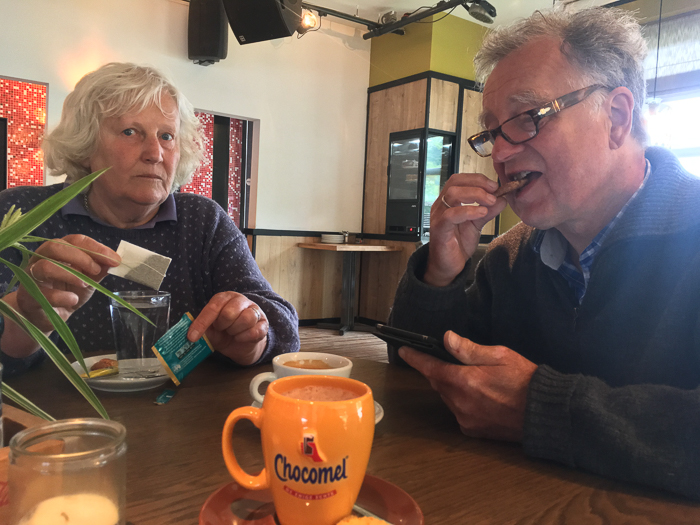 That afternoon I went home with them, because we had tickets for a Passenger concert on the beach in Bloemendaal. It all sounded so nice when I booked it, but it was COLD for an outdoor concert, and (in my opinion) they let too many people into the venue. We stood in the back and hardly saw anything. Oh well, Passenger always manages to include everyone but still, it wasn't my favourite concert experience. I think my favourite part of the night was actually when the concert finished and we saw this amazing sunset from the beach!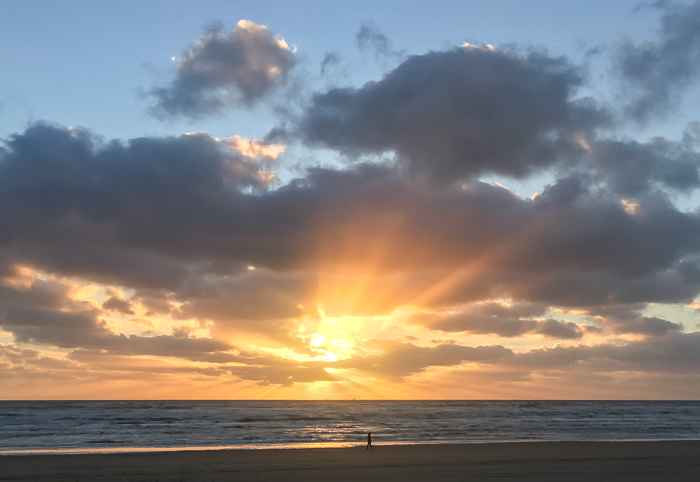 A really beautiful end of an otherwise very gray day! 🙂 Not a silver lining, but a golden lining!
And with that, June came to an end. Can you believe I took no photos at all with my SLR? Even worse, not during July either… Oh well! More on July soon(ish) 😉