A week ago, we went on a short trip to Elvestua in indre Troms (inland from Tromsø). It takes about 1.5 hrs to drive, and then it's a 2 km ski along a tractor road to the cabin. The cabin is quite old, but really cosy 🙂
Inside the door fishermen had drawn outlines of their catches – an impressive sight!
Right below the cabin is Øvre Fjellfrøslombolaen, a small lake or rather, part of the river that flows out of the larger lake Fjellfrøsvatnet. Due to a stable high pressure over Finland/Russia, all of January had been cold and dry – some places even had 0.0 mm of precipitation all month! The lake was frozen solid, and we had good hopes that there would be good skating conditions – our reason for coming here. At first we walked around the small lake in front of the cabin for a bit.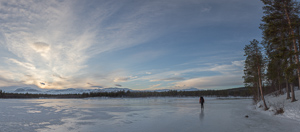 It's strange to walk over ice so clear that you can see the bottom, but it also made it very easy to see that the ice was more than thick enough to hold us.
We thought we could follow the river upstream to the larger lake, but the fast-flowing river was open in lots of places, and it wasn't easy to follow it on the banks, so instead we went there by ski's, following the forest road that had been used by snow scooters.
Fjellfrøsvatnet looked beautiful…

Unfortunately it was very windy (and cold!) on the lake, and we also found that the ice was very uneven and bumpy – not that much fun to skate on actually.
Still, the views were nice and we skated around for a while.

That evening, the aurora put on quite a show – it was incredible to watch it reflected in the clear ice of the lake. What you can't tell from the photos though, is that the wind was incredibly strong on the lake. Combined with the slippery ice, it would easily blow us along and it was hard to stop 😀 I had only my lightweight tripod with me, so you can imagine what happened to that 😉 – in the end we each held on to a leg of the tripod with our feet, while shielding the camera from the worst of the wind gusts with our bodies. Still, sometimes the wind would blow Paul, me AND the tripod along the ice – but luckily we did manage to get a couple of sharp photos 😀
It was a great little trip, and we might come back to the cabin in summer 🙂