(We visited Venice in late April – I'm only a little behind with my blog…)
After our weekend in Modena, we drove to Venice. We left our car at one of the cheap car parks out of town, and took a bus to the city centre. From there we took a water bus to Giudecca (an island just across from the "main" island in Venice), where we were met by our AirBnB hostess.
On our first afternoon in Venice, it was rainy and windy. It turned out to be a Bora event  – katabatic wind, which is what my PhD was about – so quite fun to experience! This was the street that our AirBnB apartment was at, almost next to the women's prison…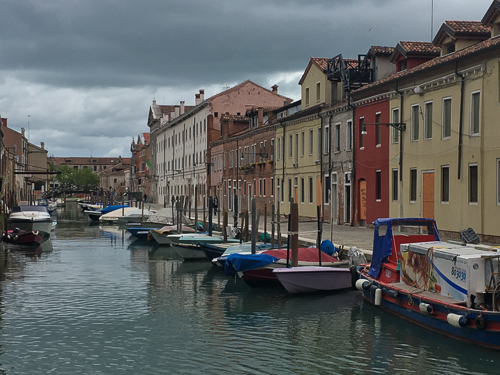 We went for a short walk around Giudecca, but we quickly retired to our apartment as getting soaked wasn't that much fun…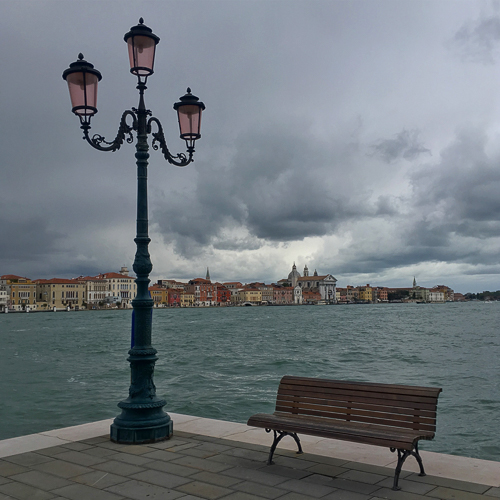 The next day we took the waterbus for a long time, to the island Murano. The day started really sunny and it was so pretty. Murano is famous for all the glassmakers located there, and this artwork in front of the bell tower represented that.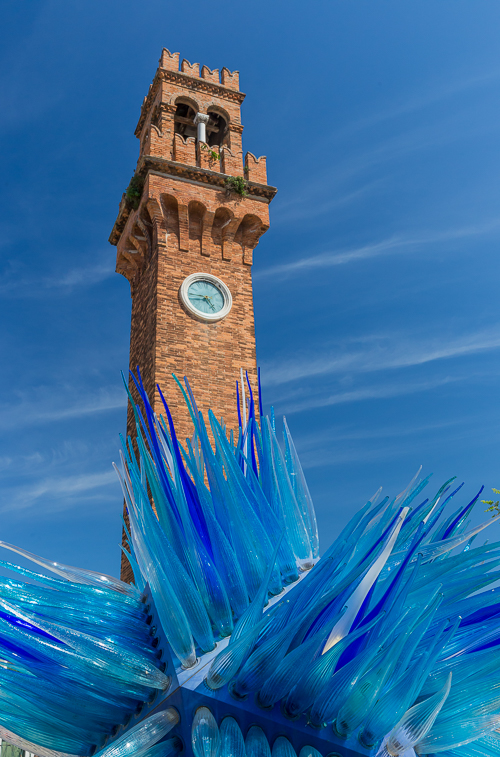 Murano was a nice place to start in Venice, as it wasn't so crowded here. We enjoyed walking along the canal and looking at all the small shops selling beautiful glass items.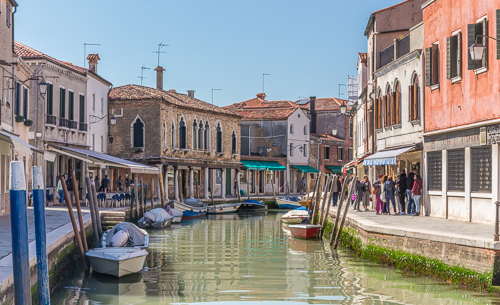 Such a colourful sight!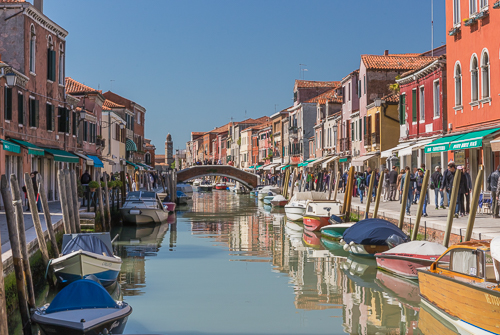 We visited one of the glass factories and watched a demonstration. I bought some beautiful turquoise glass earrings – the perfect souvenir! In front of the glass factory we had great views towards Venice over the lagoon…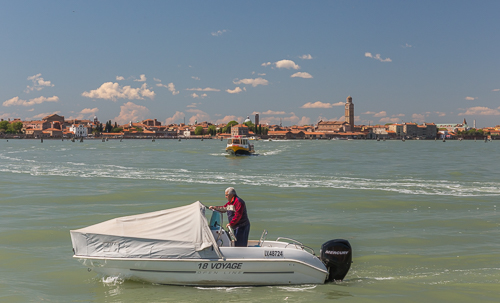 There was laundry drying everywhere…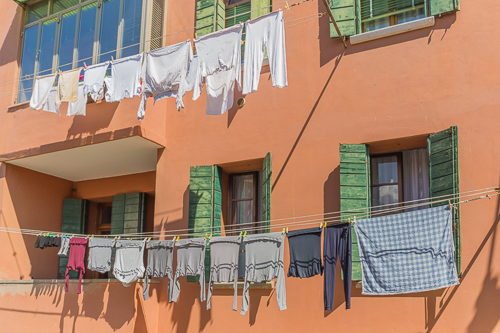 We took the boat back to the main island where we continued exploring all the narrow streets and canals.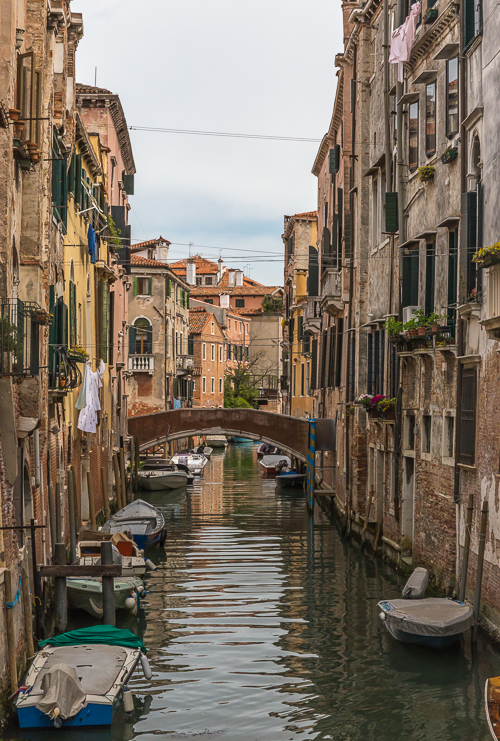 The buildings in Venice are really old and it shows! I loved these kind of scenes…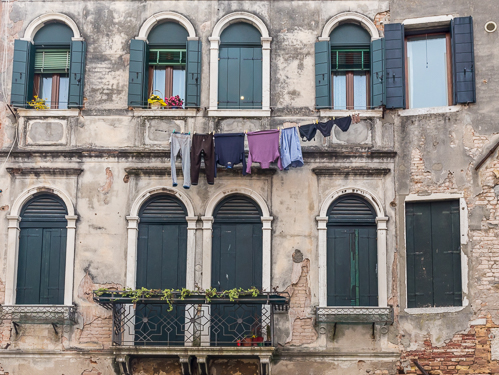 Finally we reached Piazza San Marco. It was REALLY crowded around the piazza. That was exactly as everyone had told me before our trip, and what I was most worried about – that Venice is nice but the crowds of tourists will drive you mad.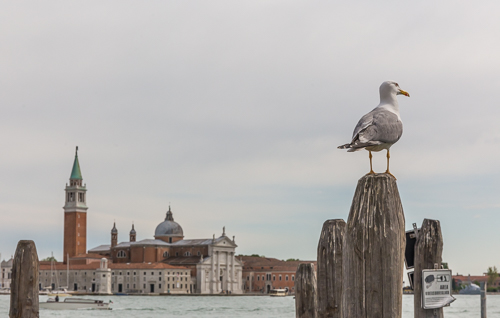 And yes, there were a lot of people here. But if you went just a couple of streets away from the most famous places (like Piazza San Marco), the crowds are gone and the city is yours to get lost in.
So to conclude, I would still recommend Venice – it's old, it's incredibly beautiful and fun. It's easy to understand why so many tourists flock to the city, but I was glad they don't venture very far away from the famous sights so you can still find peace and quiet in the city!
The next day was very sunny. This was our view walking towards the waterbus stop on Giudecca – and the yellow boat is actually an ambulance!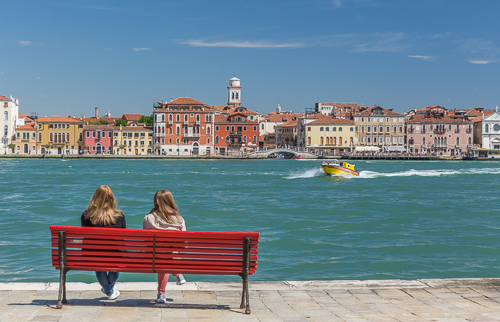 We wondered around the many colourful streets and canals again, and enjoyed the sunshine.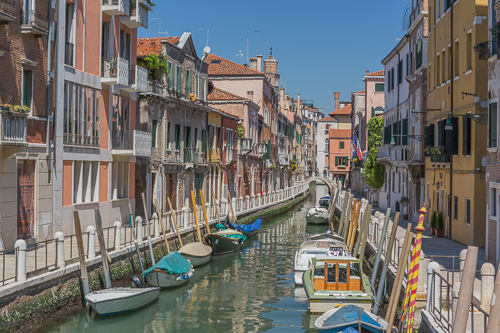 Gondola's in front of Basilica di Santa Maria della Salute…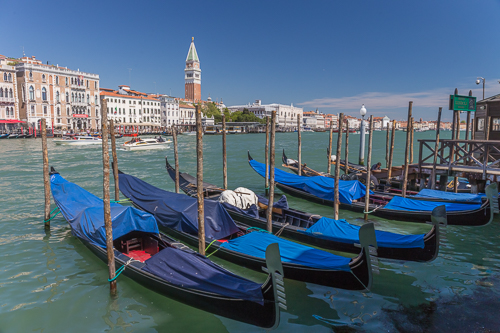 The classical image of Venice, with tourists in a gondola…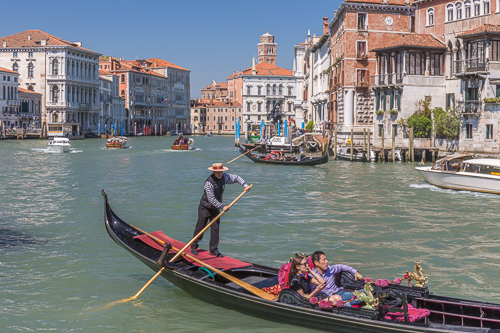 Another famous hotspot in Venice is Rialto bridge. It was really crowded with people and I actually had to wait for "my" turn to take a photo from the railing, haha… But the views from the bridge were worth a little wait.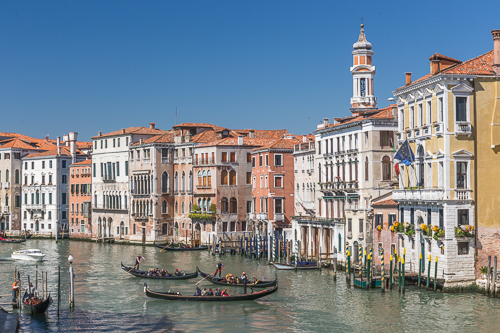 Lots of boat traffic on the Grand Canal…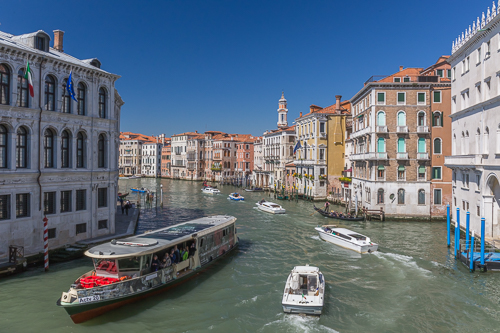 I loved the view from the bridge, you could almost imagine being way back in time.. not a car in sight. But of course you're surrounded by people taking selfies on their smartphone, so this illusion doesn't last very long 😉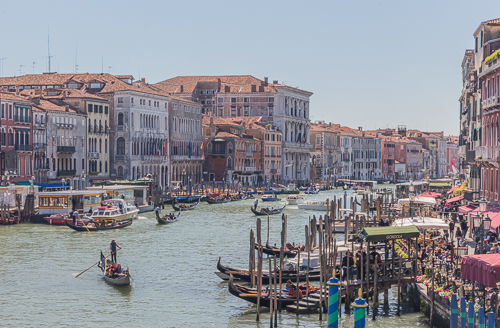 Panorama from the Fish Market. Just steps away from Rialto bridge but here we were nearly alone.

Street scene in Venice.. I loved getting lost in the narrow streets.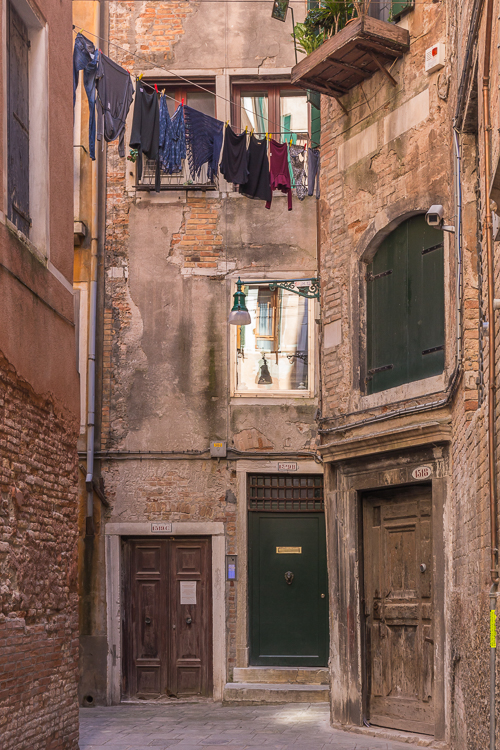 We tried to get really lost, but actually you easily find signs pointing to the nearest point of interest.. oh well. Lots of cute little bridges…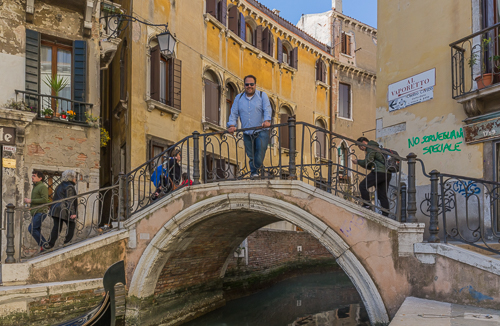 Two pigeons in two old windows…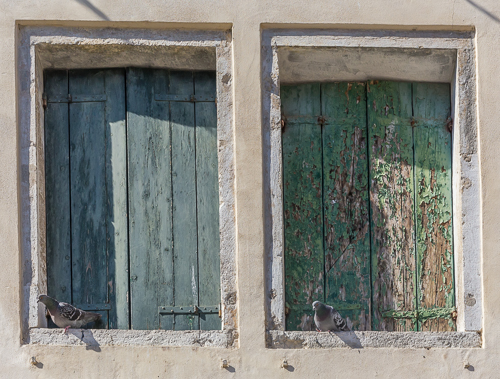 After dinner we went for a sunset walk to get some photos. It's even more beautiful at that time of day…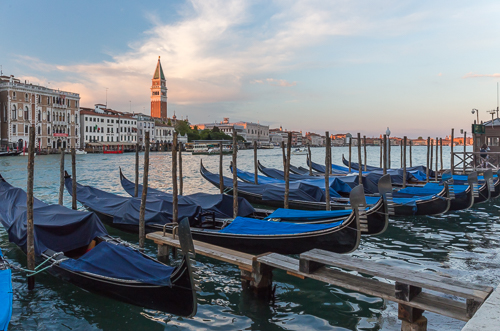 We spent some time on The Ponte dell'Accademia watching the last sunset colours disappear…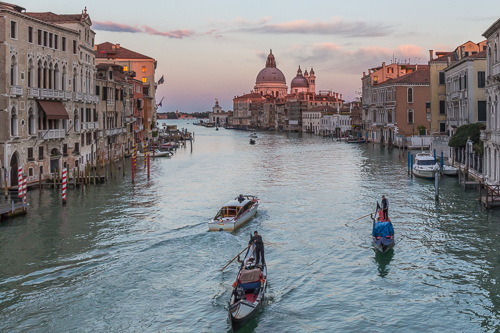 Venice at twilight is really pretty!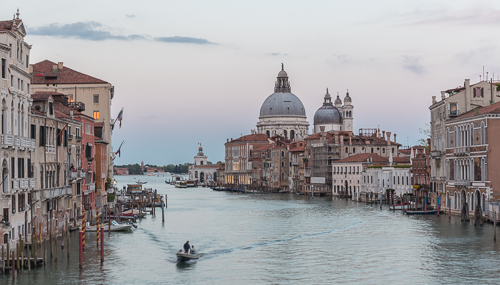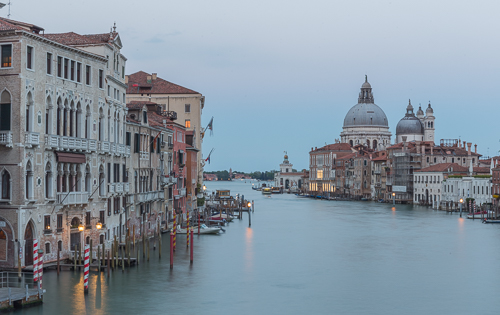 Finally, the blue hour – all the lights are on and the sky is a deep blue colour. Loved this view!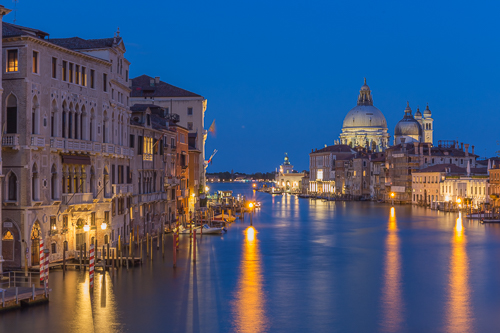 It was fun taking long exposures of the boats passing underneath the bridge.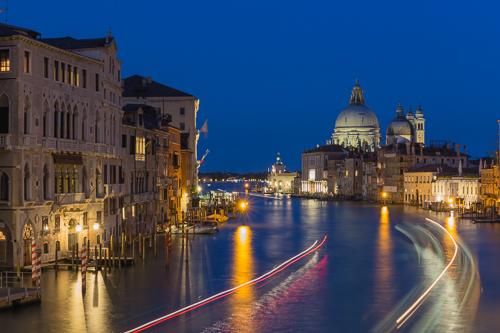 We spent three nights in Venice and really enjoyed our stay. It was the end of our Italy road trip, after Venice we drove back to the Netherlands (two days of driving).