Russia trip part 3: Kandalaksja & Rovaniemi
A bit delayed, but here is the final part of our Russia trip!
After our visit to Murmansk, we drove south to Kandalaksja. We stopped in Monchegorsk for lunch – quite a nice looking town actually! The map below shows our route, plus a little road trip we went on the next day, following the coast to just passed Umba – but more about that later.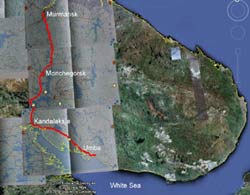 After checking in to our hotel (where nobody spoke English!) we went for a walk to explore Kandalaksja. A much smaller town than Murmansk, with wide streets, trees, and wooden houses. Some parts of it looked quite nice 🙂
Some of the wooden buildings were very brightly painted! In the photo on the right (below) you can see that Kandalaksja does also have its share of concrete apartment blocks. This photo is taken (by Steve) from the frozen White Sea.
We walked to the shore to watch the sunset, and to our surprise found an icebreaker! This one is called Kapitan Nikolaev. We tried to walk over to it, but there was too much water/slush on top of the ice to continue.
When we walked to the shore, we noticed a building that looked like it might be a restaurant. On the way back, it was all lit up in blue Christmas lights, a LOT of them! We decided to try and have dinner there. As in all Russian restaurants, somebody takes your coat at the door before you go in. Inside everything looked very new, and very empty. There was only one other table occupied. Nobody spoke English except for the cook, so in the end he came to our table to take our order 😀 He was really friendly and suggested some meal options. The meal was wonderful!
After dinner, we walked back to the hotel, and amused some passers-by by taking a photo in front of the hotel 🙂 Stephen also took a photo of his very pink room! The hotel was quite special, the hotel rooms were all on the same floor, and all other floors had all kinds of things. A bar and night club, a dentist, a door & shower cubicle shop (which was extremely popular!) – we had fun exploring the building!
The next day we explored a bit more. Here too, lots of trains full of coal – the nice building in the background is the station. And I had to get a photo of this Lada 4 wheel drive 🙂
In Russia, you find many kiosks where you can buy all sorts of things. Often with a tiny window to do business through. The second one was an unusual shape and was a bread shop.
The street signs are quite colourful! We also found some abandoned buildings near the station.
After our walk, we went for a drive along the coast of the White Sea (see the map above). Watching the view in the photo above, we understood why the White Sea is called White 🙂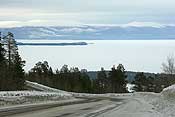 Umba looked like a pleasant small town, but unfortunately we weren't allowed to stop there. Umba is closed to foreigners, and to visit you need special permission. So we drove around the town and continued a bit further. We came across a village of what we assume are all dacha's (summer houses). The village is called Kuzreka. The clouds were incredible, showing a pretty wave-like pattern. We went for a walk around the village.
Luckily someone had driven a car through it recently, it was nice walking in the car tracks – the snow was very deep! Most houses looked locked up for the winter, with snow piling up as high as half the front door! There didn't seem to be anybody around. This house had quite a creative solution for a gutter 🙂

Some of the houses looked like they might collapse if you leaned against it, while others looked quite sturdy and pretty.
There were many colourful houses, it was really nice walking around the deserted village looking at all the houses! In the end we did find out that one person was present, and he didn't seem to like us very much. Well I guess we must have looked very strange to him, walking around the abandoned village taking lots of photos.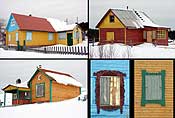 That evening we tried to find a different restaurant to eat, but we couldn't find any! Kandalaksja is a lot smaller than Murmansk, and we were quite an attraction for the local people. Most would just stare at us, some were brave enough to yell "Hello America!" :D. In the end we had dinner in a tiny cafeteria, where the food was paid by weight (even the potato chips – which they microwaved…).
The next day was our last day in Russia, so we started with some shopping to spend the remainder of our money. I was quite attracted by the sweets section in the supermarket – it all looked so good! And it's so cheap! (Also, it's almost all pure sugar 😉 ) Paul almost got in trouble for taking that picture in the supermarket, they don't like that. The photo on the right shows what we brought home – lots and lots of chocolate, sweets and (of course) vodka!
We had a look at this bridge crossing the river behind our hotel. As you can see, it was a very misty morning. There was some well on the other side of the bridge, we saw lots of people with jerrycans walking in that direction, like this woman coming back with a full jerrycan.
And here too, we found the lucky locks attached to the bridge…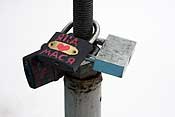 After our shopping spree, we left Kandalaksja and headed west to the border. We didn't take the same route back, as we were heading for Rovaniemi in Finland so we used the border crossing near Salla. We tried to buy some lunch on the way, but we got the car very stuck in the snow in a place we were not sure we were even allowed to stop – luckily a friendly guy helped us dig the car out! After that we thought it best to continue to the border. Easy as it was to come into Russia, it wasn't as easy to leave! We spent more than an hour at the border crossing, answering lots of questions, and they even went through all the photos on our cameras. But fortunately in the end we were allowed to leave 🙂 The Finnish border crossing was a lot easier ("You live in Tromsø? Do you work in a fish factory?").
We were on the way to Rovaniemi to visit Mats, but first we visited the cabin that he just built. It looks really nice! It's not completely finished yet, but it will have electricity and (of course!) a sauna.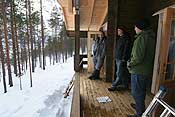 We spent that night in a very nice hotel in the centre of Rovaniemi. The next day, we visited the Arktikum museum. The building is quite impressive, it has a large glass tunnel in the middle. Half of the museum is popular science aimed at kids, where you can try a bear suit for example 😉 The other half was more about the local area and the Sami, and much more interesting.
Mats was determined to take us to Santa Claus, the huge attraction in Rovaniemi. And I thought Santa Claus came from North Pole in Alaska, how confusing 😉 It's crazy how Santa Claus became "big business" here – it's like a huge theme park. Talking to Santa Claus is free, but having a photo taken with him will cost you 25 euro. We arrived at the site too late to meet Santa, so we just walked around the shops and looked at the giant snowmen.
In the evening we had dinner at Nili – what an amazing restaurant! I think that was the best meal I've ever had! It was all Lapland specialities and you could even order bear… I had salmon as a starter, a vegetarian main of vegetables and grilled goat's cheese, and a dessert of a special Finnish cheese called Leipäjuusto with cloud berries. Hmmmm 🙂 The perfect way to end our trip!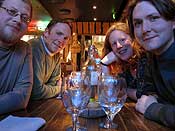 The next day we drove back to Tromsø – nearly 600 km. It had been a great trip!!
(Link to Part I: Tromsø to Kirkenes and to Part II: Murmansk)