Terschelling
Terschelling
Earlier this month, I was in the Netherlands with Paul, for a family party. My dad and his twin sister turned 60 and it was also my parents 35th wedding anniversary, so enough reason for a nice party! Typical for my family, it was not a very typical party… my dad put us all to work in his class room at the school he works at! It was a great success, photos of the party can be found here. It was also great to see my beautiful niece Mare again, she's 8 months old now and seems to love my camera 🙂 (probably because she can see her reflection in my lens, but hey).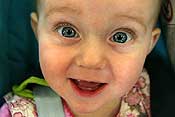 After the party, we took a train, bus and ferry to the island of Terschelling. This is one of my favourite places in the Netherlands, an island with wide beaches, dunes and forest. We were staying in a hotel called de Walvisvaarder. I had booked a double room, but they gave us the Cupido/bridal suite! A very beautiful room in the loft with nice views!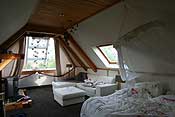 The next day we rented a tandem bicycle from the hotel. Paul was very keen on trying a tandem, and it was a lot of fun. When you sit at the back, it takes a while to get used to trusting the person in front. It's very strange to sit on a bike without being able to steer it! Paul even managed to take photos while sitting on the back… (to the great amusement of people coming from the other direction). The other photo is taken at the beach.
The wind had formed nice patterns in the sand around shells… in the first photo you can see me in the distance, taking the second photo.
Paul on a dune top with the flag of Terschelling.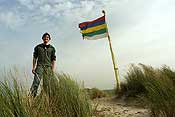 We saw some "inktzwammen", or shaggy ink cap in English next to the bike path. To me, these mushrooms are very familiar as you often see them in the Netherlands, but Paul had never seen them and was fascinated by the black ink dropping from them in later stages of their life cycle. They are quite fascinating though I find them too disgusting to take macro photos of… instead I took photos of Paul next to the mushrooms (they can grow quite large!) and nice drops on the grass.
Later we cycled through a forest full of mushrooms. Macro photography paradise! We spent a long time there playing with our camera's.
What we didn't expect were these huge mushrooms in the dunes. In the first photo you can see very well how tall they were! The last photo taken from underneath the mushroom shows that either there's aliens living in the mushroom, or Paul should clean his camera 🙂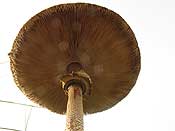 Around this area, a lot of people were picking cranberries – the only place in the Netherlands where they grow. Apparently a barrel of cranberries once shipwrecked from a ship from America in 1840 and they started growing. Now you can get many dishes with cranberries on the island, very nice!
We continued cycling to West-Terschelling, the largest village on the island. Also home of the famous Brandaris, the oldest lighthouse in the Netherlands, from 1594! Very impressive that it's still standing more than 400 years later. The first photo is some advertisement for a sausage of 1 meter long!
This photo shows part of an English submarine from the first world war, recovered by divers.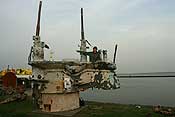 We were only on Terschelling for 2 days, so the next day it was time to leave already. We briefly visited 't Behouden Huys musem, named after the house Willem Barentsz built to overwinter on Nova Zembla. Willem Barentsz is from Terschelling. They named a lot of streets after him, but I thought they could have dedicated a much larger part of the museum to him, as it's a interesting story! There was a replica of the house, and one room that told the story, but most of the museum was dedicated to other subjects related to Terschelling. Still, a very nice museum!
After visiting the museum, we took the ferry back to the mainland. This time, we were on the slow ferry, which takes two hours. It was very sunny, so we enjoyed being out on the deck and watching all the ships. The sea there has very large tidal differences and is the creeks change all the time. All the shipping has to go through narrow shipping lanes, so you get good views of the ships around you – lots of beautiful wooden sailing boats!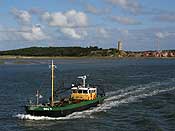 We had a great time on Terschelling, a pity it was so short! A day later we flew from Amsterdam to London, to stay with Paul's parents. We stayed there for 1.5 week and had a very nice time. Paul flew back to Tromso on Saturday, and I am back in Norwich for three weeks. I have many more photos of our holiday, and hope to upload more this week. I have to give a department seminar on Friday though, so I am a bit busy this week. Anyway, coming soon: photos of Brighton and the white cliffs, and photos of London.