After a wonderful 10 days in the Netherlands I took the train to Switzerland, to celebrate New Year with Célia and her boyfriend, plus a group of her friends from her choir in Brussels. On the last day of 2015, we went for a walk – even if the weather was not really cooperating: fog, rain and sometimes sleet.
We took a group photo on top, even if there was no view 😀 There was a restaurant near the top where we had a well deserved hot chocolate before returning the way we came.
In spite of the bad weather, it was quite pretty and atmospheric, and I think we all needed some fresh air 🙂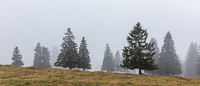 In the evening we celebrated with lots of nice food, good music and even some dancing 🙂 A great way to end 2015!
The next day we planned to visit Creux du Van, an amazing place I had only visited in summer. This year there is so little snow in the area that the road to Creux du Van is opened all the way to the end.
When we woke up it was completely foggy, but while eating breakfast the fog started to lift and the sun broke through. We were all excited to go hiking 🙂 Reaching the edge of Creux du Van, we saw a glory, Brocken Spectre and a fog bow on the fog below – amazing! We had a lot of fun playing with our shadows and declaring ourselves saints 🙂
A photo of the choir girls, and a panorama showing Creux du Van filled with fog.
Suddenly we could see the Alps very clearly on the horizon – so beautiful!
We took so many photos! It was such a beautiful hike. Almost symbolic how we spent the last day of 2015 in the wet fog without any view, and the first day of 2016 in glorious sunshine above the fog – we all hoped it was a good sign for the year to come 🙂
We walked to the cross at the top, to have an ever better view of the valley filled with fog, and the Alps on the horizon.
Of course we had to take a group photo here too – a bit different from the one taken the day before 😀
Nice views in all directions…
One last photo looking back at the Alps, before returning to the cars.

What a great way to start 2016!! The only thing that "worries" me is that I might not beat this beautiful hike this year 😉 but that won't stop me from trying! Happy New Year everyone!