Looking Back: April 2018
Looking Back: April 2018
I can't believe April came and went without me writing some blogs – I'm getting so behind! I worked a lot, but thankfully also had time for a lot of fun things – just not enough time to actually write about them 😀 At the very least, I try to keep up these monthly posts and hopefully soon I'll find some more time to write blogs.
The first weekend in April was Easter, and we were invited for a really nice Easter Brunch at Jessica and Sander in Reeuwijk. We even did an Easter egg hunt, which was so hard that I almost gave up on finding all my eggs 😀 but it was a lot of fun!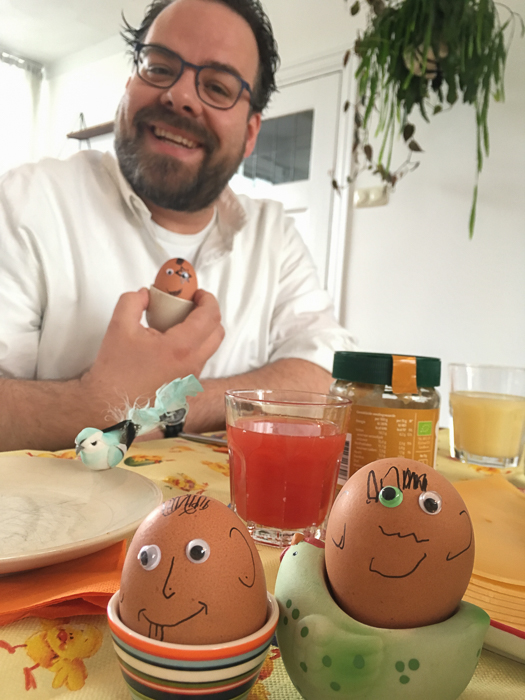 After that I worked for 6 days straight. It was tough, I had only just come back from 2 weeks in Norway and these were my first shifts working independently (no longer in training). It also meant getting up every day at 04:20 or 05:20, I think you'll understand I was half dead by the time I finished the 6 days 😉
During the weekend I worked, the temperature reached 20 degrees for the first time this year, which we celebrated with an ice cream 🙂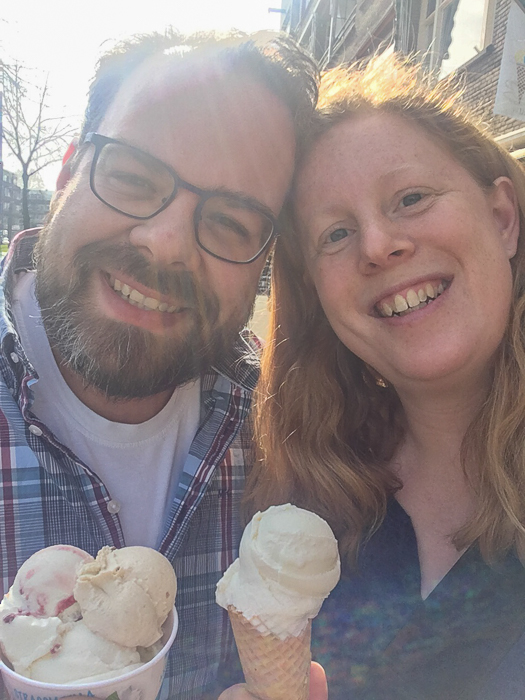 After this work marathon, I had two days off – but they were spent working on the paper I am STILL trying to get published, going to the dentist and voluntarily going into work for an important meeting. Hmm, not the most relaxing "weekend"!
Later that week, we went to a Clouseau concert (for the second time :D) with Sharon and Renier. The concert was totally different from the one in Amsterdam, it was shorter and they hardly talked between songs. It was nice, but the audience was a bit annoying (talking through the concert and blocking my view, how dare they 😛 ). Still, it was a fun evening!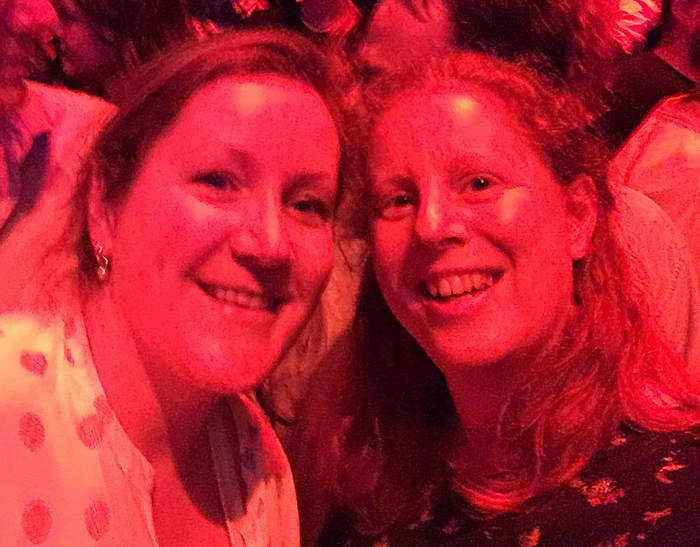 The second weekend of April was a long weekend for me – 4 days off. I really needed it! I still had to spend some of it on the paper – I will be SO relieved when that is out of the way, hopefully soon.
Still, I found time for a bike ride to my favourite "secret" garden (de Heemtuin) at de Kralingse Plas. I enjoyed watching the birds, and all the spring leaves that had exploded after those first warm days!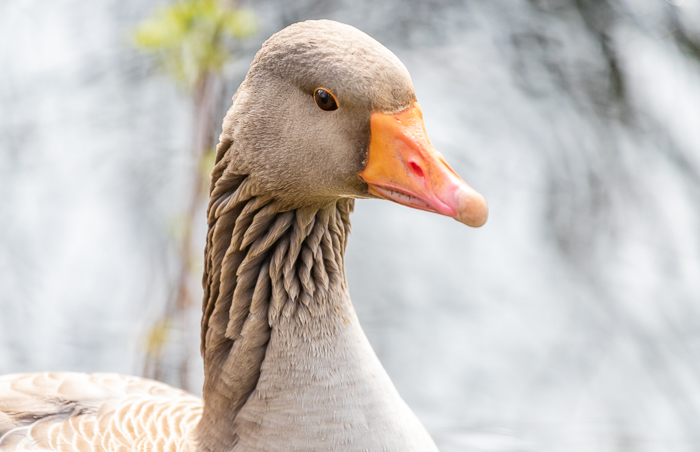 I also found this cute baby bunny hiding between the spring leaves…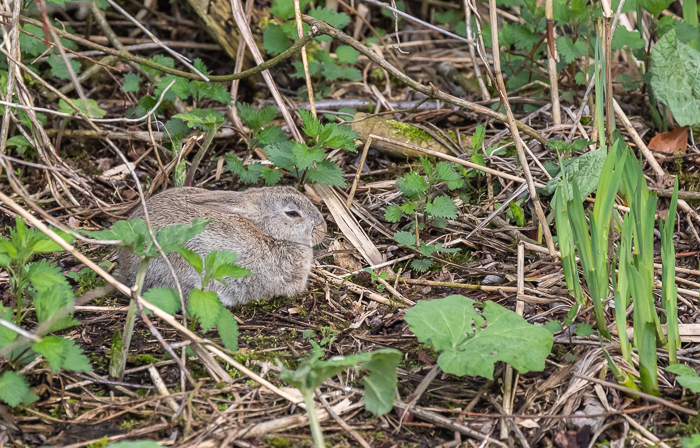 And a family of pheasants, who always seem to hang around in the garden.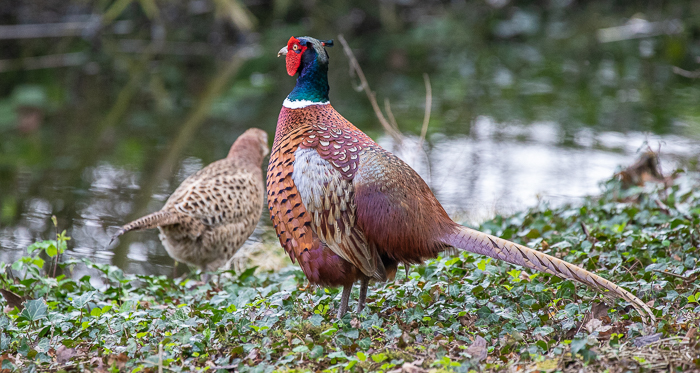 Besides birds and bunnies I also disturbed a couple who obviously thought they'd had the park to themselves on a Friday morning – Spring is in the air I guess 😛
On Saturday, we went to Gorinchem for a meeting with an estate agent who's going to help us buy a house. We spent the rest of the day in Gorinchem to explore the town a bit. I fell in love with Gorinchem's city centre, it's so beautiful…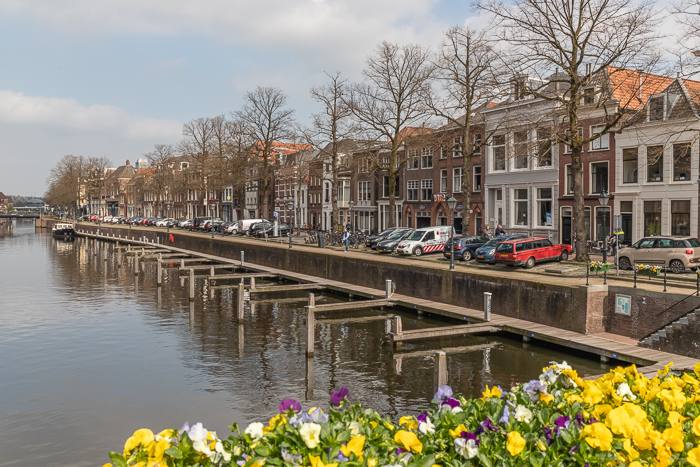 The house on the water is actually for sale, we went to look at it later the next week.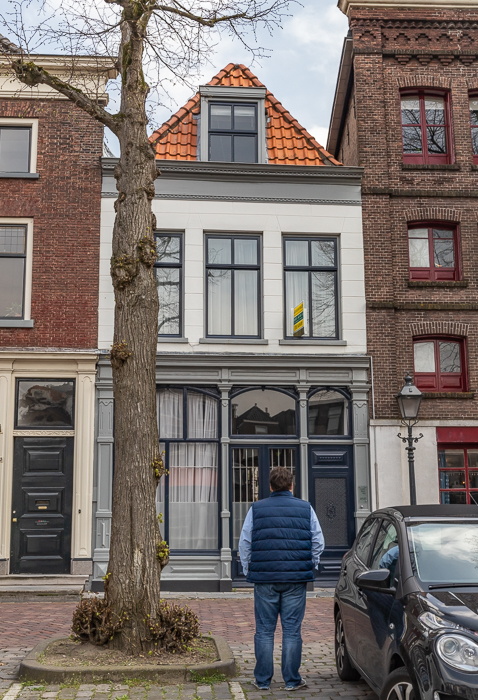 What I love about Gorinchem: it feels like a real (albeit small) city, but when you walk on top of the city walls you are right next to the river. Isn't that great??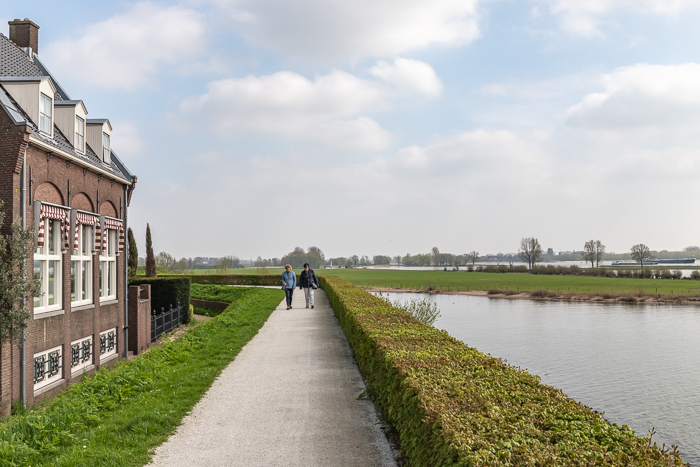 Another impression of Gorinchem…
That evening we had dinner in Leerdam, and we also spent the night there. We wanted to get more of a feeling for where we would like to live. I found Leerdam small and sleepy, and much preferred Gorinchem. Good to know!
The next day we drove to Wageningen to visit Michiel's mum. We stopped to look at a stork along the way. They used to be such a rare sight, but they have become quite common!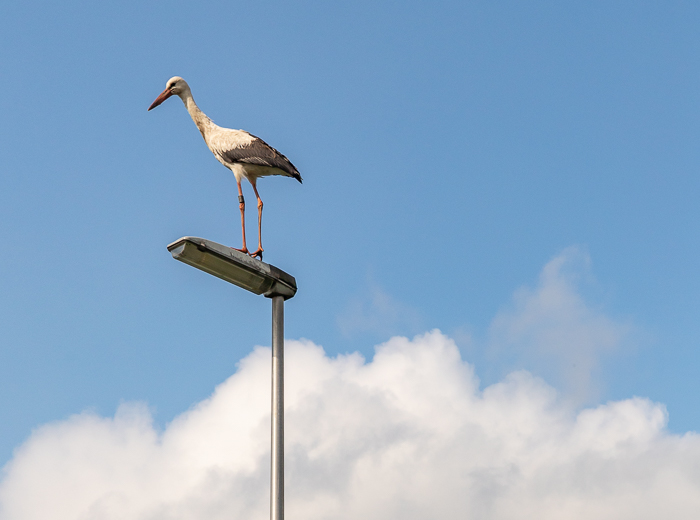 We also stopped in Culemborg to look at two houses we had seen for sale. One of them had this view… nice!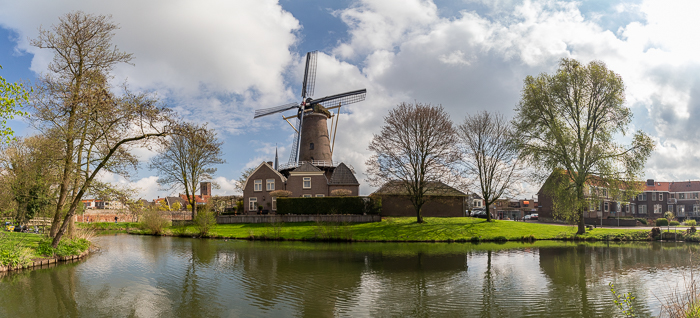 On Monday I had another day off, and my car needed to get a service. I took my bike with me and went cycling – the weather was beautiful! I went looking for birds, and I found some 🙂 I believe this is a wood warbler (Fluiter), but I am not totally sure.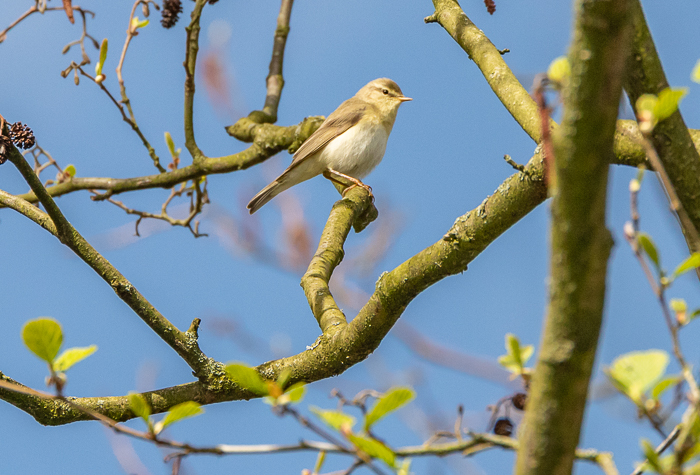 I cycled along de river Rotte, and stopped to take some photos of the 3 mills next to each other. I noticed a footh path going from one to the other, so I went for a little walk.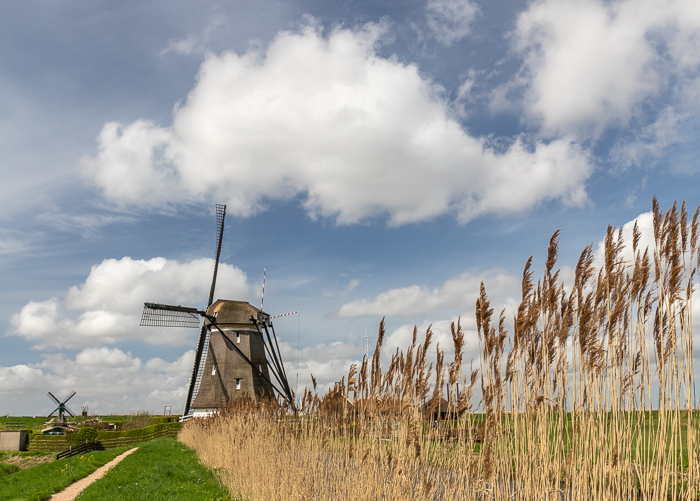 I loved taking photos of the mills with these beautiful clouds in the sky!
When I got to the last one, the miller was just mowing the grass, and he came to talk to me. He was very chatty and friendly, and ended up inviting me to have a look around the mill. I stayed for over an hour, it was so fascinating to hear about how he ended up being a miller and his experiences living in a mill. He even showed me his living room, decorated in old Dutch style.. so nice!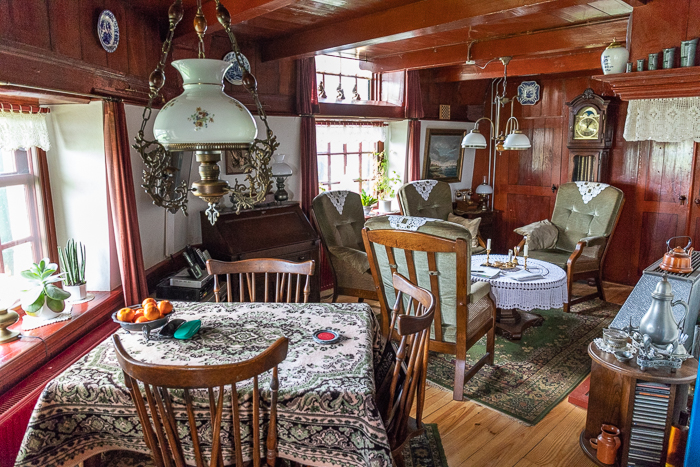 In the hallway you can see parts of the mill, very cool! This mill dates from 1730 (hard to imagine!) and together with the 3 other mills it pumped the water (one step up at each mill) away from the surrounding fields and into the river Rotte. They all still function, and they are a backup for when the pumping station has a power cut.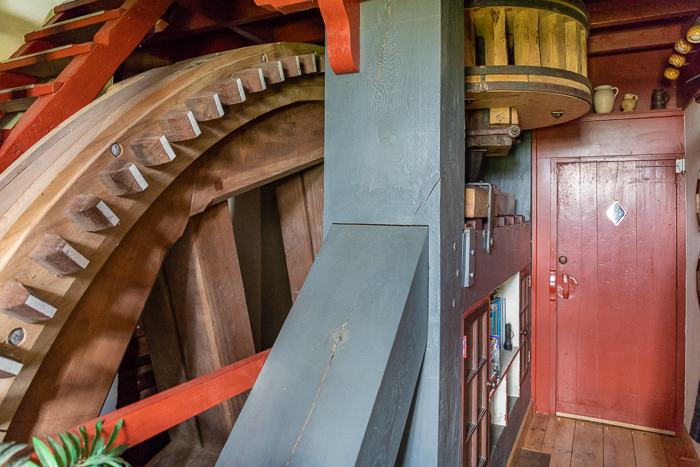 Next to the mill is the "summer house" which is a tiny living room and a shed, which in the past was used by the wife of the miller during the summer to bake and do other jobs. Below you can see the miller and his ridiculously cute cat, who follows him everywhere!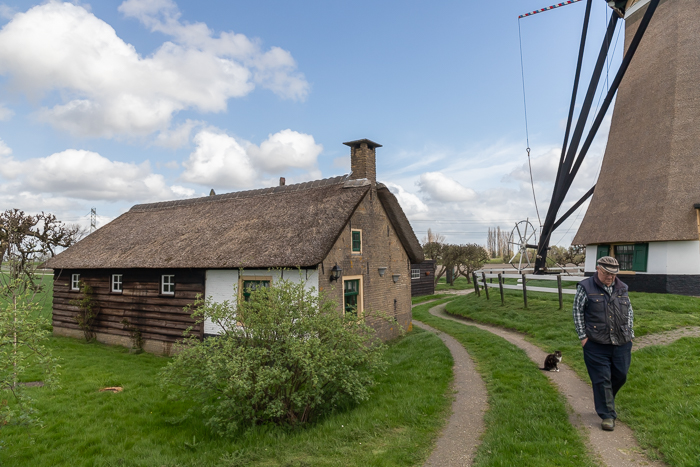 The mill with the summerhouse on the left.
About once a month, we go for dinner with my family and my uncle Joop. This month it was our turn to chose a restaurant and organize the dinner. Since I knew it was going to be really warm weather, we decided to go for dinner in a restaurant on the beach at Noordwijk. The service at the restaurant was slightly chaotic (it was really busy), but we were in no hurry and it was so nice to eat outside and watch the sunset…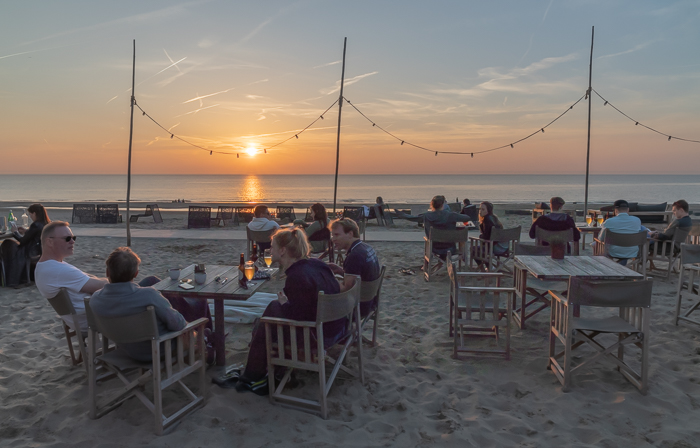 My family 🙂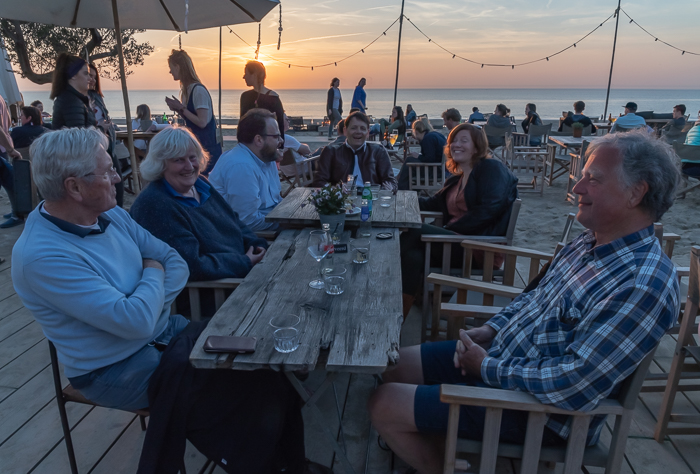 The lighthouse at Noordwijk, beautifully lit…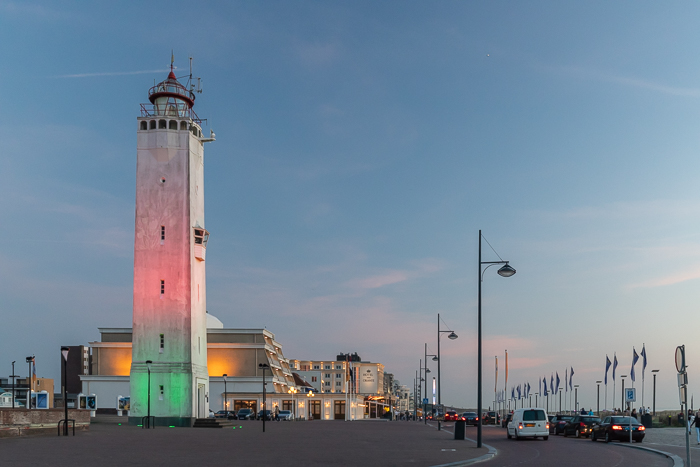 The next day we went to look at two houses in Gorinchem. One was the beautiful house by the water that we had seen from the outside the week before. It was built in 1790 and unfortunately not in the best state. It needed a lot of renovation, and it's a monument which makes all that even more complicated (and expensive). We'd love to buy it, but unfortunately we had to conclude that it's too much of a financial risk for us.
It was nice to be in Gorinchem again though, it would be so nice to live there. A few streets away from the city center there's a mill (with a beautiful view over the river)…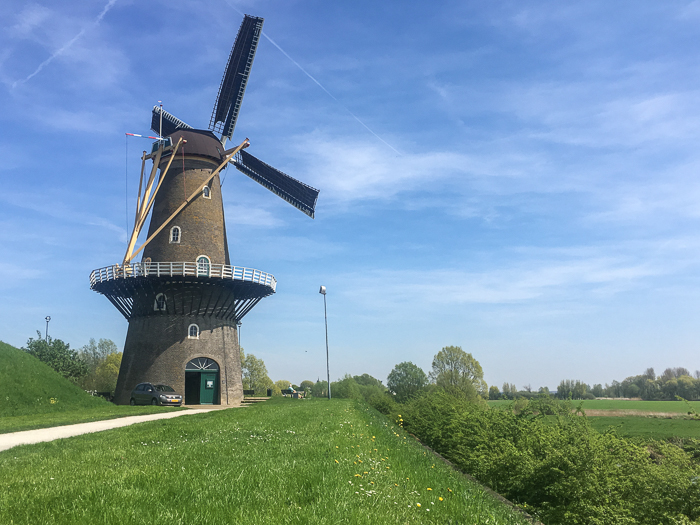 It was 28 degrees that day, which called for more ice cream 😀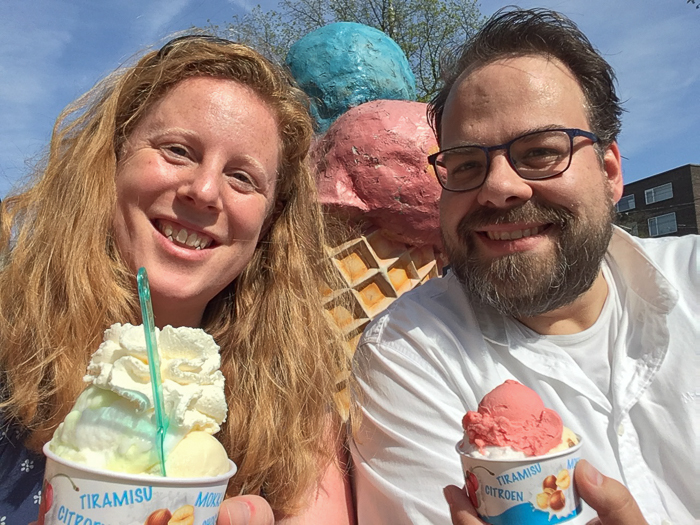 A week ago, I went flying with my brother, and my mum joined as well. We were so lucky with the weather!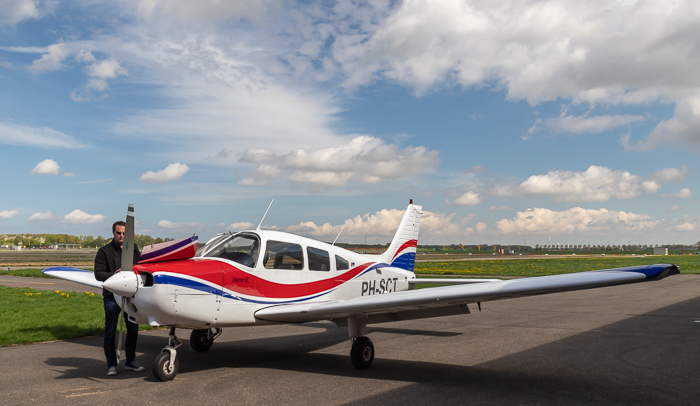 It was the perfect time to fly over the flower fields with tulips in the west of the Netherlands…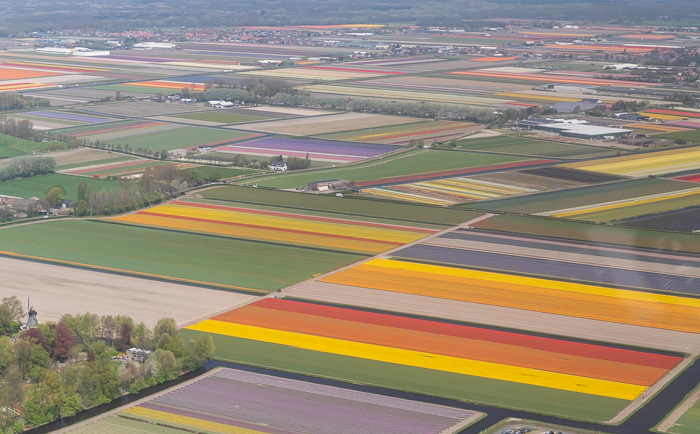 We also flew over the city centre of Haarlem, which was so amazing!!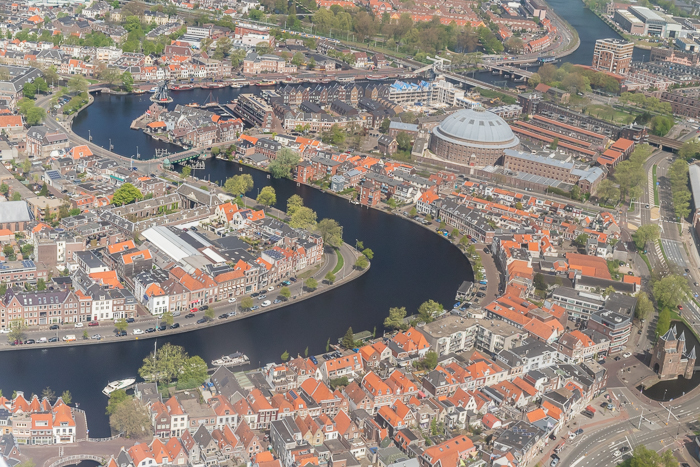 We stopped for lunch at Texel 🙂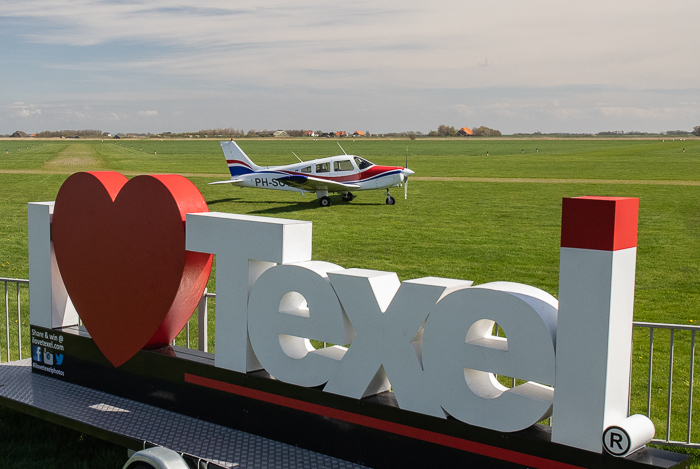 I took so many photos that day, I hope to share them in a blog soon!
The last weekend of April was quiet. I did spend time with my friends Aline and Edwin who came to visit us and we went to see a photo exhibition together. I hadn't seen them since they came to visit me in Tromsø back in 2013 (click here to read about their visit), and it was really nice to catch up 🙂
On the last day of April we went to see another house in Gorinchem, also in the city centre. It was built in 1999, but it was designed to fit in with the older houses in the street. I liked it, but Michiel was not that keen. So the search continues 😉 (if it starts to sound like a never-ending story, my mum keeps reminding me that it took them two years to find a house – so I guess we should be patient 😀 )
So that was April… It was fun, but hectic. I think May will be better though, I'm going to work 3 days a week instead of 4 so that helps already. I have lots of fun things planned for May: a trip to Brussels with Jessica for example, and I will have friends from Norway visiting not once but twice 😀