Natt på Nattmålsfjellet
Natt på Nattmålsfjellet
Yesterday was a perfectly sunny day in Tromsø, but as a geeky photographer I decided to wait for the prettiest light around sunset. I chose Nattmålsfjellet as my goal for the evening/night: quite appropriate as the name means night-goal-mountain 🙂 it's only 297 m high, but it has a fantastic view in all directions. I've been there once before, but that was in summer. I reached the top just after sunset (which was at 20:40!), with great views…
Especially the view towards Ersfjorden is beautiful. In the other direction you can see part of Tromsø island. The top was partly bare, partly covered in windblown snow ridges.
A couple of reindeer kept me company for a while, and they didn't seem bothered by my presence. They would sometimes look up when my camera was beeping, but they seemed too busy with their dinner to walk away. When I turned around, the lights had suddenly turned on in the city, what a view!
Towards Ersfjorden the moon was sinking and reflected in the fjord… I could hear the call of ptarmigans all around me – they have a very special sound which made the evening even more magical.
I was there for a couple of hours, enjoying the solitude and the views, taking lots of photos. Suddenly I heard voices… "Where is the top, where that man is?" "Yes, a scary man with a chainsaw!". Erm? 😀 It turned out to be 3 British tourists with a guide, all on snowshoes. As soon as they reached the top, the guide made them dress in bright orange sleeping bags with only their heads and feet sticking out – they looked like Tibetan monks 😀 My solitude was broken, especially when they got out their iPhone and read aloud who liked their latest photo on Facebook… sigh.
Just like the tourists and their guide, I was hoping for the northern lights to show up. A big show was expected that evening, and I figured it would be one of the last nights where it's dark enough to see them – especially since the weather forecast for next week is rain, rain, rain. But when it got to half past midnight, without a single sign of the northern lights (quite rare!) I gave up and walked down. When I was almost back at the car, I suddenly noticed something green in the corner of my eye…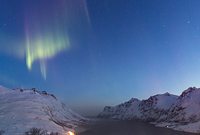 It didn't last long, and most of it was very weak, but it was a nice ending to my night hike. When I got home at 02:30 in the morning, dawn was breaking already… We're approaching the midnight sun season rapidly, and even though that means no aurora for about 4 months, it's so exciting. We still have a lot of snow, but spring is in the air and summer is on the way – I can't wait 😀 (yes I know we are still far from summer but I always get impatient this time of year 😉 )