USA Adventure Part 7: Capitol Reef
After leaving Goblin Valley, we drove for about 2 hours, to Capitol Reef National Park. This is not such a well-known park, and it seems quite off the beaten track for some reason. This has its advantages, Capitol Reef is a lot more relaxed about permits and camping inside the park. In addition, we chose to visit an area called Cathedral Valley which is rarely visited, so we had a very solitary experience in this park. We stopped at the visitor centre for information and a backcountry permit, which they almost didn't want to give us. You only need it for camping outside of the designated campgrounds, and they said we could camp outside the boundaries of the park without any permit – I think they were a bit lazy and didn't want to deal with the paperwork 😉 Eventually, we got the permit and were ready to go.
We first had to cross a river which was quite an adventure – but the car handled it without any problems. The dirt road was a bit tiring to drive, but the landscape was beautiful and we made lots of stops, for example at this well with an abandoned truck…
Soon we came to the Bentonite Hills, with very impressive colours… in the last photo you can see a good example of cryptobiotic soil, which is a crusty soil that is "alive" as it's made of bacteria/fungi/algae/lichens etc. Everywhere in Utah, there were warnings about this soil, as one footstep can take a hundred years to recover from the damage. I called it macrobiotic soil for the entire trip, as I could never remember the real name 😛 we made lots of jokes about it, but we did try to stay off it as much as possible.
And although we were driving through a desert landscape, we still found lots of flowers – including the impressive Desert Paintbrush 🙂
We kept climbing, and suddenly we had this view right from the road… impressive!
Shortly afterwards, we took a turn towards a viewpoint over Cathedral Valley. We were getting a bit carsick, so we left the car next to the road and walked the last bit to the viewpoint. There was a parking place and some picknick tables there, and for the first time we saw other cars (and people!). They must have been a bit surprised to see us arrive on foot 😉 We got our first view over Cathedral Valley from here, and it was just SPECTACULAR… You look down on a green valley with several monoliths, it was so beautiful!
After the viewpoint, the road went steeply down to the valley floor. We talked to several rangers at the visitor centre, and one of them had said the road was impassible in this area. We had a suspicion she was just trying to discourage us from going there, but we were a bit nervous here – around every bend and especially river crossing we thought the road might become impassible. And although the road was a bit tough at times, with soft sand and several river crossings, some of which actually had water in them – there really was no problem at all. It was getting quite late, so we drove on to our destination: the Temples of the Sun and Moon. Actually it was after seeing photos of these "temples" that I decided we needed to visit Cathedral Valley 🙂 And it was so worth the long journey, they are so impressive…

We took LOTS of photos, we arrived just before sunset so the light was soft and beautiful. We set up camp a little distance away from the Temple of the Moon.
We were all alone here, and far from anywhere – it was truly special. The night sky was incredible as well, this far from any light pollution. There were a lot of planes flying over though!
The next morning, I got up before sunrise and walked to the Temple of the Sun. It was so beautiful to watch the desert wake up, to see the colours change, to see a big red sun rising and to watch the changing light on the rocks. Magical!
Meanwhile, Paul took these photos of the Temple of the Moon…
In the morning there were lots of animal tracks in the sand. I was also amazed by all the plants that manage to live in the desert.
After a beautiful sunrise, we took out tent down and made breakfast. We had to drive back the way we came, as the road became impassible just past the Temples. At least, according to the rangers at the Visitor Centre 😉 but this time we decided not to risk it. We stopped at the Gypsum Sinkhole, which formed after the collapse of something called a Gypsum Plug – a hill formed out of crystallized gypsum carried in groundwater. The hole is 15 m wide and 60 m deep – impressive! We also stopped at the monoliths for another view – they are so pretty.
We took a short side trip to Morrell cabin (also known as Les's cabin), it was used by cowboys passing through the valley with cattle between 1930 and 1970. Beautiful and remote place, you feel like you're stepping back in time, and wonder what it would have been like here back then…
After driving the steep road up, we turned away from the road we travelled yesterday, and instead took the Thousand Lake Mountain Road. Here you exit the National Park, and enter the National Forest Area – we were joking about that there surely weren't going to be trees in the desert, but look here… These sudden changes in the landscape are very impressive!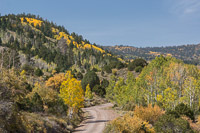 Cathedral Valley was one of the highlights of our trip, and if we'd ever come back to Utah, I think we'd spend more time in Capitol Reef. We never even got to see the Waterpocket Fold that the park is famous for – but I think Cathedral Valley is a real gem that you shouldn't miss out on 🙂