USA Adventure Part 9: Bryce Canyon
USA Adventure Part 9: Bryce Canyon
We rented a cabin between Bryce and Zion for a couple of days, and on our first day there we decided to visit Bryce Canyon National Park. I hadn't fully recovered yet from my cold, but thankfully this turned out to be a cloudy – and almost cool – day, which was perfect for me. It was quite busy in the national park, the car park near the visitor centre was so full we had to skip it. We decided to hike the Navajo / Queen's Garden trail loop, which goes from Sunset Point to Sunrise Point. I was a bit worried the hiking up and down the canyon would be tough, but it was surprisingly gentle – partly because the trail is gentle and partly because it wasn't very warm that day.
I really loved Bryce Canyon, I think it was my favourite national park, even if it was busier than most other parks. The so-called "hoodoos" (the colourful rock spires that the park is famous for) are just fantastic!
It was the cloudiest day of our trip, but we still saw some blue sky as well…
And even though the skies were threatening at times, we didn't get rained on!
The light kept changing, which made the rock appear different as well. Endlessly fascinating 🙂
After our hike, we drove further into the park. Along the road, we stopped at the viewpoint for Natural Bridge…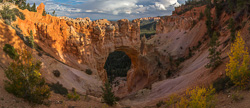 At the end of the road (Rainbow Point) we followed the short Bristlecone Loop Trail, less spectacular (no hoodoos here), but with fantastic views.
And fantastic clouds, a paradise for a meteorologist 😀
On our way back, we stopped at Bryce Point around sunset. Bryce Point looks out over the whole amphitheater, a really impressive view! There were many showers in the distance, which made the sky look dramatic, and we took a few panorama shots…
We were very lucky that day, with all the showers surrounding us, we didn't get a drop of rain. But as soon as we drove out of the National Park, we were hit by a strong thunderstorm 😀
We had a great day in Bryce Canyon, even though we didn't venture far off the beaten track. There are some nice long distance paths under the rim, that would be great to explore if we ever visit again.