A cold morning at de Kralingse Plas
A cold morning at de Kralingse Plas
This morning I had to take my car to the garage, and I decided to cycle back from there. It was about 12 km, and halfway I passed de Kralingse Plas, a beautiful lake surrounded by forest. It's one of my favourite places in Rotterdam. It was a cold morning and the boardwalk by the lake was covered in frost…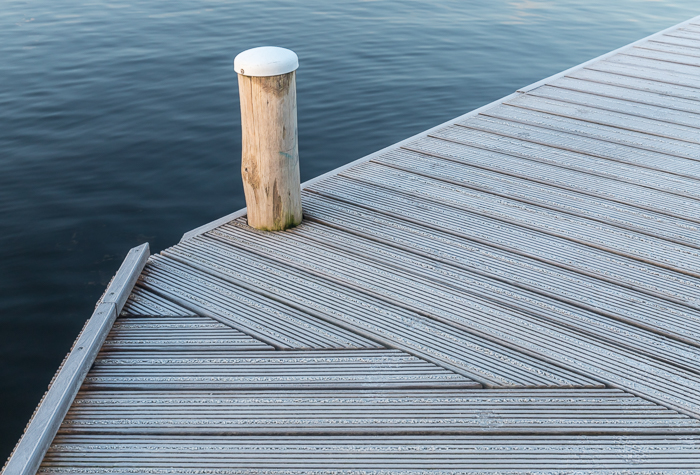 I had the place nearly to myself, with the exception of a couple of very sporty people 🙂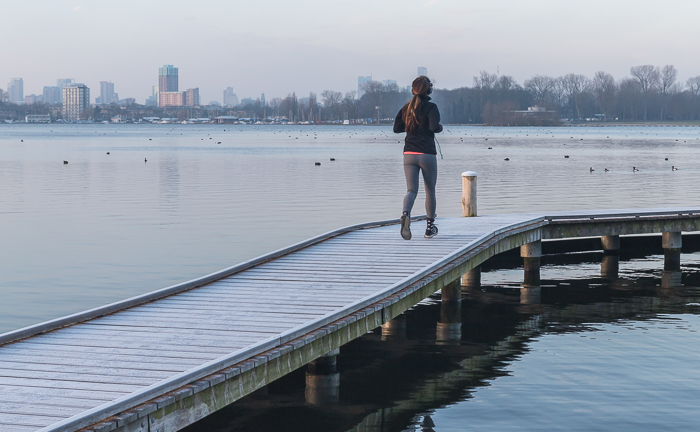 There were lots of birds on the lake, and as always – a great view of Rotterdam's skyline in the distance.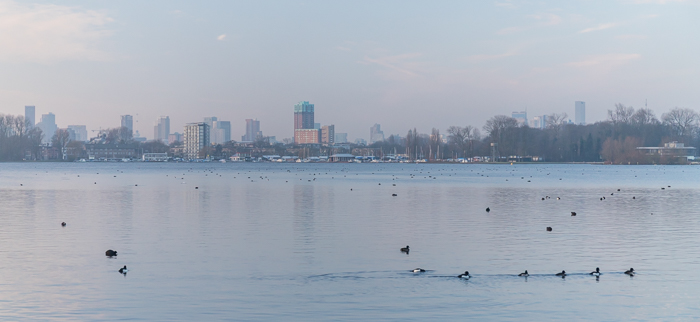 I wish I had brought my telezoom with me – next time! But even without it, I managed to get some nice photos of the birds.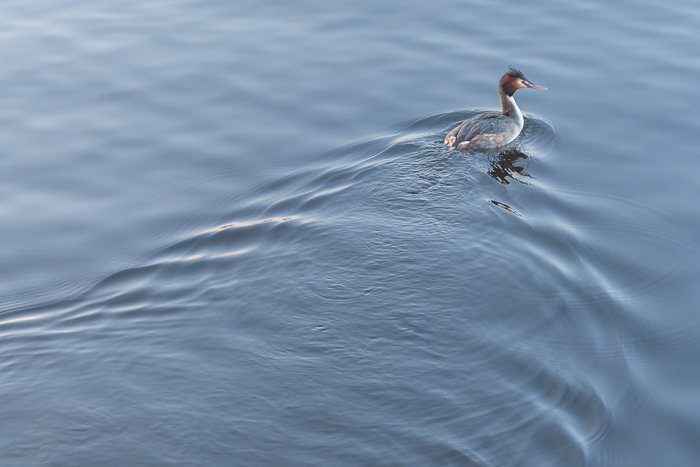 I loved how this coot created its own circles in the water…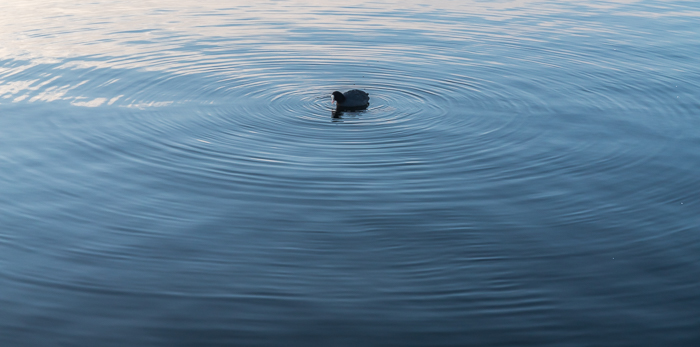 And later I saw a coot checking out its own reflection in the "mirror" 😉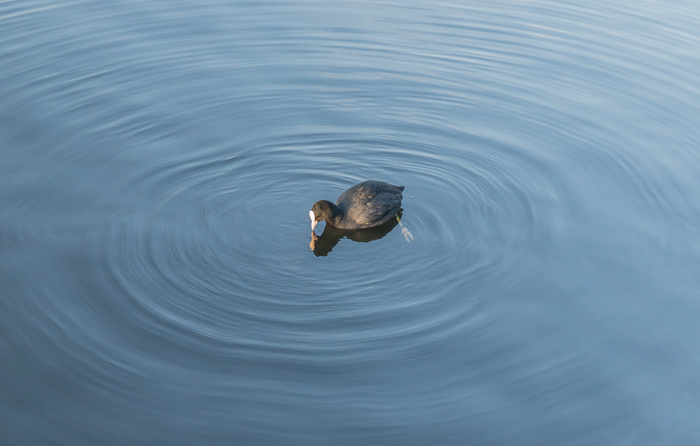 The sun came out…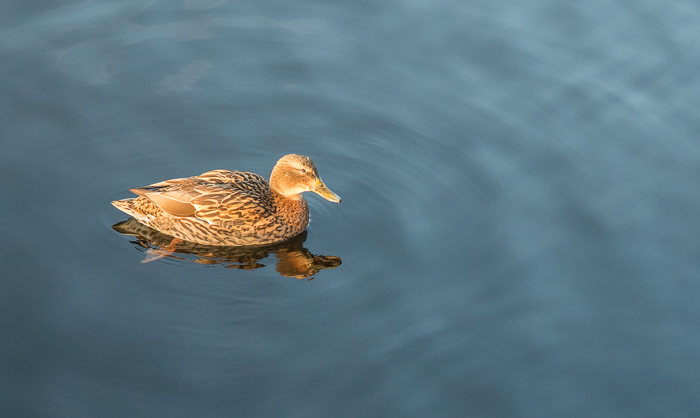 Beautiful willow at the start of the boardwalk!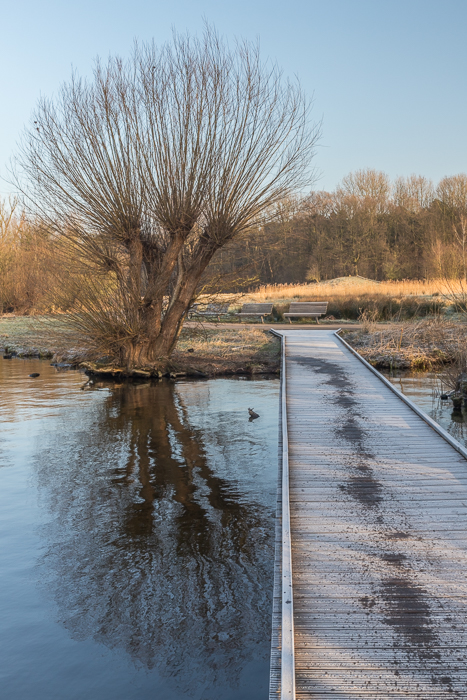 Another photo of the willow, seen from the other side, with the skyline of Rotterdam in the background.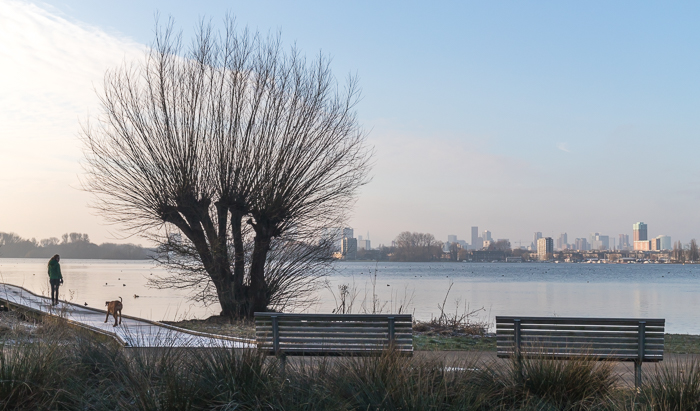 My bike parked by the lake 🙂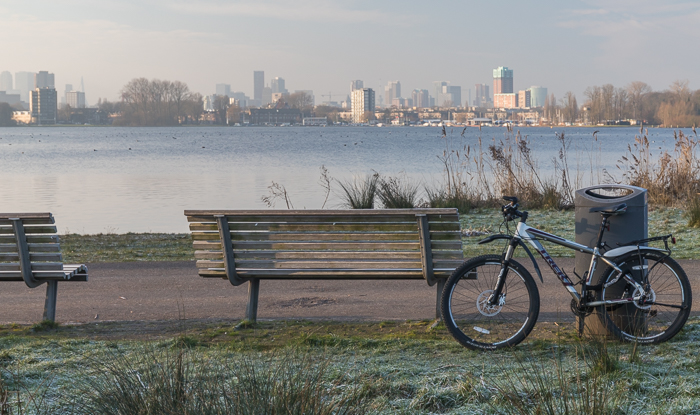 When I cycled home, I noticed an area near the shore of the lake that I hadn't been to before. It turned out to be a true hidden gem – it's called Heemtuin, and it felt like discovering a secret garden. Lots of boardwalks…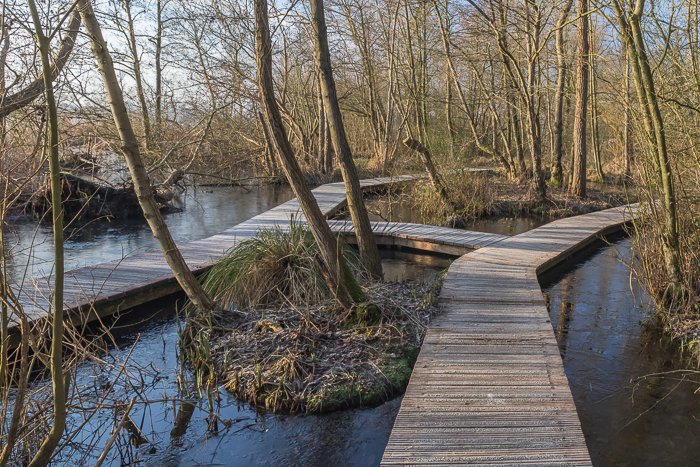 With Mr Grey Heron guarding the entrance to the boardwalk!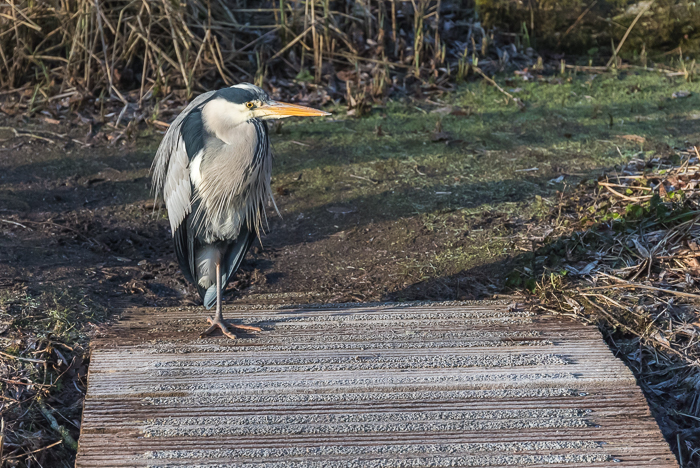 There is another long boardwalk in this garden, really nice!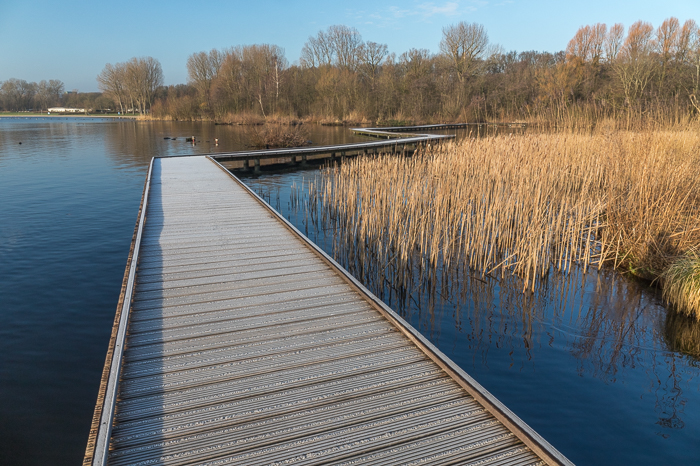 Panorama of the beautiful view…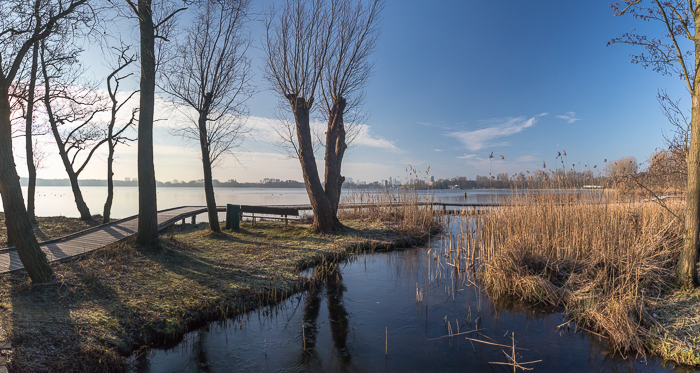 I then discovered an area filled with snowdrops – or so I thought. When I came closer I noticed the flowers were bigger than snowdrops and had a different shape. A man working in the garden came to talk to me and he told me they are called "Lenteklokje" or Spring Snowflake in English – what a beautiful name! And what a beautiful flower…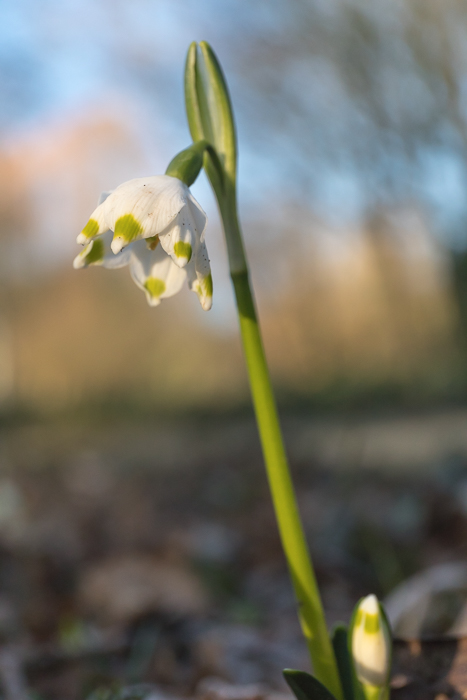 There were snowdrops too, they are so elegant and pretty… 🙂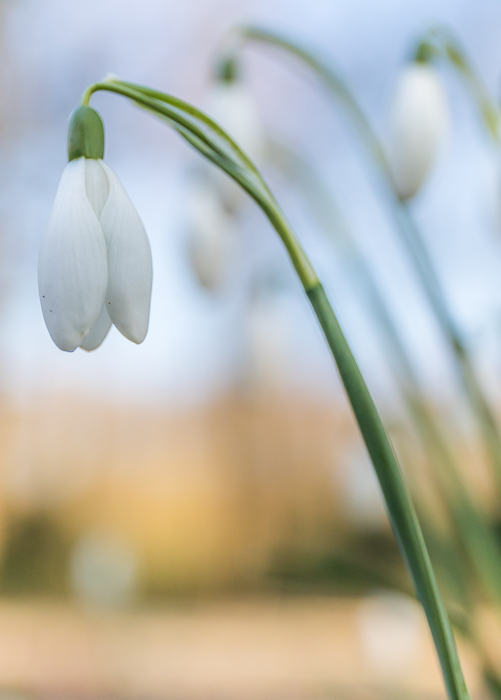 Another photo of the snowdrops…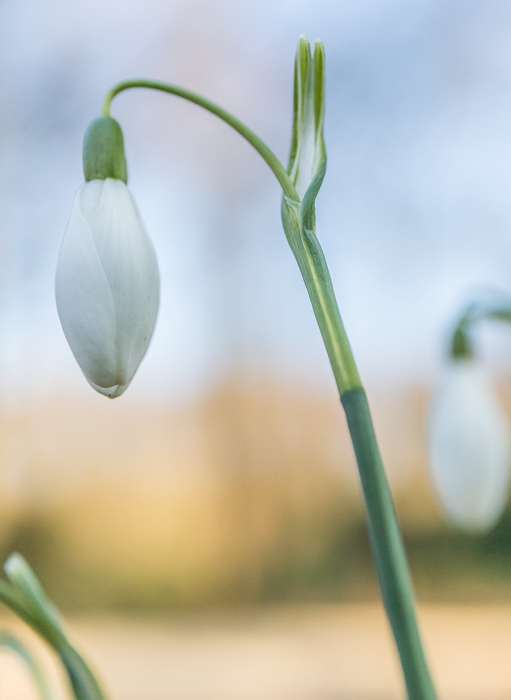 Beautiful view from this bench by the water… Although it's cold in the Netherlands right now, you can still see and feel that spring is not far away 🙂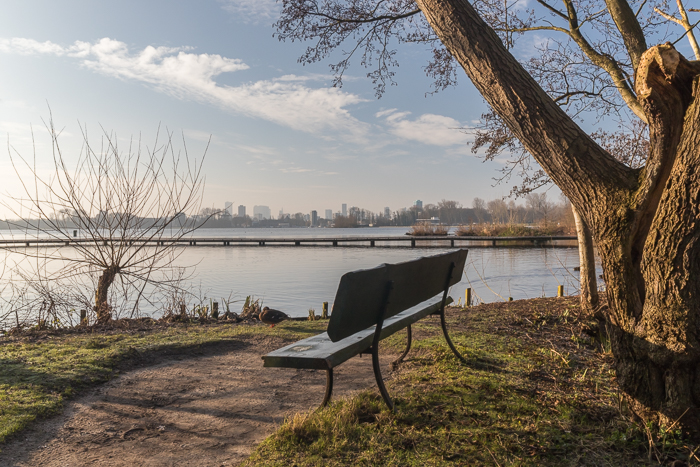 Very nice views over de Kralingse Plas…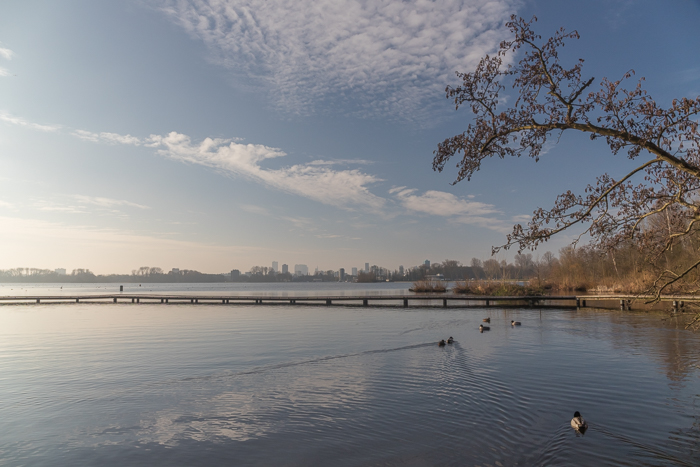 There are 2 sheds/cabins in the garden, the one on the left looked really cosy inside.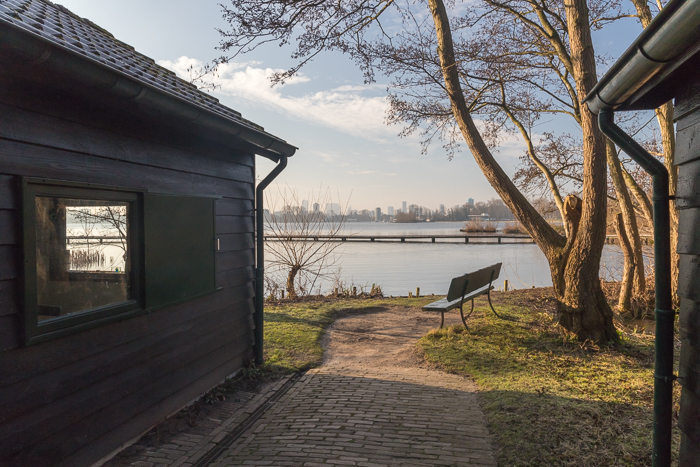 I'll have to come back to this secret garden when nature has woken up a bit more! I'm also planning to try some bird photography next time I visit the lake 🙂