The Seal Trail: Kayaking in Kolovesi National Park
The Seal Trail: Kayaking in Kolovesi National Park
This summer I spent 4 days kayaking in Kolovesi National Park with my Finnish friend Teresa and her husband Janne, and Jakob. The national park is a small part of the biggest lake in Finland, Lake Saimaa. This lake is HUGE, it's hard to imagine. There are more than 13.500 islands in the lake – maybe that helps realizing it's quite a maze! It's famous for the Saimaa ringed seal, one of the only species of freshwater seal in the world. It became even more famous when WWF launched a live webcam, which became very popular. Thanks to Teresa I was following it as well, and that's actually how the idea for this trip was born 😀
We rented two double kayaks from Kolovesi Retkeily. Their office is just outside the national park, but they deliver the kayaks to the parking lot in the national park where you can start your trip.
We started our trip on a grey – but dry and warm – morning. There is no motorized traffic allowed in most of the national park so it was very peaceful. Our first stop was a rock painting not far from the parking lot.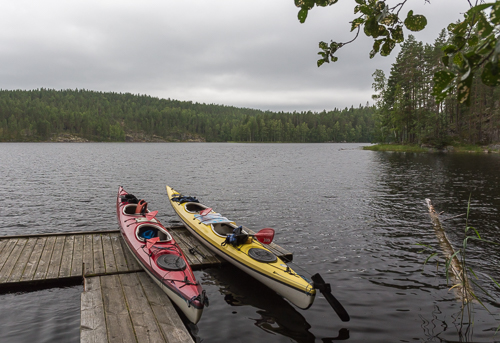 It took us ages to find the rock painting, it was really faint! Teresa helps by pointing it out…
There are lots of campsites in the park, and wild camping is not allowed (within the national park). The campsites are all free, and they have platforms for tents, a fireplace, supply of firewood and outhouse. We didn't paddle very far on the first day, we had to get used to everything that was new (at least to me!) like climbing in and out the kayak without accidents, and finding the right technique. Here we arrived at our first campsite, which we had to ourselves for most of the evening.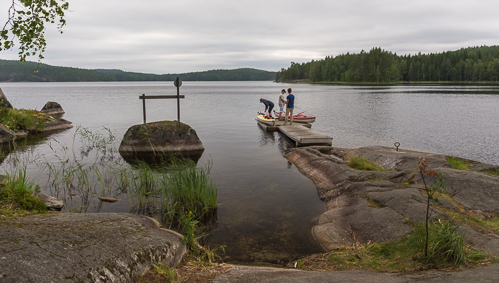 It was a great place in a small bay, with nice views over the water.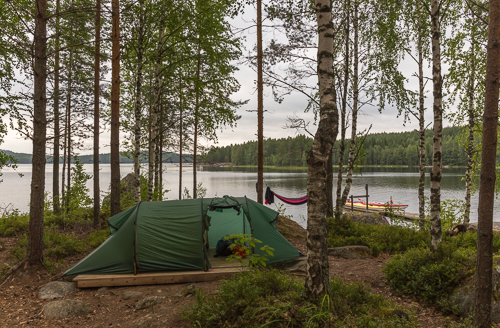 My tent is not that big, but it was still a challenge to fit it on the platform – but with a little help from a tree trunk we managed 😉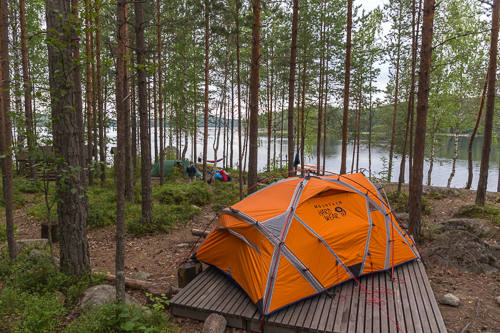 Calm evening views. We saw a beaver near its lodge on the other side of the bay, and there was a family of loons – I love their eerie call!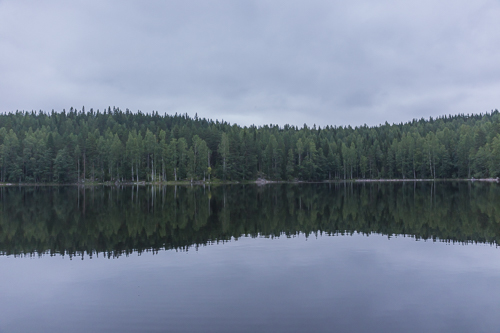 The next morning: view from the toilet 😉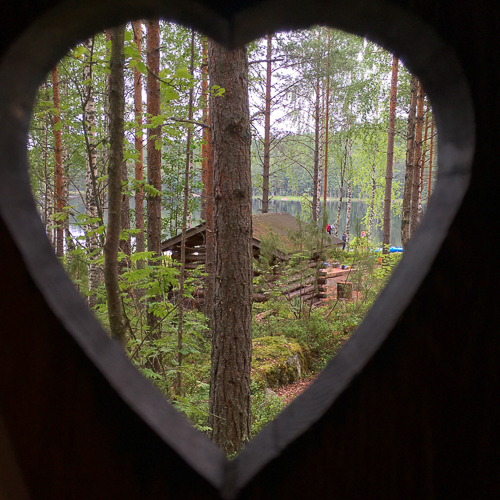 The next day started very grey as well, but again no wind, no rain and comfortable temperatures. Janne tried his luck fishing, but they weren't biting…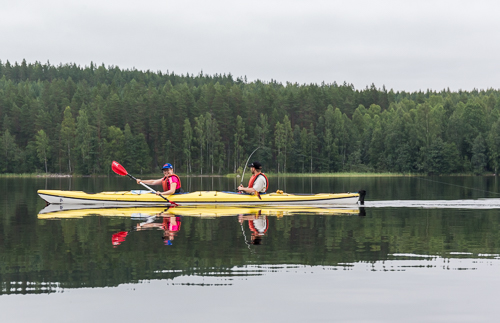 We took it easy and slowly made our way north.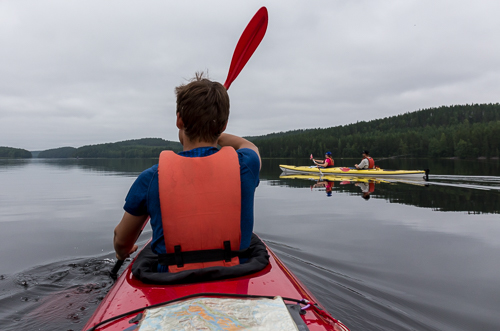 At the northernmost point of our route, there was a hiking trail in the forest that we walked part of. Very pretty, and lots of blueberries!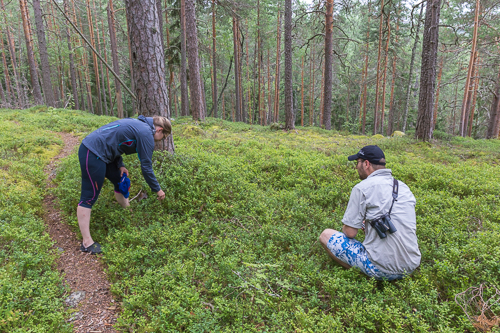 Pretty forest…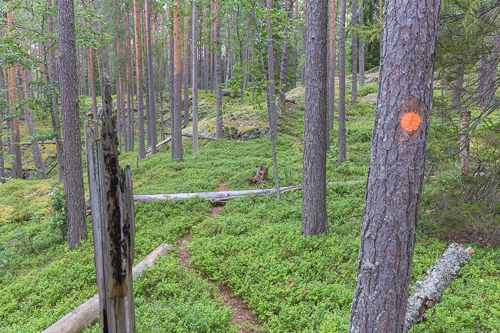 By the time we reached our second campsite, we were in for a nice surprise: the sun came out! 😀 This campsite wasn't as nice as the first one, as it didn't have very good views, and it had lots and lots of big ants.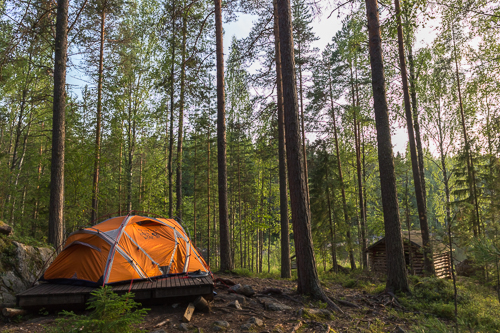 BUT it did have something even better: if you followed a trail for about 1 km, there was a public sauna by a small lake. Of course we had to go there! a very pretty place to watch the sunset…

How very Finnish: jetty, water lilies, forest and a sauna 🙂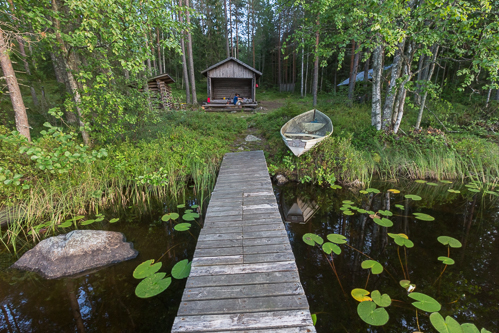 We had the sauna all to ourselves, and made a campfire so we could have sausages for dinner.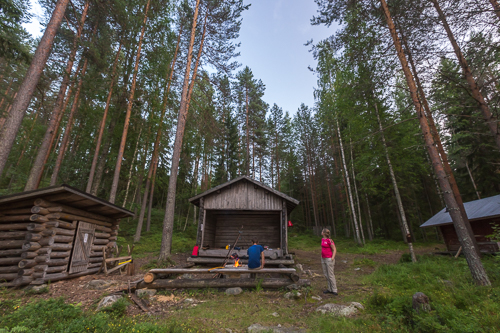 Janne tried fishing again, with no luck…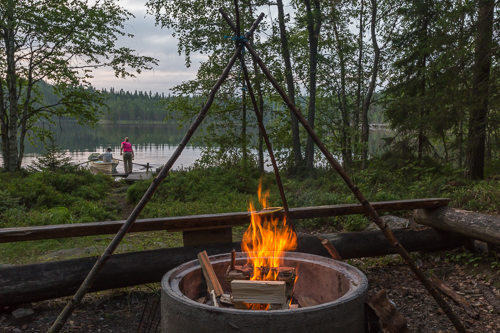 It was really nice to have a sauna there, even if we couldn't get it very warm. And the lake was surprisingly cold to swim in! But at least the sunset colours were fantastic…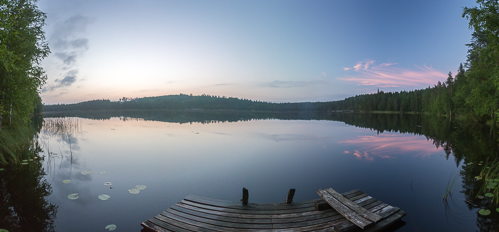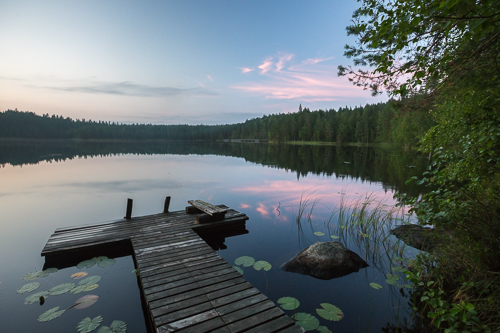 The next morning the weather had turned grey again. We went through a very narrow passage, which was fun: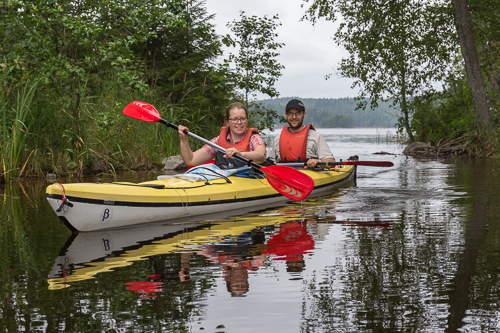 Pretty water lilies…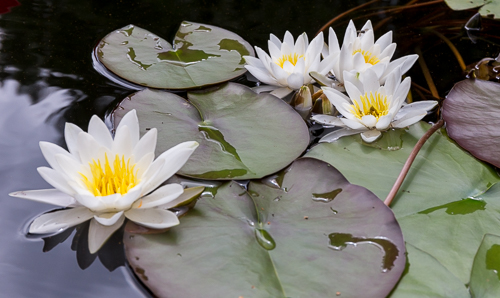 And then the sun came out again, and we explored another narrow area, and then stopped for lunch (although it was 18:00 by then!) on this idyllic campsite on a tiny island…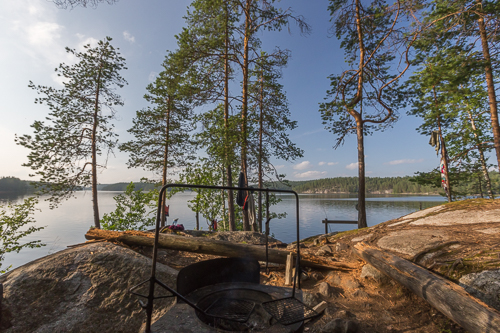 Such a beautiful place…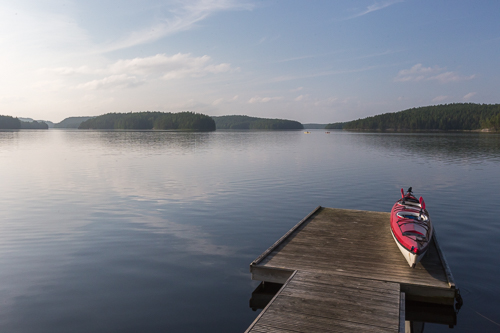 Tiny island! We would have all loved to stay here, but there were already quite a few tents, and the calm sunny weather also looked very inviting to paddle a bit further.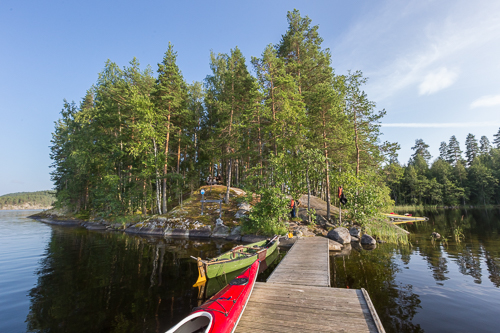 So on we went, through fantastic reflections in the soft evening light…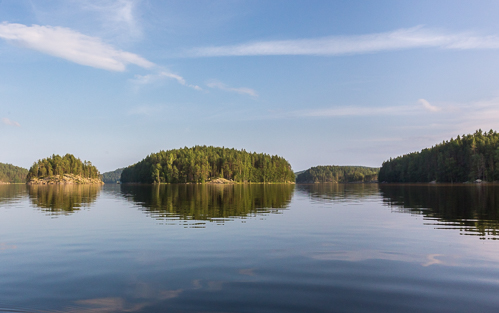 This was my favourite part of the kayaking trip!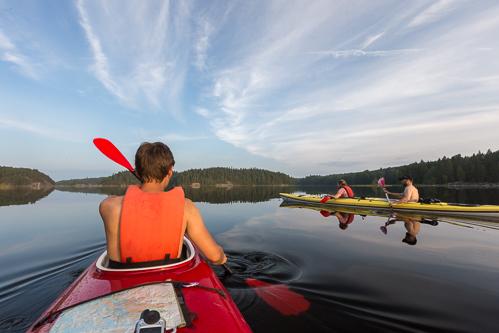 The light was getting more and more yellow…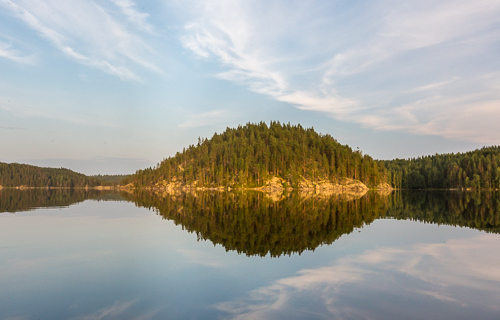 Until we reached our final campsite, and had this AMAZING sunset…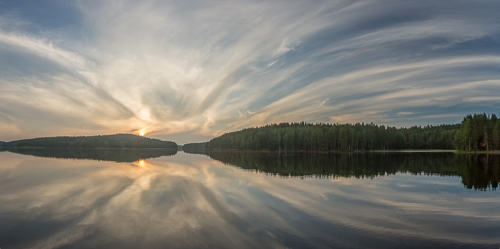 Which then turned red…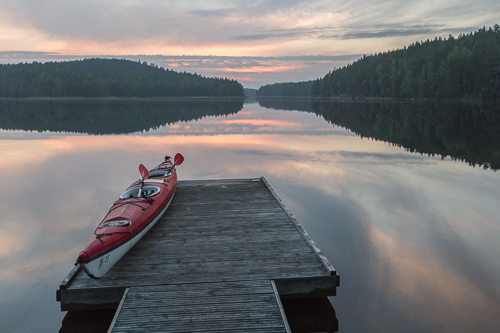 And I just couldn't stop taking photos!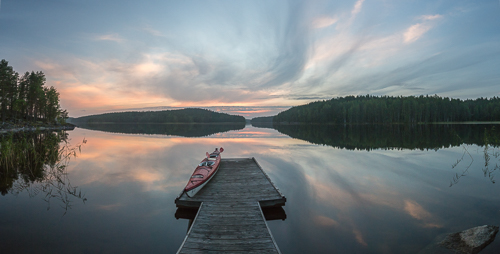 We had a fun evening by the campfire with the other people – one couple that we met every day during our trip, and two sisters who were just starting their trip. Janne even baked pancakes, yum!!!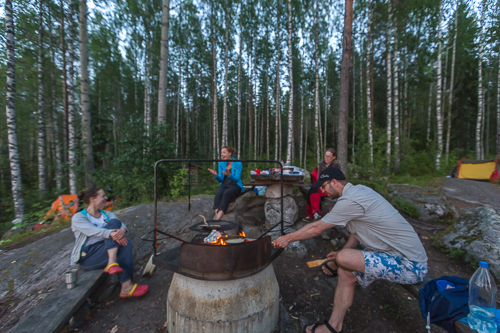 The next day we first checked out some more rock paintings which were even more difficult to find. It was still sunny, and quite warm – but we could there were thunderstorms all around us.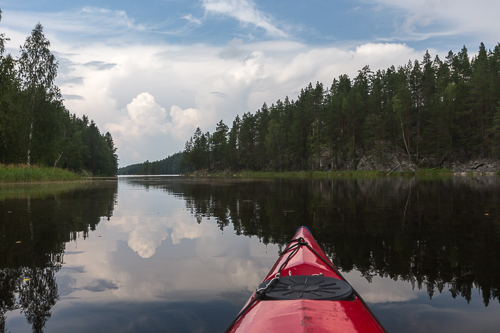 We didn't have far to go on the last day, and none of us was quite ready for getting back to the car, so we were going extremely slow 😉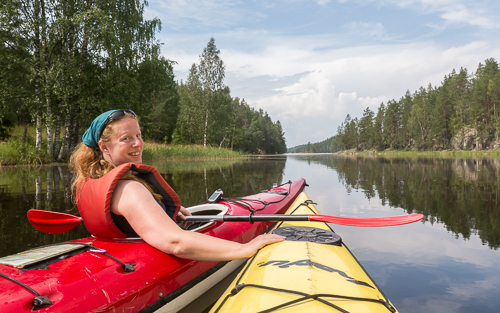 Only when we got to the campsite, it briefly started raining a bit – we had been so lucky with the weather!
This photo is taken on the drive back to Pieksämäki – pretty clouds and pretty lake!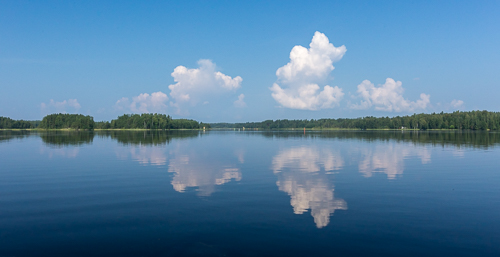 Finally here's a map of our trip with the distances paddled per day.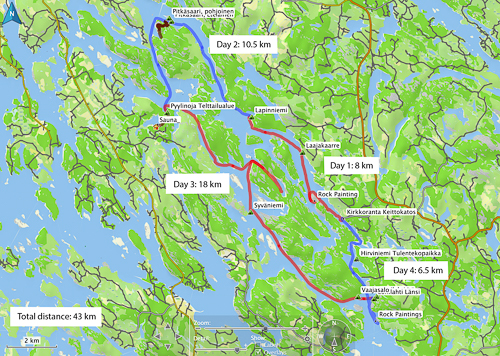 What a fantastic trip, I really enjoyed it! I was never very keen on kayaking, especially after trying it on the cold sea in Tromsø – but this was so relaxing. And you can easily transport a lot of gear inside those kayaks, which means you can bring lots of nice food and have a comfortable trip – I loved it 😀