De Pontjesroute
De Pontjesroute
During my last week in the Netherlands, my Swedish friend and colleague Jakob came to visit. Of course we went to Amsterdam, but I also wanted to show him the "real" Netherlands – part of the country that I find really beautiful, which looks very very Dutch, which is actually the part you can rightfully call Holland 😉 but perhaps best of all, without hordes of tourists! And of course this had to be done by bike 🙂
We took the train to Uitgeest and started cycling from there. The route we followed most of the way is called "de pontjesroute" or the "ferry route", as you use 4 ferries – one big one that you share with cars, one small one just for bikes, and (extra fun!) two self-service ferries 🙂 (For a map of our route, and a link to the official map – scroll down to the bottom)
It didn't take long until we spotted the first windmill…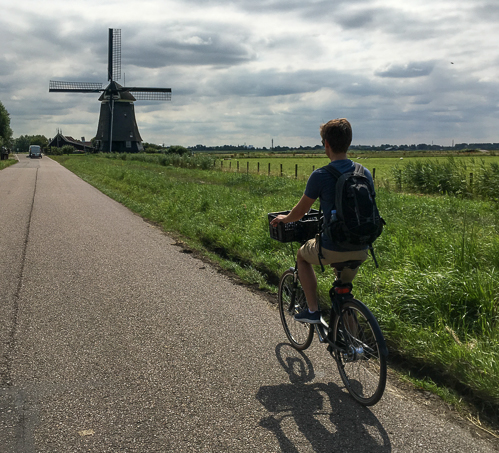 We cycled on a very narrow path next to the lake (barely wide enough for two bikes next to each other). We watched a sailing school with many sailing boats on a canal.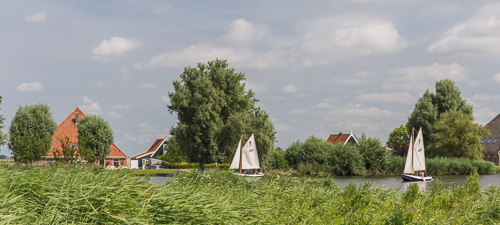 And we cycled past another windmill, with a small bridge and sluice next to it. The windmill was in use, and the sluice also opened by appointment, for canoes and small boats.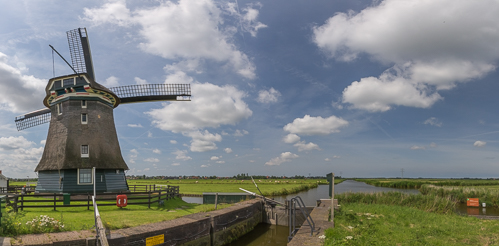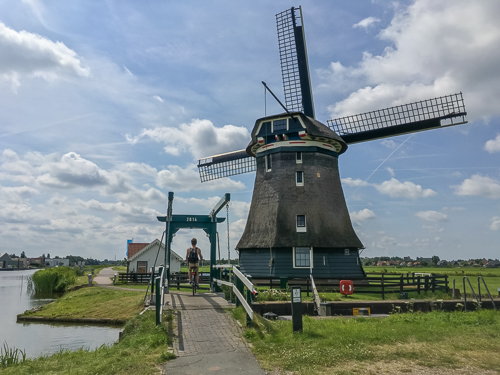 Not long after that, we took the first self-service ferry. There is a cable running over the bottom and you can wind it by turning a wheel. It's quite hard work actually!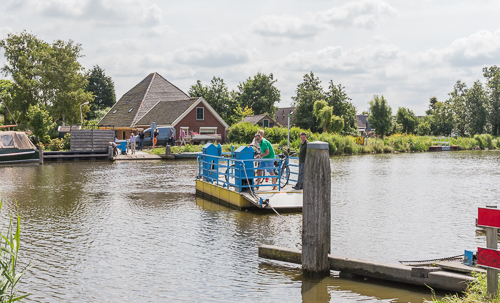 A nice old cafe next to the bike ferry at Spijkerboor.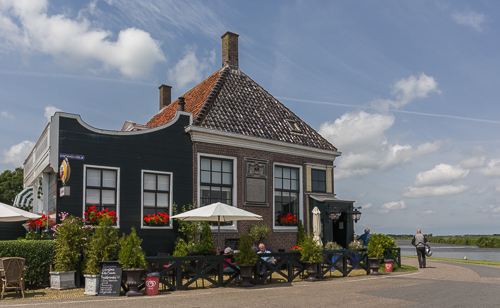 The bike ferry called Jan Hop, where we paid a small fee for the crossing.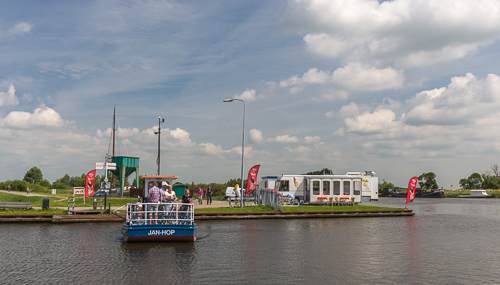 In this region of the Netherlands there are a lot of wooden houses with this characteristic green colour.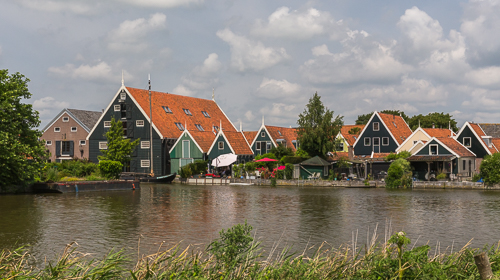 De Rijp, which I think is the prettiest small town in the Netherlands. I once stayed there in winter, in an amazingly pretty B&B, click here for photos of that trip.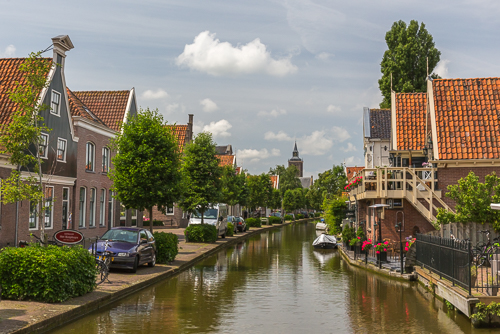 A small and narrow (one person wide) bridge in De Rijp.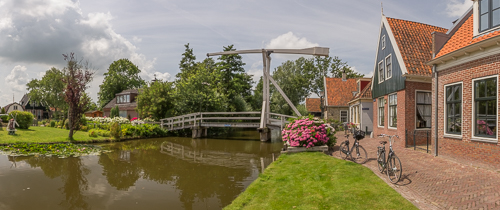 The very pretty town hall and bridge in De Rijp.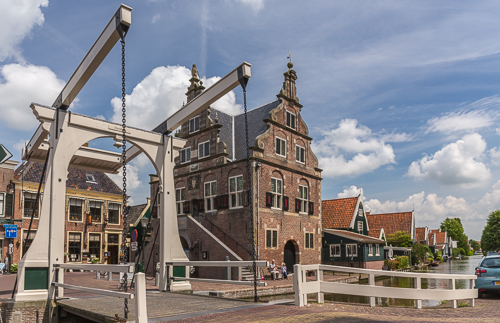 Ice cream time! We spent a lot of time in De Rijp, visiting the town hall and the church famous for its collection of stained-glass windows. If anyone is interested, here is a video I found on youtube, showing the inside of the church. We donated our last coins to the church, as it looked like it badly needed renovation!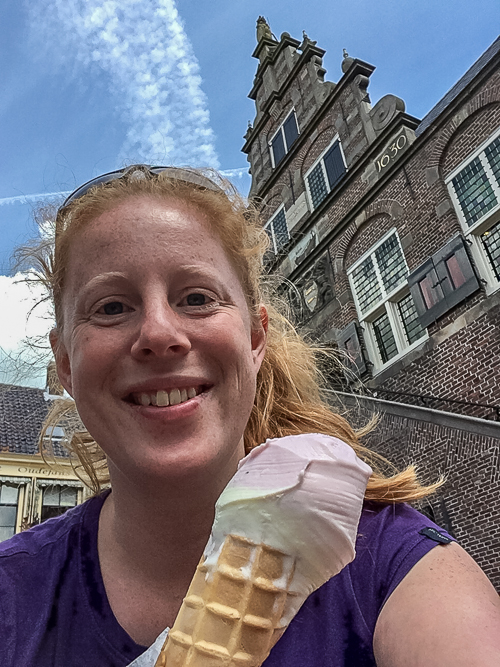 We went for a walk around the many pretty streets of the town. There are many canals – must be fun to grow up here and play with boats 🙂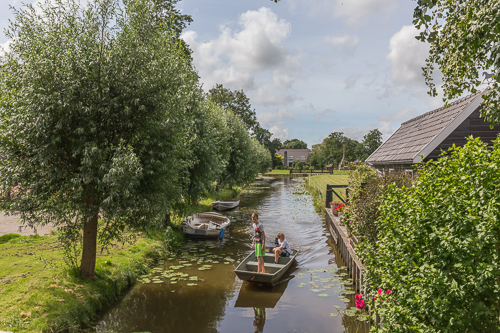 We bought a picnic lunch from the supermarket here, hoping to find a nice place to stop and eat it. Just outside de Rijp however, we had to cycle through a very open area, against the wind, and partly next to a busy road. The views were still great though: flat fields with grass, water, farms and a big big sky 🙂

Oh and cows of course!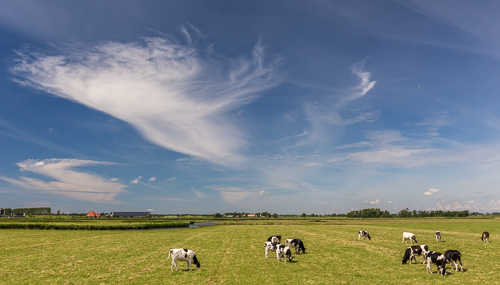 We actually cycled all the way to Akersloot where we finally found a really nice place to stop by the lake. Very good, as I think we couldn't have cycled much further, we were starving!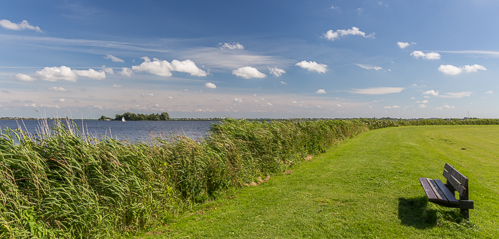 It was such a nice day and it was great to lie in the grass for a while.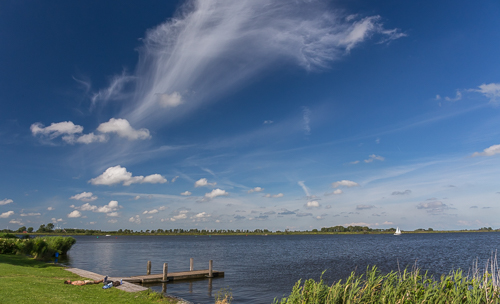 When we got to Castricum, we had to decide whether we would take the train from there, or finish the circle by continuing to Uitgeest. In the end we decided to do neither of this: instead we cycled to the beach at Castricum aan Zee (Castricum by the Sea).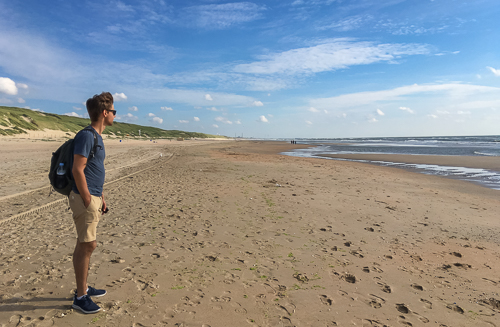 I loved the skies that day! We stayed at the beach for a long time, almost staying for the sunset, until we remembered that we still had some distance to bike to get to the train station in Castricum.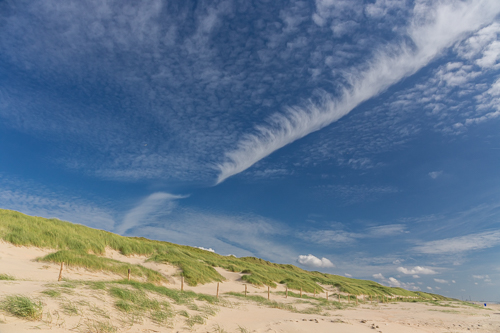 Here is a map of the route we cycled, which was almost 50 km in total. The official map of the pontjesroute can be found here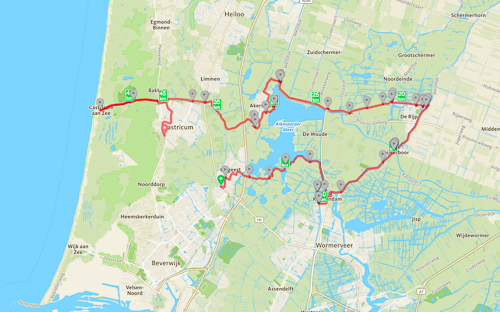 From Castricum we took the train back home again. We were exhausted after a long day of cycling (much of it against the wind, as it always seems to be in the Netherlands), but what a fun day!