Second visit to Dhaka
Second visit to Dhaka
A few weeks ago I went to Dhaka, Bangladesh for the second time (read about the first visit here). I am now the project leader for the project we have with the Bangladesh Meteorological Department (BMD), and the first visit I organized was not quite a routine one, as we were going to have an event to launch a climate report written by BMD with the help of the Norwegian Meteorological Institute. More on this later…
Our trip went smoothly this time and we stayed in the same hotel again. This is the view at night from my room on the 20th floor…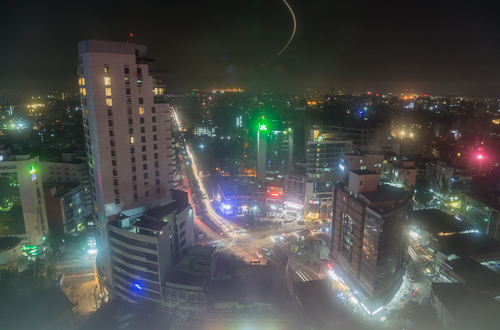 The project meetings in Dhaka have always been in November, when the weather is stable and not too warm. This time we were visiting just before the monsoon. This meant it was a lot hotter and it rained at times – but it also meant it was the season for fruit! And were we in for a pleasant surprise… I NEVER knew for example that mango can taste a 1000 times better than the ones we buy in Europe. On this plate were two different types of mango, and both were so rich in taste and SO good… we ate this every day and never got enough of it. They actually came from the farm of one of our project members family 🙂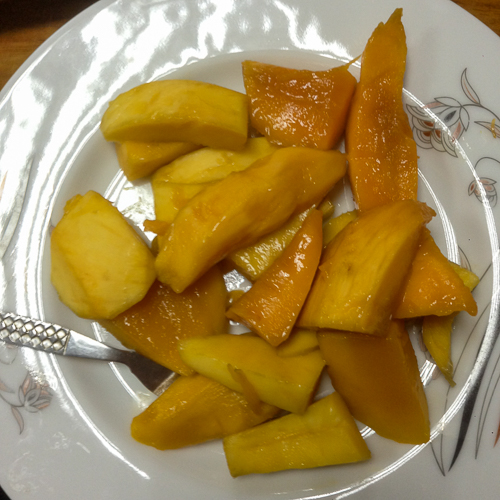 I also finally got to try jackfruit, a fruit I first came across in Brazil (where it's not native, and not eaten a lot). I asked if it would be possible to taste it here, as it's the national fruit of Bangladesh – and look what we got the next day 😀 So the huge jackfruit that you see hanging from the trees actually looks like this inside, almost like yellow peppers. They taste like a combination of all sorts of fruit, and is not too sweet. I loved it!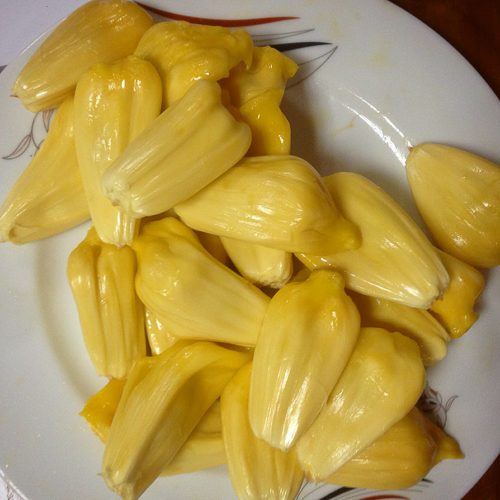 Ayesha in our working room, with lots of flowers – we got a very warm welcome 🙂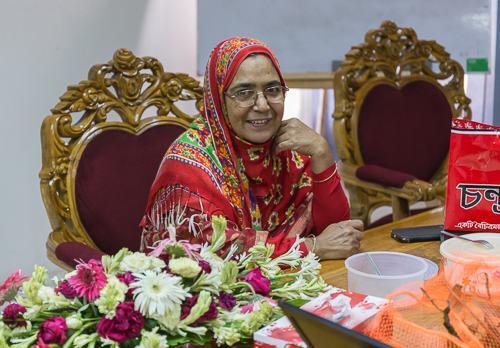 Here I'm eating another very tasty fruit that was in season: lychees. So tasty! We were really spoilt during the visit with so much fruit, other snacks and lunch boxes.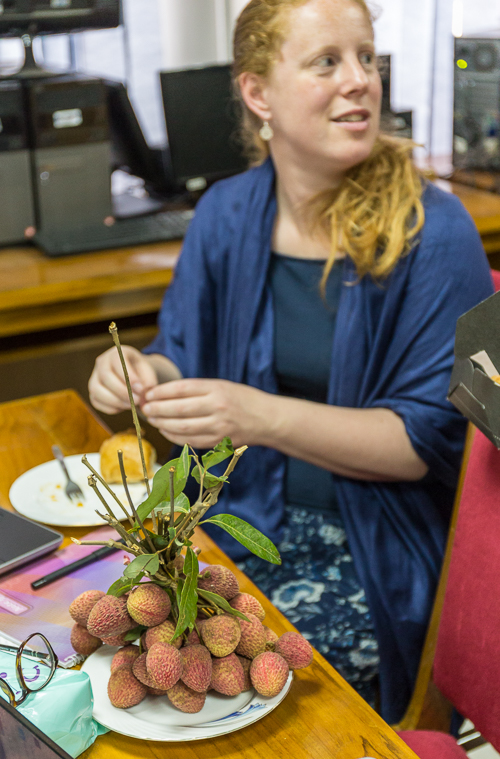 Then it was time for the big day, the launch of the climate report. The report is available here and describes the climate of Bangladesh up to now. It is the first time Bangladesh published a report like this themselves, and an important milestone for the country. The report can be used by others, and it this is also a base that is needed for starting to look at future climate, an important topic for a vulnerable country like Bangladesh.
The launch event was so different to what we are used to. It was a big event, with the guests of honour being the senior secretary of the ministry of defence (that the department falls under) and the Norwegian ambassador to Bangladesh (Merete Lundemo). The meeting started with singing and reading from the Quran. Every single speech had to start with greeting all the honourable guests, in the right order and with the right titles etc. I did a speech together with Hans Olav, and I spent half of it just greeting everybody! Quite a show 🙂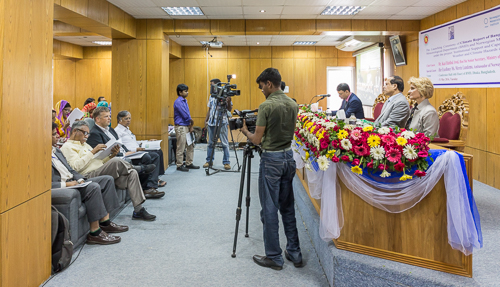 They had decorated the room with lots of flowers, very pretty. Here the director of BMD (on the left) is talking, with the senior secretary in the middle and the ambassador on the right. And of course a banner in the back, they make banners for every occasion here – we had one in our meeting room as well 🙂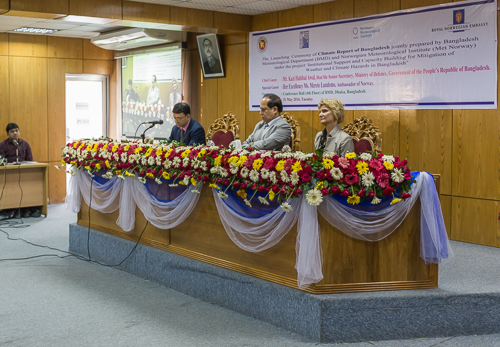 A group photo with the climate report that the embassy had asked for, to use on their Facebook page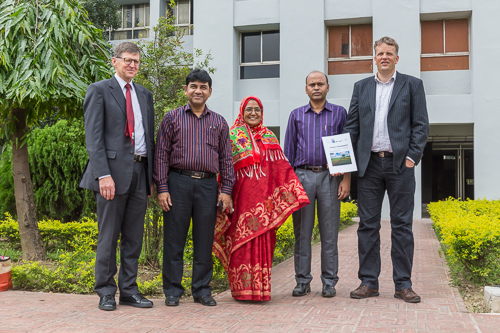 And a group photo with the whole team from Norway in it. We are easy to spot 😉
Eivind, Hans Olav and Shadekul in front of the main building.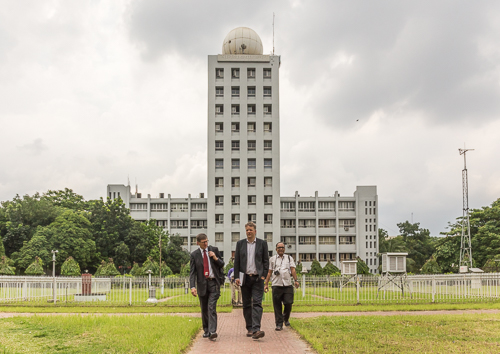 We left after the event, so we got back to the hotel early. This time it was ok for us to leave the hotel and walk around by ourselves (last time we were advised to stay in the hotel apart from visits to BMD). It was so exciting to experience the chaos and heat of the city – I really enjoyed it. We even found some almost idyllic views in Dhaka…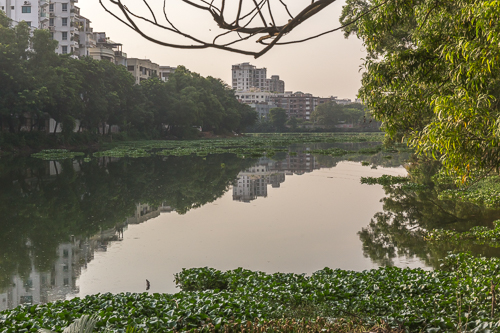 This is part of Banani Lake not far from our hotel. We went to a nice shop here. I tried some very pretty clothes on but had to conclude I don't have the same body build as people here 😉 so I only bought a book for my mum's collection of foreign language children's books, and it cost me 75 euro cents 😉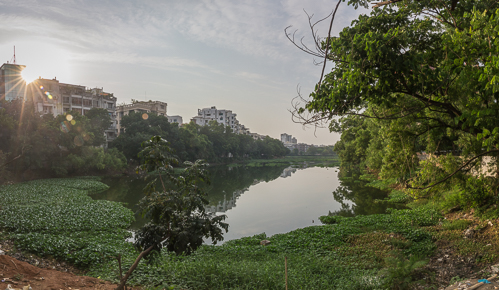 Street views in Dhaka, a lot of battered busses, this one is actually in quite good condition 😀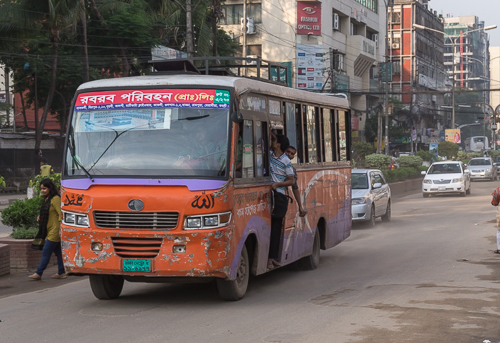 Rickshaws waiting for customers on a street corner…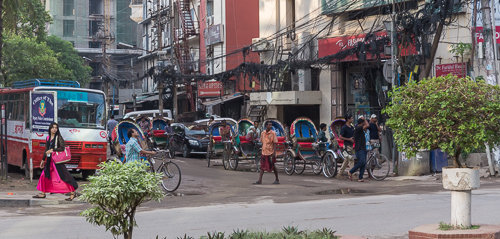 And insane electrical wires!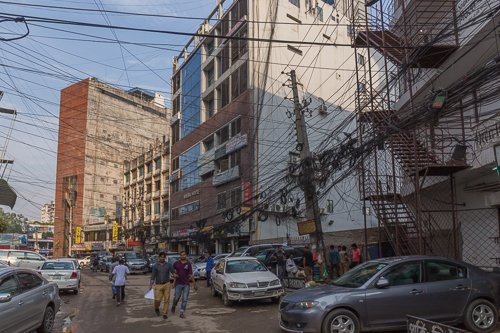 Some even reaching down to parked cars…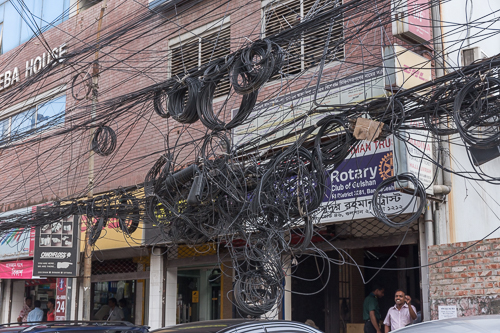 We visited a meat market, where the meat was hanging on hooks in the 30 degree heat – the smell was practically unbearable and we quickly escaped to an airconditioned supermarket.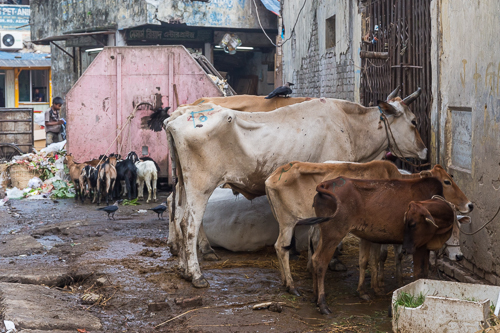 Cute little goats, but not such a cute sight after you have seen what they do to them inside the meat market. I'm not a vegetarian, but you'd almost become one…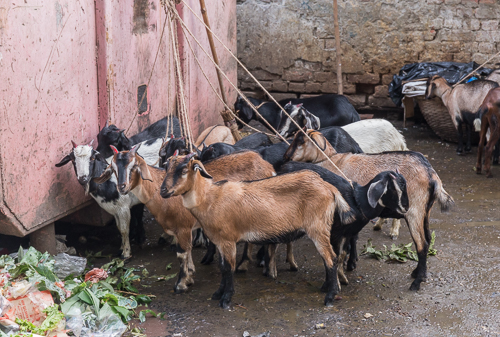 A colourful street scene just outside the hotel. With a very rare sight included: a foreigner getting ready to bike through Daka traffic, brave!!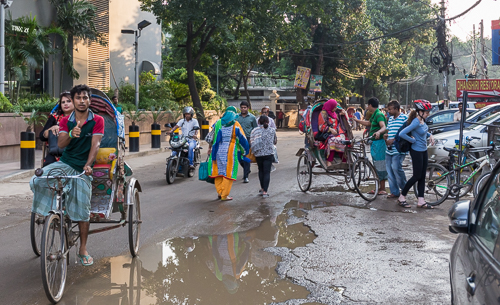 Another view from my hotel room… It was fun comparing this picture to the one I took last November, see here. The big white building is starting to look finished for example, and the building on the far left has grown taller.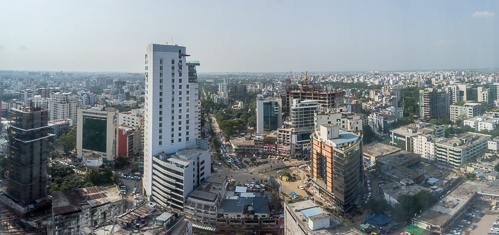 One last group photo on the last day of our visit – the meeting went very well! They will come to Norway in September, so my next task is to organize that visit 🙂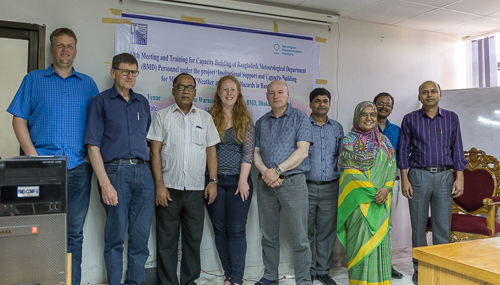 The last afternoon, finally time to relax by the pool…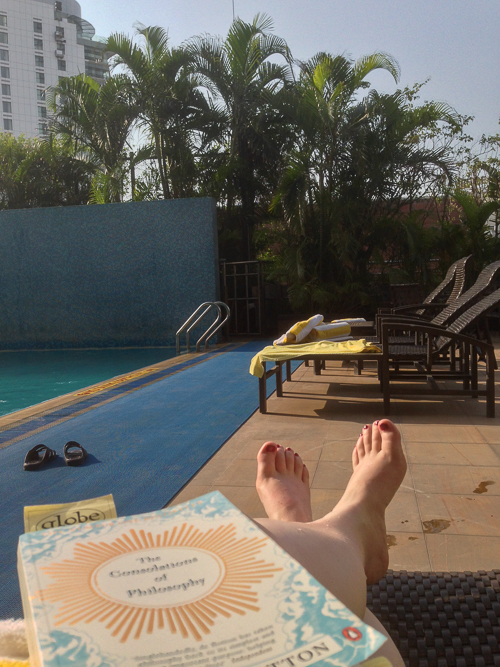 One last sunset from the lounge where we had most of our dinners…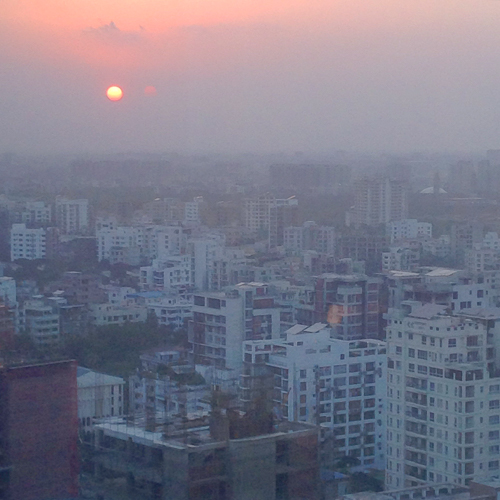 Before leaving very early to catch our 06:15 flight. Nice views over Dhaka after takeoff…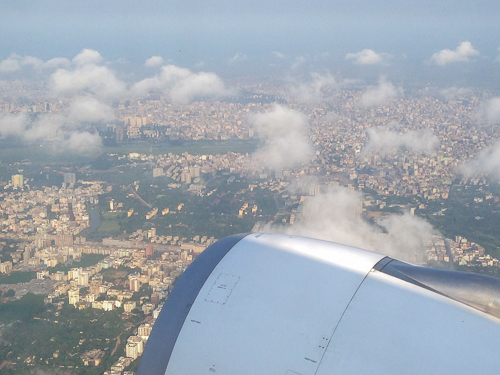 And about 18 hours later, pretty views of a cumulonimbus on the landing approach to Oslo. At that point I had basically been travelling for 3 weeks, and I was so glad to come HOME 🙂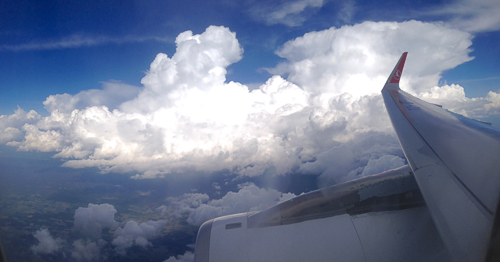 It was an exciting week in Dhaka, and I was much more relaxed than on my first visit (where everything was so new and different) – this made it so much more fun, and I look forward to experiencing more of Bangladesh!