Prague in photos
Prague in photos
The second half of May was really busy, I went on 4 different trips, often only spending one night at home before leaving for the airport again. Crazy! So that's why it's been silent here, but I am trying to catch up. I start with the first trip, in mid May: a long weekend in Prague with my sister 🙂
Neither of us had ever been there. My sister loves to plan and read guidebooks so I basically just followed her around 😀 but that was really nice! Here we are on the first morning, on the main square (the Old Town Square) in Prague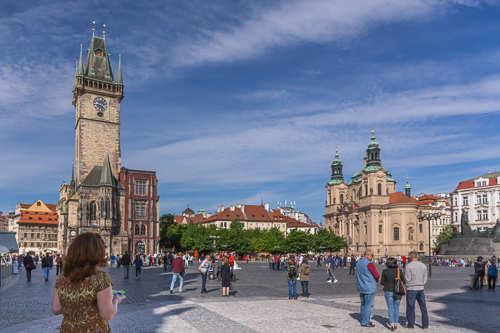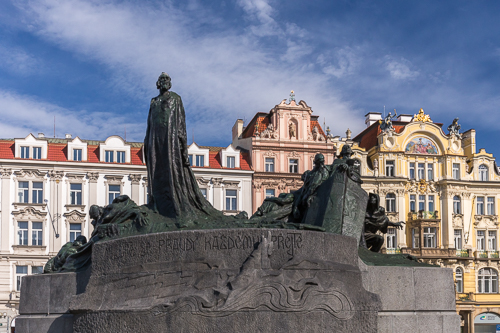 My sister had found a guide book which described walks through the different neighbourhoods of Prague, and they were really nice 🙂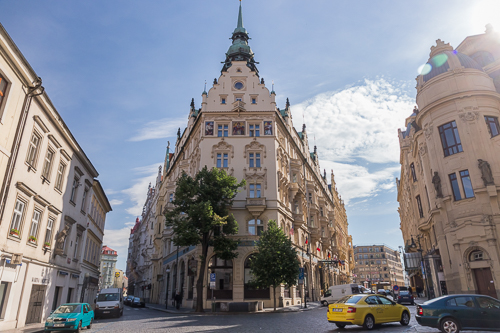 The weather was warm and sunny on the first day. We thought the outdoor cafes with pretzels hanging on every table were funny…
We visited this fruit / tourist market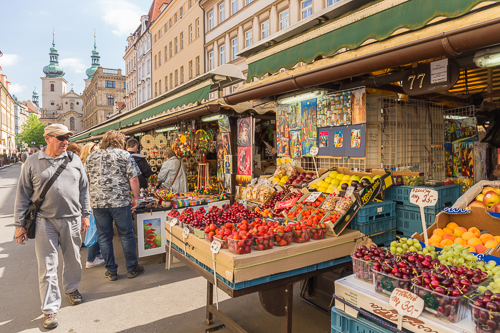 And had a nice break by the river…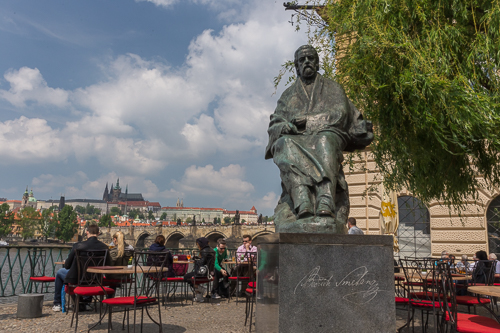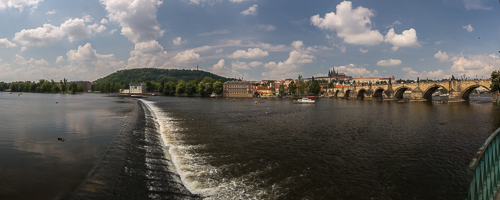 We had lunch in a traditional restaurant, of course we had to try the pork. We shared two different dishes, they were both really good!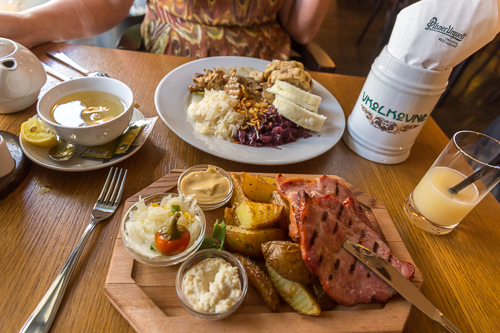 What amazed us most about Prague was that it seemed to be pretty everywhere 🙂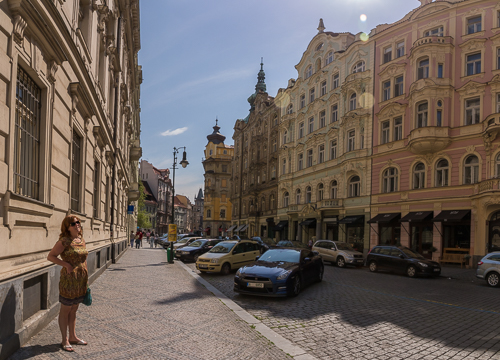 There were these funny fake long oldtimers driving tourists around, I had never seen this before. Well, it's prettier than big busses 😉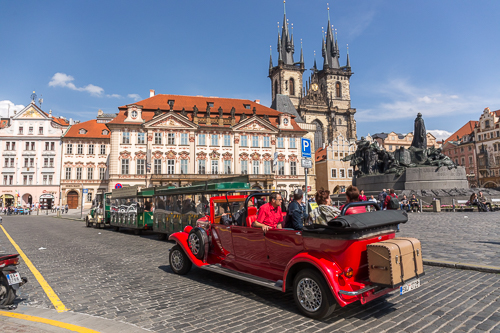 This is typical street food served everywhere in Prague, and really tasty 🙂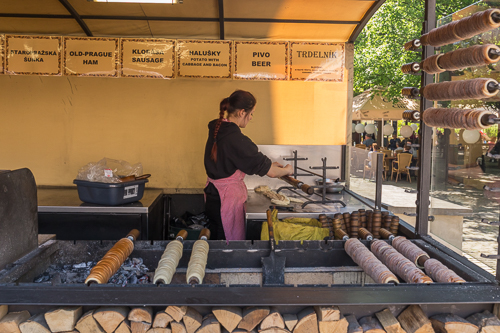 We loved the metro stations in Prague!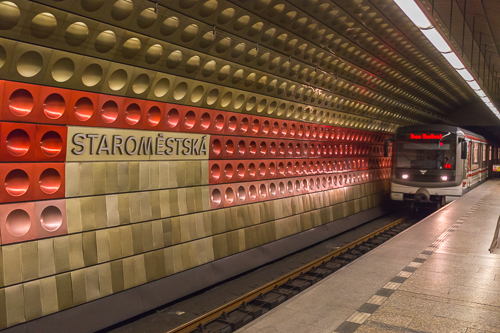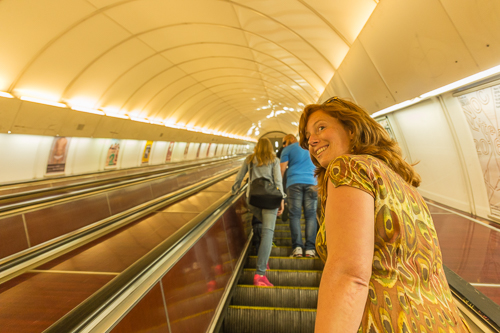 View over the river, and the very cool Dancing House 🙂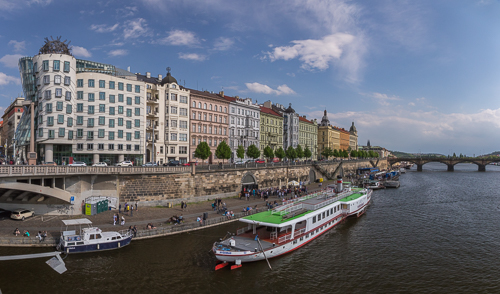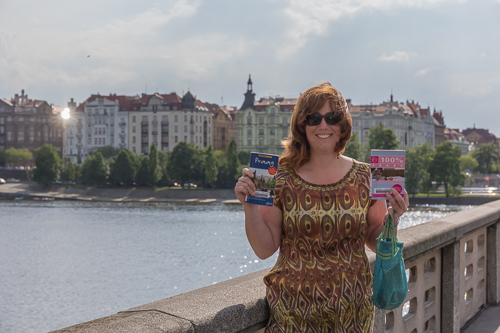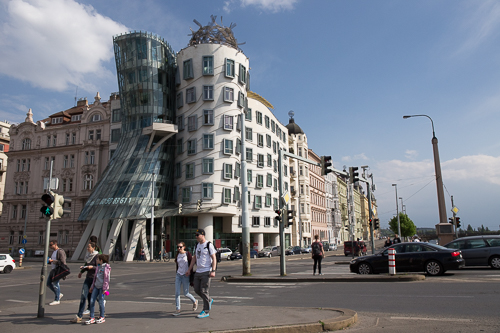 And one of the pretty trams…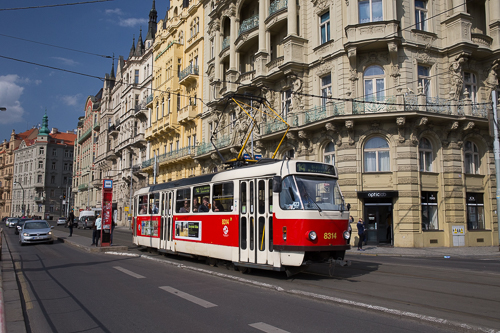 Cool art, and beautiful Art Deco buildings everywhere.
Swans on the river close to our apartment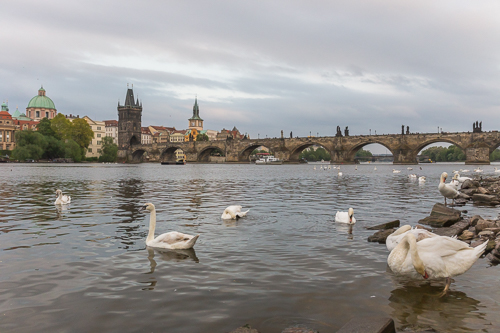 The Charles Bridge early in the morning, before the tourists wake up 😉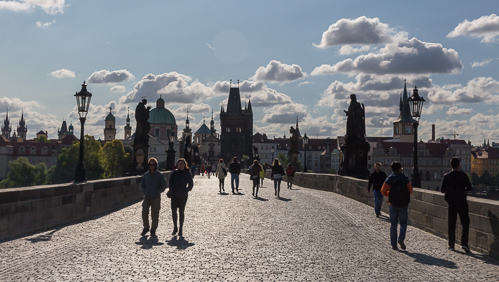 These idyllic views underneath the Charles Bridge were straight across our apartment – great location to stay!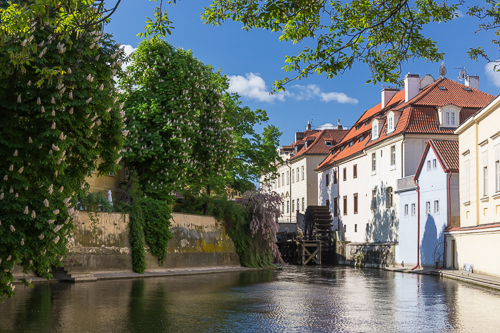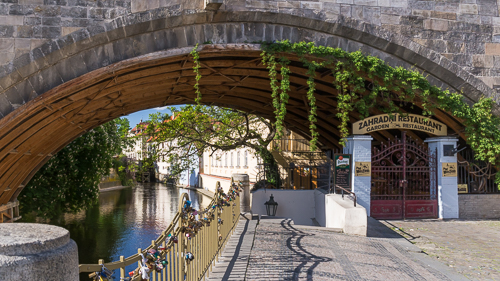 Penguins in front of the modern art museum (Kampa).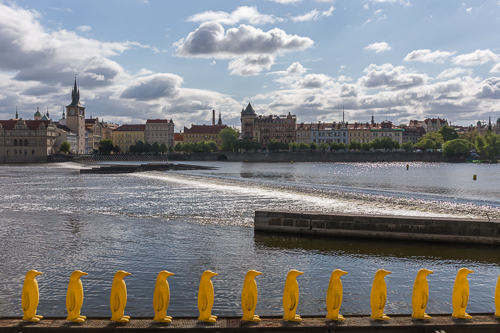 As well as giant babies with weird faces…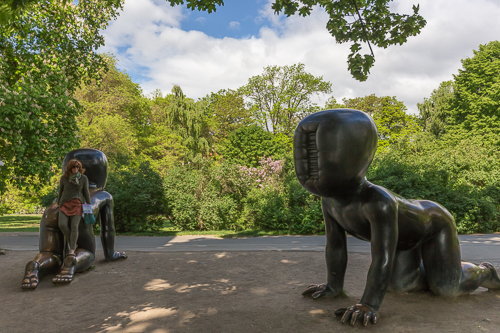 We didn't visit this museum, as we were planning to visit another modern art museum later in the day, but it looked really cool!
Short break on a bench, Laura reads out loud from the guide book while I take photos 🙂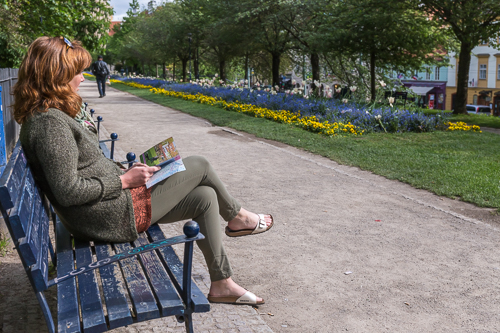 This made me laugh…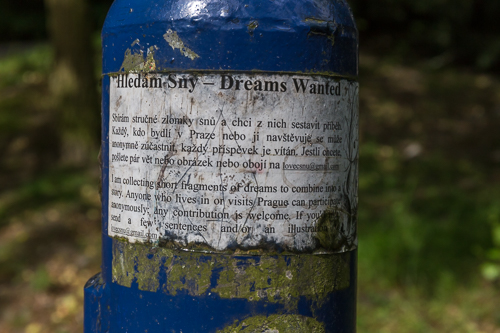 Prague's very own (mini) Eiffel Tower 😀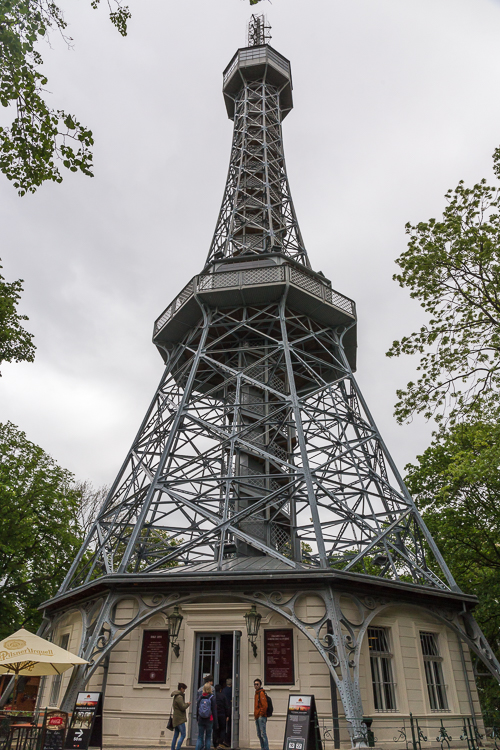 Nice green views over Prague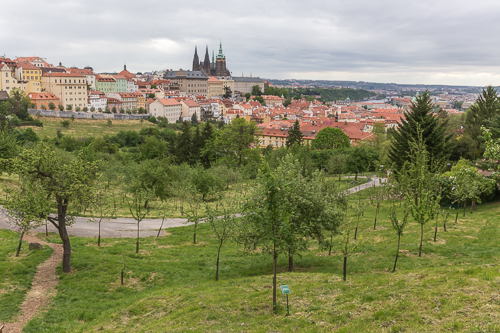 Another pretty street, this was near the castle.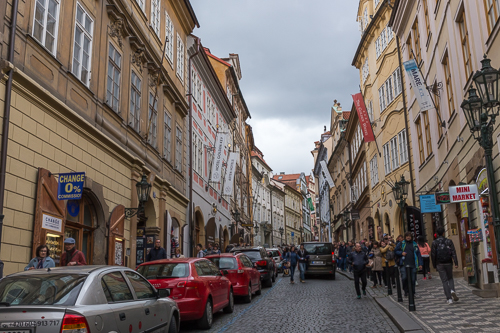 The amazing modern art museum at the Veletržní palác – part of the National Gallery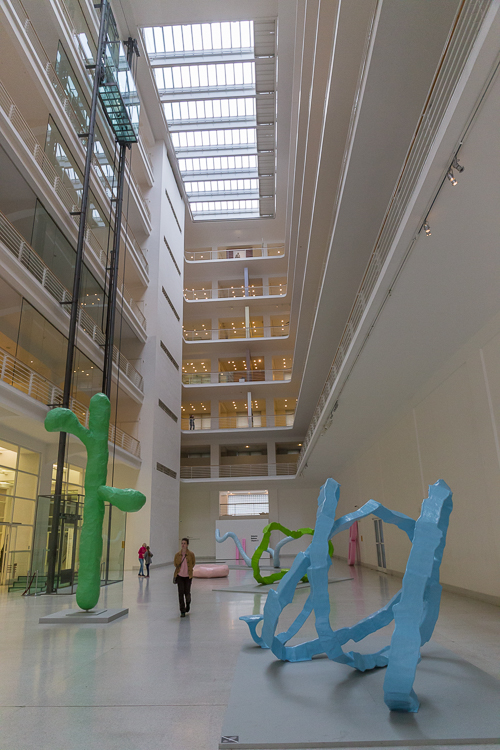 View from the highest floor of the museum…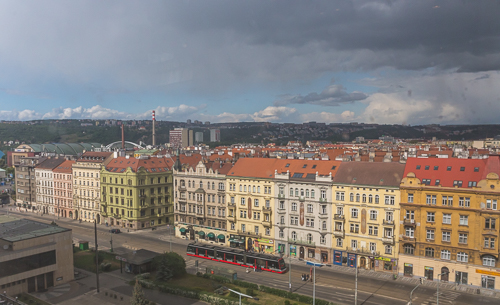 Threatening skies over these interesting buildings (which appeared to be some kind of exhibition centre)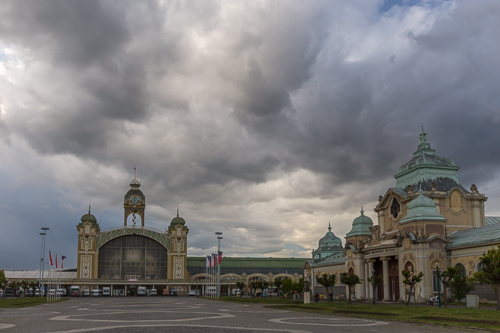 Behind this exhibition centre we found an amusement park, which looked abandoned but it wasn't!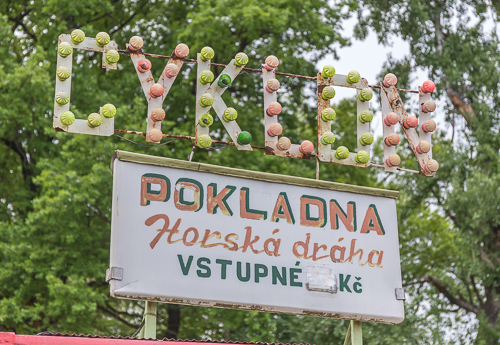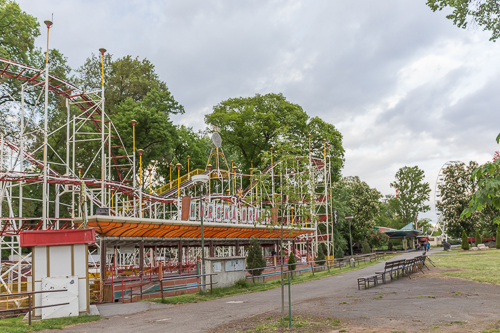 Walking through the park, we heard music coming from somewhere. We followed our ears, had a very cheap hot dog and listened to these (handsome 😛 ) guys who were not that good in English, which made the lyrics of well known songs quite amusing 😀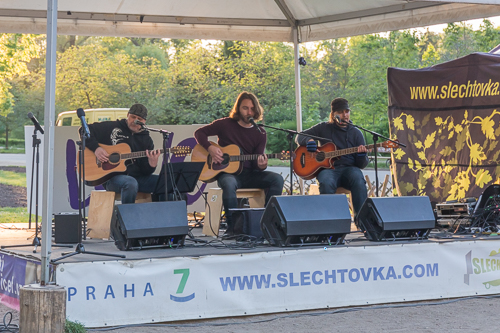 On the way back we stopped at Shakespeare and Sons, a really nice book shop selling foreign and second hand books.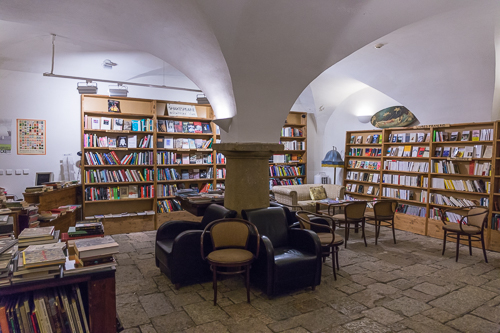 The Charles Bridge in the twilight after sunset…
We paid to climb the tower at the end of the bridge, which was more than worth it for the really nice views over the bridge and the city centre.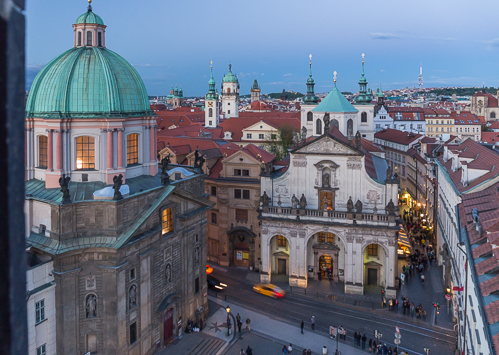 So pretty…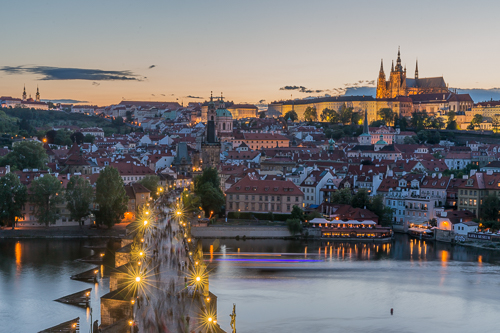 On our last day we visited Vyšehrad, a historical fort on the top of a hill a bit outside the city centre. Much less tourists here, and a very nice area.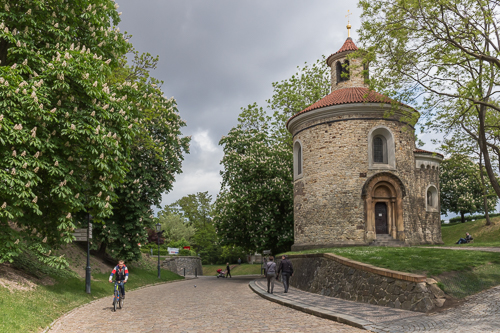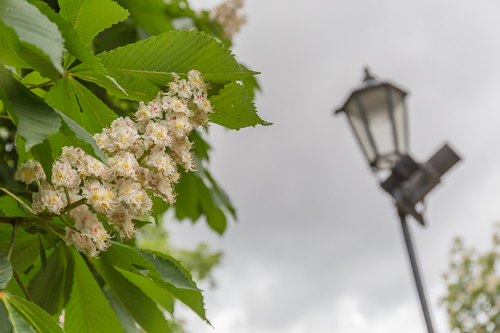 With nice views towards the city centre and all the bridges…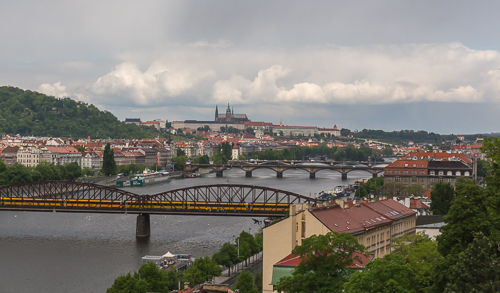 Where we finally took the obligatory sister portrait 🙂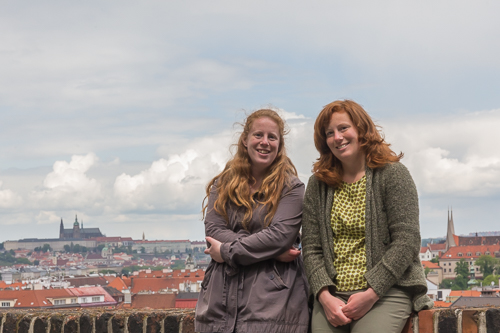 My sister's flight was a couple of hours before mine, and after she left I visited the amazing Kafka Museum. I've never been to such a bizarre museum, with sound and light effects that are almost hypnotising. It was beautifully done. This sculpture in front of the museum was a lot of fun too… both their hips were rotating 😀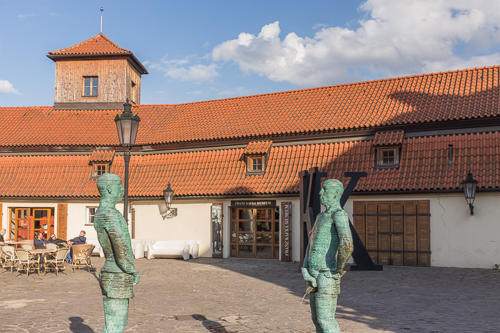 Kafka was everywhere in Prague. After buying chocolate to take back to Norway, right before getting on the metro to the airport, I walked out of the shopping centre and found this giant Kafka sculpture. It was really cool, as each layer moved around individually and the sculpture reshaped itself in a different direction every 10 seconds or so.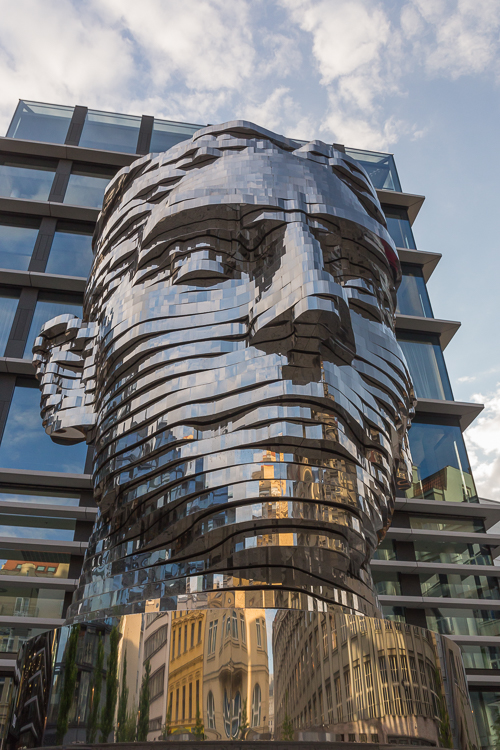 What a fun city and what a fun trip! 🙂