Winter comes to Oslo
Winter comes to Oslo
I came back from a work trip to Bangladesh last Friday (more on this soon). When I left Oslo the week before, it still felt like autumn. When I came back, it was definitely winter! The temperatures are below zero all day, the trees have lost all their leaves and there is snow up in the hills. On Sunday, I dressed up warm and took the Tbane all the way to Frognerseteren. This is the highest station in Oslo at 469 m. Up there it really was winter!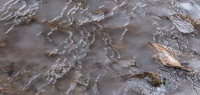 I took small icy paths until I reached Tryvannstua. Unfortunately I had forgotten my wallet at home, so no hot chocolate for me 🙁 There is a ski resort here where they were working hard to get more snow!
I followed the gravel road to Skjennungen and took some photo of the ice crystals on the frozen lake. I had lunch here too, but I didn't sit down for long as it was too cold for that!
Another reason to keep going is that the days are getting quite short now. It was nearing sunset and I wasn't even halfway through my walk. The views were very pretty…
I reached Ullevålseter, which was deserted already (last time I was here, the queues were really long and there were so many people sitting in the grass around the building). I reached Store Åklungen around sunset, such a pretty place!
The skies turned really pink and then the moon appeared from behind the clouds – so beautiful!
After this I walked on to Sognsvann as fast as I could – it was dark by the time I got there. I had walked 13 km and could feel it in my legs! 😀
Talking about Sognsvann, I went for a walk there earlier this month with my friend Judith. We had a week of foggy weather then, and this is what it looked like that afternoon…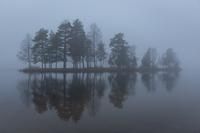 I have more photos to share, of my sisters visit to Oslo, and from my trip to Bangladesh – hope to add those soon 🙂