Surprise visit to Istanbul
Surprise visit to Istanbul
Two weeks ago I was on my way to Dhaka, Bangladesh with two colleagues. We had to change planes in Istanbul. Our incoming flight was late, we were dropped at the opposite sight of the terminal and by the time we got to our gate it had just closed 🙁 As the next flight to Dhaka was 24 hours later, we were put in a hotel (a 5 star hotel, but I think at least 3 of those stars were bought on the black market!). It was all rather annoying, but there was one bonus: we had half a day to explore Istanbul!
The other two had visited Istanbul before (though for one of them, it was 40 years ago!). I had never been there. After a quest for a cash machine (not easy when nobody seems to speak English), we took a tram into town. We got out at the Grand Bazaar…
I loved walking around the Grand Bazaar! It's a labyrinth of little streets and lots of shops. On a Monday morning, it wasn't very busy. I loved watching tea being delivered to the salesmen 🙂
After that, we walked to the Blue Mosque while listening to the impressive call for prayer coming from all sides. I would have loved to find out why the mosque is called blue, but it was closed until 14:00 so we only had a look from the outside and continued. We had to be back at the hotel by 15:00 for our shuttle to the airport, so we couldn't wait.
There were lots of street vendors selling corn on the square between the Blue Mosque and Hagia Sophia, our next destination.
We visited Haga Sophia, a huge building. The main attraction for the Scandinavians was a Runic inscription by Vikings. Basically, ancient graffiti in the style of "X was here" 😉
After that we visited the Basilica Cistern, an underground cistern which was originally used to store and provide water. Quite a magical place, though very dark so it wasn't easy to take photos.
There were two pillars that reused a block of stone carved with the head of Medusa as a base. They came from a Roman building originally, and this one is placed upside down as it was believed that staring directly into Medusa's eyes would turn you to stone. Medusa comes from Greek mythology and is supposed to be a monster, with the face of a hideous human female with poisonous snakes instead of hair – nice 😀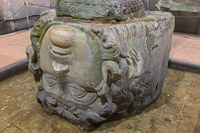 After that it was time for a quick lunch before taking the tram back to the hotel, from where we took a shuttle back to the airport. It was quite strange to walk around in a city as a tourist, when you had no idea you were going to be visiting – but I really enjoyed this unexpected visit to Istanbul!