Yesterday I took the train to Fredrikstad (just over an hour from Oslo), where Marie and Pål picked me up. We went for a walk at Vesterøy in Hvaler. We weren't very lucky with the weather: it was grey and foggy – but at least it wasn't raining! The landscape was very different from what I'm used to: very rocky with low vegetation. Here we reached an old fishing village where we had a picknick lunch 🙂
After lunch, the sun tried to come out – nice! I'll have to come back here in summer one day, lots of nice places to go swimming as well!
There were some huge boulders lying around, this one was cracked – couldn't help myself 😀
In some areas there were lots of cabins, some were very pretty. From there we descended back into the fairytale forest 🙂
A big mushroom on a tree – in Dutch we call this type of mushroom 'fairy bench' 😀
We briefly visited Papperhavn, which was very quiet but I bet it's full of life and activity in summer!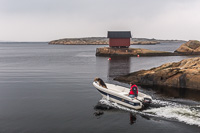 The days are getting short now, it started to get dark not long after we got back to the car. We drove back to Fredrikstad, where we walked around the old town in the dark (very pretty) and had a wonderful dinner before I took the last train back to Oslo. Such a great day, thanks a lot Marie & Pål! 🙂