Long time no blog! October just flew by, I'll try to post some photos soon. The snow came early to Tromsø this year, and it wasn't even destroyed by 2 days of rain. Last Saturday, we decided to take the cable car and make the most of a very nice day 🙂 The views were spectacular, as always – but the clouds were really special that day…
We walked up to Fløya, we could have skied but the snow was very hard and icy and I prefer to walk anyway. The views from Fløya were magical, the low sun was already colouring all the surrounding mountain tops.
On the way back we stopped at Steinbøhytte, which was still free of snow inside. The snow had built up on one side, but it can get much worse.
The sky was just so pretty, I had to stop all the time to take more photos. This one is taken at 14:15 (too early for sunset!), while we were racing to make the 14:30 cable car back down…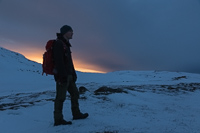 …because I had an evening shift at work waiting for me 🙁 Never mind, even at work I could keep taking photos. They asked me to take a photo of our new fancy sign (with our new fancy logo!). Of course I had to include Rudi, our resident polar bear…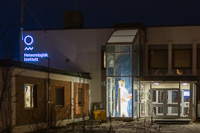 We're losing 10 minutes of daylight every day now, so it's extra important to soak up as much sunshine as we can in the coming weeks 🙂