Summer in Finland, part I: Cycling Oulu – Kajaani
Summer in Finland, part I: Cycling Oulu – Kajaani
This summer we've spent our three weeks of summer holidays in Finland 🙂 We drove from Tromsø to Oulu, breaking the long trip in half by staying in a cabin overnight. We had stayed at the same place before, one our way back from Easter holidays in Luleå. The cabin was at Muodoslompolo, try to pronounce that 😀 In Oulu, we parked our car in a parking garage for a week, and on a sunny Sunday morning we started our cycle trip to Kajaani – we would cycle just over 250 km in 5 days…
Day 1: Oulu – Utajärvi (61 km)
Oulu is a very cycle friendly city, so it was easy to get out of town. We followed the Oulujoki (Oulu river) all day, though we could only glimpse the river every now and then, hidden behind fields and forests. We mostly cycled through farmlands…
It was a pleasant day of cycling, on quiet roads. We soon found we were following a hiking trail called the Tar Route, a nearly 100 km long route from Rokua National Park to Oulu. Tar production used to be very important in this region, and the barrels of tar were transported along the river to Oulu, which is represented in the logo of the hiking trail.
We arrived at our accommodation at 18:00, and dinner would be served at 19:00 – perfect! We stayed at a manor house called Merilän Kartano, a really nice place on the river. Besides a couple staying in a cabin, we were the only guests. Dinner was a buffet, we had to be careful not to eat more than our share and leave the other couple hungry 😉
In the evening we watched the most amazing sunset from behind our room… the sky turned this deep pink/purple, even though it was raining at the time. We also saw a hedgehog 🙂
Day 2: Utajärvi – Rokua (34 km)
The next day started perfectly sunny, and after breakfast we cycled to nearby Utajärvi to buy some supplies in the supermarket.
We didn't have very far to cycle that day, so we took it easy with lots of breaks along the way 🙂
We were now cycling through the forest, with a thick moss covering on the ground – very pretty.
Unfortunately it got more and more cloudy throughout the day. We had a final stop at Ahmas Kalevala Heritage Village. The Kalevala is the Finnish national epic, published in 1835. I didn't even know what a national epic was, but Wikipedia has the answer: "an epic poem or a literary work of epic scope which seeks or is believed to capture and express the essence or spirit of a particular nation". The village of Ahmas was famous for  bards, folk singers and poem singers, and part of the source material for the Kalevala came from them. There was an open air museum with beautiful buildings and interesting stories… there was nobody there and apparently it's free to wonder around and even go inside some of the buildings. An interesting stop!
It started to rain while we were at the heritage village, so we decided to cycle the last 9 km to our hotel as fast as we could.
Our hotel (Rokuanhovi) was located inside Rokua National Park. We went for  a long walk before dinner, but we didn't take many photos as it was raining. It was beautiful though – it's a landscape shaped by the last ice age. The soil is mainly sand, shaped into crescent dunes, but now covered in a thick forest and an incredibly thick layer of reindeer lichen.
Day 3: Rokua – Manamansalo (58 km)
The next day we did see some sunshine, but there were lots of rain showers around. Somehow I decided to be very Dutch that morning and I took some extra rolls of bread from the breakfast buffet to have for lunch. Lucky – as we didn't come across a singe cafe/shop the whole day!!
We cycled through the forest, following a route that Google maps suggested (I used my iPhone and a Finnish sim card that gave me unlimited data for nearly nothing (0.66 euro per day), with excellent 3G reception in even the most remote places – brilliant!!). It was a nice route, but what Google didn't tell us, was that the dirt road we followed would turn into a nearly-impossible sandy road…
The only other person we met was a guy in a van, collecting moss… I know reindeer lichen is used for Christmas decorations in the Netherlands, and it's quite expensive – so this might be a great business?! 🙂
We were very relieved when we got to the end of the crazy sandy road, and back on a tarmac road… We cycled to the ferry to Manamansalo, an island within Lake Oulu.
A thunderstorm was following us from the ferry to our camping site, but luckily we only got some light rain. Our accommodation for the night was at Manamansalo campsite, where we rented a cabin. The cabin was very nice, though in a way not such a good deal compared to hotel rooms – the price was the same, but linen was not included and neither was breakfast. There was a small shop on the campsite where we bought a luxury meal: a tin of meat balls in brown sauce and instant mashed potatoes 😀 It actually tasted very good after a long day of cycling 🙂
Our cabin was next to a small lake, with great reflections…
We went for a walk after dinner, but after only 15 minutes we ran back to the cabin to avoid another rain shower 😀
Day 4: Manamansalo – Paltamo (48 km)
The next day wasn't the best: it rained all day, and it was quite cold and windy too. And when we stopped at a cafe for a break and some food, I discovered I had a flat tire. Well, at least it was better to find that out while at a cafe with a covered outside area, than along the road in the middle of nowhere.
We didn't stop all day, except for another tea-and-cake stop at a cafe. Our destination for the day was Paltamo, and it was the only night that we hadn't been able to book accommodation for. We knew there was a hotel, and we had tried to call them several times, but after asking the lady if she spoke English or Swedish, she would just hang up! Luckily the hotel did exist and her husband even spoke some English. It was quite a special place, frozen into the 70s. It was cheap though, and warm, and dry, so I wasn't complaining 😉
We walked around Paltamo in the evening – a very sleepy town with basically nothing to see or do. We were hoping for a restaurant, but the only option was a burger at the petrol station. There was a big supermarket though, so we stocked up on snacks and lunch, and breakfast, as the hotel didn't provide that.
Day 5: Paltamo – Kajaani (53 km)
The next day was warmer and dry – but still rather cloudy. We had to cycle along a relatively busy road for a while in the morning.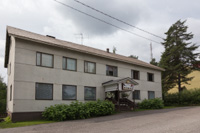 Later we took another forest dirt road (never trust Google maps :P) and we visited the Paltaniemi. This village is famous for its pictorial church. It was impressive indeed, an old wooden church full of paintings of various scenes from the Bible on the ceiling and walls. Above the door there is a large painting of heaven and hell, but a large part of hell is missing. Apparently, it was removed as it was so shocking that ladies were fainting… it makes you curious what it was showing 😉
After a tea and doughnut, we cycled the last 9 km to Kajaani, the final destination of our cycle trip. It looked like a pleasant town, but we didn't explore much as it rained heavily that evening and the next day. We relaxed in our hotel, and took the train back to Oulu the next day.
It had been a nice trip, though we were a bit unlucky with the weather. As long as you don't take Google-shortcuts, the roads are great, though you sometimes have to cycle on quite busy road (where the speed limit is 100 km/h). Usually there are alternatives though, and near towns there are often very nice cycle paths. Paul would have preferred to cycle longer distances each day, but I am not sure I would find that so enjoyable – though with the large distances between places (shops! cafes!) you might be better off.