Middagsfjellet
Middagsfjellet
Last week the weather was stunning, so when Hannah asked me whether I was up for a trip, the answer was yes :). I did have to be at work by 15:15 though, so we needed to start early. We picked one of the mountains from Turboka: Middagsfjellet (678 m high) on Kvaløya, near Grøtfjord.
The first part was steep, but we quickly made it to the ridge – with very festive markings and a fantastic view towards Nordtinden, Skulsfjord and Bellvika.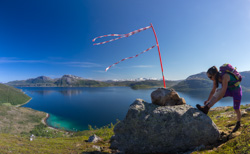 We had about 5 hours to make it to the top and back, which was definitely doable but it did mean I couldn't stop as often as I normally do. Which in turn meant that I didn't take that many photos 😉 But luckily Hannah is a lot faster than me, so I could leave the photo-taking to her: the results are here.
We were slightly disappointed when we got to the top, as it's a plateau where the ridge actually blocks a lot of the views – we couldn't see Grøtfjord for example, nor the valley between us and Orvasstinden. But hey, the view towards the open ocean was still impressive 🙂

On the way up we avoided the snow, but on the way down we actually followed the last remains of snow – it's much better for your knees than loose rocks. The snow didn't always hold us though, and I even managed to scrape my leg open by falling through the icey snow – who knew that was possible?!

On the way down we went down a steep valley instead of following the ridge all the way. This was an attempt to save time, but it was a bit of an overgrown jungle which slowed us down. Still, we made it back to the car with about 10 minutes to spare 😀 It was a great hike, in fantastic weather – which left me quite severely sunburnt though (in spite of applying sunscreen several times). I can never decide if hikes before work are a good idea – on the one hand I am very happy I went for a nice trip while the weather was good, on the other hand it makes for a very tired person on duty 😉
Here's a map and a height profile of our trip…