More than a month without any blog posts, what happened?! Did life turn boring, with nothing to write about? Nope, we have the opposite problem: we've been on so many trips lately that there was not enough time in between to edit any photos, let alone write a blog entry 😀 I'm really behind now, but I'll try to catch up as much as I can. First of all: a weekend trip to Sandøya (an island near Tromsø) two weeks ago. You can get there by ferry 3 times a week, but we went with our own boat from Ringvassøya. It took about an hour, you can see our route on the map below…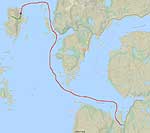 We left late, as Saturday was a rainy day and we had some things to do at home. We arrived at the beach shortly after midnight, and by then it had cleared up almost completely. The beach looked straight towards the midnight sun – beautiful 🙂
It's been unusually warm in Northern Norway since Mid May, and we are weeks ahead of schedule – everything is green already, and even the cloudsberries are flowering! They were beautiful, backlit by the midnight sun. With views like this, who wants to sleep??
But finally at two in the morning we went to bed. It was so beautiful to fall asleep to the sound of crashing waves and singing birds, and we slept soundly until 11! We enjoyed a lazy breakfast on the beach 🙂 and afterwards we decided to climb to the top of the island, at 427 m. The views down to "our" beach were amazing…
We followed a ridge that also gave us views to the east side of Sandøya (where there's a small village, but only 2 permanent inhabitants I believe!) and towards Rebbenensøya, with some very pretty clouds…
We then went straight up to the top of the island, on a very steep slope. It wouldn't have been doable on a rocky slope, but it was covered in small bushes which give more grip. We first reached the (radio?) mast on top of the island, and from there you can look straight down to the beach we camped on – it made me dizzy! From the mast to the actual top is a huge almost-flat plateau which is great fun to walk on 🙂 and the views are incredible, here towards Sørfugløya (Southern Bird Island).
We didn't meet a single person all day, the only signs of life we saw were some boats passing by. In the cairn on top we found the usual "guestbook" where people write about their experiences – and here we found out that 5 people had been to the top earlier that day 😀 Such a small island, but we never saw them.
There are some really steep drops near the top, with views to more sandy beaches. I think you can guess where the name Sandøya comes from 😉 We could see all the way from Rebbenesøya to Ringvassøya, Kvaløya, Senja and even Andenes!
We were getting hungry so we were keen to get back to our camp – there was a bbq waiting for us 😀
Coming down the steep slope was hard on our knees, but we made it back safely and we enjoyed a well-deserved bbq on the beach 🙂
It was getting late so we decided to make our way back home. We had originally planned to have a look around the small village, and I have also heard there is an impressive remains of a church on the south side – but this has to wait for another visit. I wouldn't mind coming back, it's such a beautiful place 🙂