Tromsø to Finnsnes – by bike!
Tromsø to Finnsnes – by bike!
Paul came back from a work trip to Boston last week, and when I picked him up from the airport he asked me to help carry his luggage. I wondered what the problem was – he only took one bag. Then I noticed a big cardboard box on the luggage band, clearly containing a bike… 😀 It's a hybrid between a road bike and a touring bike, a model he tried to order in Tromsø but none of the shops was willing to get it. Well, I guess it's easier to import it yourself then 😉
I also finally installed a carrier on my mountain bike, and I bought a set of panniers. The weather looked ok for the weekend, so a plan was quickly made: we were going to cycle to Finnsnes! We left on Saturday morning, and cycled towards Sommarøy. Here is a map, with our route for day 1 in red, and for day 2 in blue.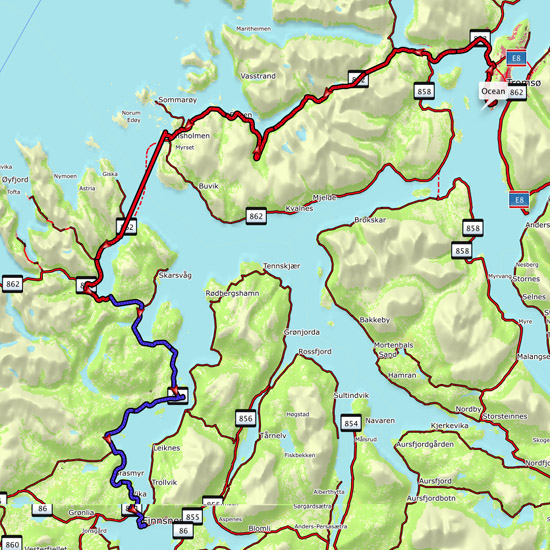 The part I dreaded most was crossing Kattfjordeidet, where the road climbs up to nearly 200 m – a loooonggg climb. But by going slowly in the lowest gear you eventually make it to the top – and of course the best bit is the downhill reward 🙂
We cycled to Brensholmen, and took the ferry across to Botnhamn on Senja. Guess what happens when two people who've been cycling all day in grey/windy/rainy/cold weather get inside a warm ferry that makes gentle rocking movements?? ZzZzzZzzz….
From Botnhamn it was about an hour to our destination for the day: Fjordbotn Camping. A great location, and a fantastic view from our cabin – but we did think the campsite was messy and that our cabin was really expensive for what it was (we paid 800 kr for a very worn cabin with a kitchenette and bathroom, without bedding or towels!).
Total distance for the day: 57 km from Tromsø to the ferry, 12 from the ferry to the campsite, making a total of 69.
We were really hoping to wake up to a sunny day, but unfortunately it was even worse than the day before. The weather forecast called for "mainly dry" but the first part of our day was "mainly wet" 😉 Still, it was a pretty ride along quiet roads, with nice views of the coast.
We only had 45 km to cycle that day, so we had more time to take photos 🙂
From Finnsnes we took the fast ferry back to Tromsø, it only takes 1 hour and 15 minutes! We had never been on one of those, but it was very comfortable, with scenic views. A great way to come home 🙂