Photo Workshop at Sommarøy
Photo Workshop at Sommarøy
I am on a year-long photo course since last autumn, with Jens-Morten Øvervoll (aka JMFoto). It's really great, we do a lot of different things: concert photography, portraits, drop photography – but best of all: photo weekends. We went to Lyngen in November but I never got around to sharing the photos. Last weekend we went to Sommarøy. We left on Friday afternoon, and stayed in one of the cabins owned by the Sommarøy Arctic Hotel. We had the biggest cabin, which fitted all of us (11 in total). On Saturday we woke up to a grey, cloudy day…

We went to the beach and took photos of everything that caught our eye, including strange icicles with orange linings…
The weather has been cold for a long time, and pancake ice has collected on some of the beaches… pretty!
Our next stop was a little beach with two pretty boathouses…
After that, we went back to the cabin for lunch – it was COLD and we all needed a break to warm up. Of course we did go back out for sunset, and the sun even showed itself for the first time that day 🙂 These two photos are taken at Brensholmen.
We stopped at another beach with a view of Håja, for some long exposures…
That evening we had rented the hot tub/sauna, which was lots of fun. Jens-Morten even got some photos of all of us, cramped in the hot tub, with northern lights dancing above 🙂 Børge made mølje for dinner, which was a first for me. It's a meal of boiled cod, cod roe, and cod liver… I actually enjoyed it, even the liver 🙂
The next day we woke up to a glorious sunny day 🙂 We went to a different beach on the other side of Sommarøy, with a nice view towards Håja.
I had so much fun on the beach, trying different compositions and poking around the half-frozen tidal pools…
Just before lunch I took those photos of the frozen lagoon in front of the hotel – quite amazing how the ice has frozen in almost perfect rectangles!
After lunch, it was time to pack up and make our way back to Tromsø. We had a quick stop at Kattfjordeidet, where it was busy with skiers. We got there in time to see the last sun on the mountain tops, but too late to catch it on camera 😀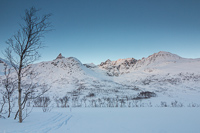 Just before we got to Tromsø we made another stop at Kvaløysletta to photograph the sunset reflected in the shallow water of a bay.  What a pretty sight…
… and what a perfect ending to a perfect weekend! 🙂