Brosmetinden Panorama's
Brosmetinden Panorama's
Last Saturday the weather was very nice, and I was keen to go out and take photos. I had a late start, so I decided on an easy mountain: Brosmetinden near Rekvik, 525 m high but you can start from the parking lot on the highest point of the road which is at 280 m 🙂 From the parking lot, the view of Storstolpan in the sun was quite spectacular! I took me about 1 hour and 20 minutes to reach the top, at some point I was worried I wouldn't make it before sunset 😉 but I still couldn't stop myself from taking photos along the way.
I reached the top just in time, the colours were amazingly rich and the snow turned pink 🙂 Beautiful! I stopped at the first peak, and carefully moved around the edge – it drops down straight to sea level on that side. For the first time ever I had brought my tripod and filters to the top, and it was well worth it.
The last sun painted the mountain tops pink, and after it was gone the it turned the clouds pink and purple…
One last look towards Tromvik and Ramnafjellet (another mountain on my "wish list"), before it was time to go down again.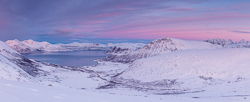 I made it back to the car before it really got dark. What a perfect little trip! 🙂