Tent Testing
Tent Testing
This week has been wonderful 🙂 On Monday afternoon it cleared up completely, and we decided to test our new tent at Telegrafbukta. We bought a Mountain Hardwear EV3, which we found on sale for 50% – quite a bargain. It's a light but spacious tent, we are planning to use it for hiking trips.
This tent is a bit different from most tents: it only has one layer. It seems really strong though, and it's easy to set up. And I love the little windows 🙂
We had a nice bbq, and watched a beautiful sunset…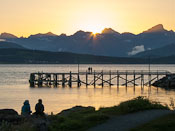 The weather stayed good for the rest of the week, very sunny though we often had fog. I love fog 🙂 I took LOTS of photos, so check back soon!