Rundfjellet – Stålhovet
Rundfjellet – Stålhovet
On Tuesday we woke up to thick fog, but never mind: I was going to climb Stålhovet (861m) with Eelke and Maaike, and I knew the sun would be shining above the fog 🙂 It was quite exciting to reach the top of the fog, conveniently located near the tree line, so that we had spectacular views over a sea of fog…
It was so beautiful that we couldn't stop taking photos, so our progress to the first top – Rundfjellet at 472m – was rather slow 🙂
Never mind, it was a beautiful warm day and we were not in any hurry 🙂
Finally the fog cleared up over a huge part of the landscape around us, but some patches of fog kept dancing around the north part of Tromsø island. The bridge to the airport kept disappearing and reappearing in the fog.

After a short break at Rundfjellet, we continued towards our destination. The landscape here was really beautiful, with lots of little lakes and great views towards the high mountains in the northwest.
Here too, we kept stopping to take photos, with every bend in the path we had a new view 🙂
The path was well marked with red cairns, though at some point we had to find our own way up.
Crossing a small stream. After this, the landscape changed to lots and lots of loose stones – not ideal to walk around with a camera in your hand, so I didn't take any more photos until we got to the top. The photo from the top looks back at the ridge we crossed. It was quite long!
There is a steep drop on the other side of the top, and the views were really spectacular! I had never been here before, it's a popular mountain for skiing (though most skiers stop at the first top on the ridge, Lille Blåmannen – for mysterious reasons marked as Botnfjellet on my map – confusing 😉 ) but I never joined when Paul went here.
And thanks to Maaike and the friendly stranger we met on the top, a photo of the three of us 🙂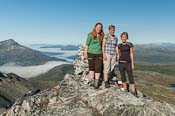 The way back was long and warm, and I was too tired for any more photos 😀 It was a great day though, I really enjoyed it. Maaike has also shared some really nice pictures of this trip: see here. In the evening the fog increased and covered all of Tromsø again, Paul and I took the cable car up to watch the sun set over a sea of fog – so beautiful. But these photos will have to wait for another blog post 🙂