A Sunny Morning
A Sunny Morning
Last Tuesday was really sunny, and I took my camera on a little trip before my afternoon shift. These photos are taken at Folkeparken, the park close to where we live. It's an open air museum with lots of old buildings (that have been moved here), which only opens on sundays during the summer for a couple of hours – and even then, only 3 of the buildings are open 😀 It's very nice though, but I wish they would open more frequently – especially the nice little cafe!
There is an exhibition about fishing called "In Cod We Trust" :D. Of course I had to take some photos of my favourite boat house…
And another cluster of buildings on the other side of the road. The grass roofs are so pretty now, they had lots of purple flowers in them.
A girl was fishing from the end of the jetty (wonder if she caught anything, we never had much luck there), and lots of families were enjoying the beach of Telegrafbukta.
My next stop was Tisnes, a small village about half an hour from Tromsø, with some nice beaches to walk on.
There's also an impressive shipwreck on the beach, which is always great for photos 🙂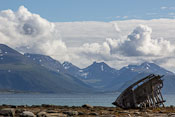 A very nice morning! This weekends looks grey and drizzly again, but next week the weather forecasts look really promising – and I'm free! Can't wait to take my camera on some more trips 🙂