Last Thursday I had planned to climb Raudfjellet (540 m), but the clouds were hanging low all day. Fog usually disappears when the sun gets strong enough – or at least it's easy to get above the fog. Low clouds can hang around all day though, and are not as shallow as fog. I noticed the top of the cable car (at 420 m) was in the clouds all day. So i stayed at home and edited photos, until the end of the afternoon, when it suddenly cleared up here in Tromsø. I jumped in the car and drove to Raudfjellet, but this is an hours drive from Tromsø and unfortunately it was completely cloudy at the trail head. I could see some mountains in the distance with sun, so I was hoping that it would clear up. I climbed Raudfjellet two years ago via a different (much longer) route, and was surprised to find how nice the new route was, even inside the cloud 😉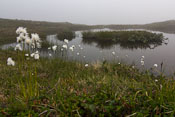 I didn't have much of a view on my way up, and I had kind of given up hope that I would have a view from the top. And indeed, at 500 m I was still in the clouds. But wait a minute, isn't there a slight blue tint to the clouds? And isn't that the sun, trying to come through?! I raced up, hoping that 40 more height meters would be enough. When I reached the top, the sun finally broke through, and a very strong fog bow appeared with blue sky above! Magic…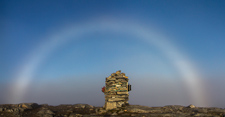 I was very happy and signed my name in the book. When I looked up, the clouds had lowered even more and suddenly I had a 360 degrees view over a sea of clouds, with several other mountain tops sticking out. And some big cumulonimbus clouds inland. WOW!!
I took lots of photos and spent an hour on the top. It was lovely having this view all to myself, but I also enjoyed sharing the experience with the two sisters who came up a little later.
After a long break, I reluctantly starting walking down – knowing I'd have to walk back into the fog 😉
The first part of the way down is quite flat though, and I was able to stay above the fog for quite a while. So many photo opportunities! I was running around taking lots and lots of photos…
Everything was still soaked from spending the day in the clouds, and the wet landscape was sparkling in the sun.
Finally I had to descend further down, and into the fog… This route is very well marked, which was really helpful when visibility became very low (especially since it was also getting dark).
What a great hike! I got home at 23:30, really pleased that I did go after all 🙂