Bakaromntinden
Bakaromntinden
Last Monday I finally climbed Bakaromntinden (or Bakarovntinden, both names are in use) on Malangen, 878 m high, a mountain that had been on my "wish list" for 3 years! One of the obstacles was the ferry you needed to catch to get there – I was always worried I'd take too long and miss the last ferry home. But last year they opened a tunnel, which made things a lot easier 🙂
The first part of the route goes through a pretty forest, and is easy going, until it starts climbing very steeply. That part was exhausting, I was glad when I finally reached the tree line and the path flattened out a bit.
The views are very nice, with Bentsjordtinden dominating the view to the south. Paul has been up there on ski's – hard to believe when you see the steep drops on this side, but I guess it's less steep on the other side.
The path climbs on to the start of the Bakaromntinden ridge. Here the northbound Hurtigruten passed on its way to Tromsø…

Bakaromntinden is a bit notorious for the "airy" part near the top, and I've heard from many people who turned around before reaching the top on their first visit. I approached this part feeling slightly nervous, it would be so disappointing to turn back when you're almost there, but I'd never done any "airy" bits so I had no idea what to expect. The young couple who were walking in front of me did indeed turn around without reaching the top, which didn't really surprise me as I could see from the body language of the girl that she wasn't happy even further down the mountain. The older couple who had passed me in the forest came down just behind them, they had been to the top and assured me it was fine as long as I hold on tight and not look down 😀 So here we go!!
The route was extremely well marked, with lots of red dots and arrows, to make sure you don't go the wrong way. The ridge has steep drops on both side, and I did have to climb with hands and feet on two occasions, but never with a drop right below me, and I never felt unsafe. I don't have a fear of heights, that helps. I was pleased to find out that this wasn't any problem for me. I'm enough of a chicken on slippery surfaces (snow, ice – especially on ski's), good to know I cope better in summer. The rock formations were really impressive, and I have to say I actually really enjoyed myself 🙂
A few more twists and turns, and I was on the top! I did it 😀
The view is spectacular, and it's fun to see Tromsø from a new angle (you're almost directly south of Tromsø here). There's only just enough room for the cairn on top, I made sure I didn't sit too close to the drop on the other side 😉

Maaike had recommended the alternative route down, which was longer and less steep. I hesitated a bit, as I actually liked the rocks a lot, and according to the couple I spoke to, it was easier coming down. I was also tempted to continue up Middagstinden, further up the same ridge, but I wasn't sure how many obstacles there were to climb along the ridge. It looked easy except for one steep bit. I haven't actually found any information about continuing, only about climbing Middagstinden on ski's without going to Bakaromntinden first. Anyway, I made my decision and took the alternative route back.
For much of the way, I couldn't find any path, but it was quite obvious where to go in the terrain. Still, I was relieved when I finally did stumble upon the path – much easier going. The route was long and flat, and unfortunately in the (cold) shade, but it did have pretty views 🙂 and sheep! And I'm sure my knees are grateful for not having to climb down the very steep ridge 😉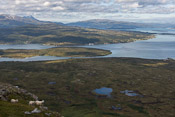 For those interested, here is a map of my route, and a height profile. I reached the top in 3 hours (which is fast for me, but slow for Norwegians :P), and with the longer distance of the alternative route, the way down took only slightly less time. Total time: 6 hours. Not bad!
And now, whenever I look south from Telegrafbukta (as I so often do), I can say: I stood on top of that mountain! 🙂