The return of the Lights
The return of the Lights
The northern lights are back! Well actually they have been back for a couple of weeks, but I didn't get to see them yet. I saw some weak northern lights 2 days ago, which turned out to be "deep-sky auroras". I didn't take any photos, but someone else did – see Fredrik Broms's photos here.
Last night I missed a great show, but tonight I finally got lucky. I was working a late shift when the northern lights appeared. They were very strong while I was driving home, so I ran inside the house just to grab my camera and tripod and drove to Telegrafbukta to get some photos. Of course the lights had almost disappeared by then 😉 but I waited patiently and they came back. This is a great time of the year to watch them. It's beautiful when the sky still has some light in them, and with temperatures over 10 degrees it's comfortable outside – no need for gloves 😀
These are the first northern light photos taken with my new camera – I recently replaced my Canon EOS 350D with the EOS 600D – and I am very pleased with it. I also took a photo of the starry sky to the south. With an exposure time of 1 minute, the stars start to show as small trails.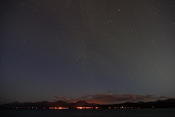 I have to be back at work by 8 tomorrow morning, so I better get some sleep now 🙂