Visitors in September
Visitors in September
For the third year in a row, I had visitors coming early in September – and for the third year in a row they were incredibly lucky with the weather! Two years ago, Gert-Jan and Célia were here, and last year my brother and his girlfriend came for a visit. Last week, my uncle Joop came with his friend Pieter. We had sunny and very mild (up to 18 degrees Celsius!) weather almost every day.
On their first day here, we walked to the city centre. It was sunny and warm, but very windy at times. We wanted to have a coffee outside, but we had to choose our place wisely, or the coffee would have blown out of the cups 😉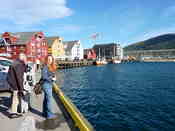 We visited the Polar Museum, my favourite museum in town. Joop and Pieter enjoyed it too 🙂
The next day we drove to Sommarøy. It was still very windy in Tromsø, and we hardly wanted to get out of the car when we stopped at Håkøya. But at Sommarøy there was hardly any wind at all, and the reflections in the water were beautiful. We had lunch at the cafe there, then walked around a bit to look at some big fishing boats. Unfortunately it started to rain quite heavily, so we drove back to Tromsø.
Friday was their last day in Tromsø, as they were taking the Hurtigruten south to Trondheim that evening. It was another sunny day, so we decided to take the cable car up and walk around the top for a bit. Beautiful views!
Of course I took another panorama 😉 I have many of these now, but I still think it looks different every time!

Joop and Pieter were hoping to see the northern lights, but so far we hadn't been very lucky. It was either cloudy, or there was no activity. On Friday night though, all the forecasts were showing enormous activity, there was a geomagnetic storm going on! AND apart from some high clouds, it was clear! We soon decided to head to the jetty at Telegrafbukta and hope for the best. Thanks to the quick communication through Facebook, Eelke and Roy were there too 🙂 And not much later, my colleague Nick arrived.  The more, the merrier – especially when you have to wait!
It took a while, but finally our patience was rewarded… slowly a few green beams were appearing, and after a while it got more active.
The moon was almost full, but it wasn't disturbing the show at all. The lights weren't always very bright, but they were very active, often all over the sky. In our photos, we could also see that there was a green glow all over the southern horizon – so they must have been visible much further south than usual. The solar activity is reaching its maximum soon, to be expected in 2012/2013. This season is going to be great 🙂
At times we didn't know where to look, and we were spinning around in order not to miss anything. It was even active right overhead!
Sometimes all we could see was one beam near the horizon, but the activity would always come back. We were watching for about 1.5 hours!
After midnight, the activity started decreasing, and it was also time for Joop and Pieter to go to the Hurtigruten for their journey south. Luckily, we had already put their luggage in the car, so we could drive straight from Telegrafbukta to the city centre. I was so happy that they were able to see the northern lights – and not just a little bit, they got an amazing show!
For more northern light photos of that evening: click here for Eelke & Roy's photos, and here for Nick's.