The Oregon Coast
The Oregon Coast
I spent two fantastic weeks in the USA earlier this month! My main reason for going there was the wedding of Nicole and Patrick in Seattle on the 14th of August. Unfortunately, Paul wasn't able to come, as it was too close to his annual research cruise. Never mind, I wasn't going to miss this opportunity! I got there almost a week before the wedding, so I decided to go on a little road trip by myself. It wasn't hard to decide where to go, as I had always dreamt of visiting the wild coast of Oregon. Run an image search on google, and I think you'll understand why!
To get there, I took the train from Seattle to Eugene in Oregon, a 6.5 hrs journey. It was a great way to travel, I really enjoyed watching the landscapes roll by from my comfy chair. I spent one night in Eugene, then picked up a rental car and pretty much drove straight to the coast. Florence was my first stop, I stopped to browse the old town and admire the views along the river – I even saw 2 seals. The area south of Florence is covered by the Oregon Dunes National Recreational Area – quite impressive dunes that at times even spill over the highway.
And here I finally reached what I had come for: the beach!! I went for a nice walk. It was a warm sunny day, but the water was surprisingly cold.
I continued south along the coast, and had a quick stop in Reedsport for some food, and a visit to the Umpqua Discovery Center. This was a kind of museum on the natural and cultural history of the area, illustrated by amazing wall-to-ceiling painted murals. Afterwards, I continued to Bandon, where I had booked a room at the Bandon Beach Motel. The hotel wasn't anything special, but the VIEW… I could actually see the view in the lower left image from my room 😀 I was so excited, and it was getting close to sunset so I took my camera bag and went for a walk. And took lots and LOTS of photos 🙂 It was just so beautiful!
The light was getting very soft around sunset, and there always seems to be some spray/mist hanging on the horizon.
Finally the sun disappeared behind the stacks – that's the official name for these rocks on the beach.
After that, the light turned even prettier and I took lots of photos of the wild waves and the gulls along the shore.
And this little plane flying near the moon 🙂 and more gulls!
Later I climbed back up the cliffs to watch the last part of the sunset. The colours turned very intense, it was just incredible. What a day!
The next morning I got up at 06:30 to catch sunrise… but it turned out to be a foggy morning! Not that surprising, this part of the coast is known for being quite foggy. I actually liked it, it was a very special atmosphere. I was on the beach very early, but there were a couple of other photographers around too 😀 plus some very keen joggers.
It was low tide, and you could now actually walk around the stacks. At the bottom, you could see lots of brightly coloured starfish, sea anemones, mussels, barnacles… fascinating!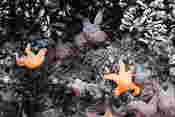 It was very special to walk around those stacks early in the morning in deep fog. Everything was so quiet… it was almost surreal. You feel like you might be sleepwalking or something 😀
Here I climbed back on the cliff, and walked back to the hotel along the top.
This was the hotel I stayed in, I had an upstairs room with balcony. Not that I spent much time there! The second photo is taken a bit later, when the fog started clearing and the sun came out again. I took that photo from the hotel room, have you ever had such a good view??
As the fog cleared, it turned into another beautiful sunny day. I continued my way south along U.S . Highway 101, stopping about every mile 😉 I went for many short walks along the beach, wishing I was there for a couple of weeks instead of 2 days!
I took a short sidetrip to Cape Blanco Lighthouse, but it was extremely windy there, so I didn't stay very long. Lots of people were flying model planes there which was fun to watch 🙂
And the good views just kept coming…  it was unbelievable! I walked some short stretches of the Oregon Coast Trail, which follows the coast for 684 km  – I'm sure it would be an amazing experience to hike the entire length.
The road almost goes ON the beach at times… and there are many parking places so it was hard for me to make any progress 😉
I was surprised to see lots of sweet pea (my favourite flower!) next to the road, though I guess this is a wild version. So pretty…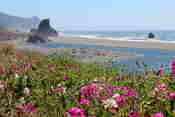 I visited Cape Sebastian, which gives you a high view point over the coast and the highway. Spectacular!
A bit further along I found these sand dunes on the beach. I have never seen them like this! A bit like I imagine the Sahara to look like, with these dunes shaped by the wind. You could actually see them change, would be fun to watch when the wind changes direction! They were bigger than they looked like in the photo, in the enlarged version you can see some footsteps and get an idea of the size.
Another pretty beach… and some cute little birds!
One of my last stops was at Whalehead Beach. You can see where it got its name from! It was a lovely place 🙂
This photo is taken near Brookings. I was planning to stay at the coast for sunset, but it was getting cloudy and I was quite tired. I still had quite a way to drive, as I had to get to Grants Pass in order to catch a plane from Medford the next morning – I had to make it back in time for Nicoles bachelorette party 😀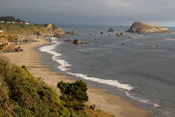 I had to drive through California to get to Grants Pass. At the border between Oregon and California, all cars are stopped and checked for fruit! The drive to Grants Pass was a windy road through the hills and forest, quite beautiful, but tiring to drive. I arrived at my hotel at Grants Pass just after 22:00, completely exhausted.
I thoroughly enjoyed my road trip along the coast of Oregon – I had been dreaming of visiting this area for many years, and it was even more beautiful than I imagined! I hope I can come back with Paul one day and spend more time there 🙂 But this was just the first part of my trip to the USA… stay tuned for many more photos!