Midnight Sun Marathon 2011: Adidas Mila
Midnight Sun Marathon 2011: Adidas Mila
With my irregular shifts, it's quite hard to work out regularly, unless you like going to the gym – which I don't. And even the gym isn't open in the middle of the night 😉 I really wanted to get in a better shape though… so in the end, I decided to try running. And that same day (in early February), I entered myself for the "Adidas Mila" (a Norwegian mila (mile) is 10 km) during the Midnight Sun Marathon on 25 June. I thought it would be good to have a goal!
I had a podcast series on mp3 with music and instructions, at the end of 27 lessons the aim was to run for 30 minutes. The only thing I needed was a good pair of running shoes with spikes, which are easy to find in Tromsø. At first the running intervals were 2-3 minutes, which was quite a challenge for me then! I remember how proud I was when I first ran for 5 minutes 🙂 I ran about 3 times a week, even when I was in Oslo for work. There were times when it was tough and I came home after each lesson extremely exhausted, thinking about quitting.. but fortunately things always got better after a while. At some point I bought a gps watch so I could keep track of distances and speed, which made it more fun for a geek like me :D. At the end of April I finished series 1, and was able to run for 30 minutes. I was quite slow though, running slightly less than 4km in 30 minutes while the podcast aimed for 5.
I started series 2 in May, another 27 lessons to get you from 5 to 10 km. I got about halfway through this series when the 10 km run was already approaching… so one afternoon last week I decided to just try and run 10km, to see if I was able to do it. I was! I wasn't very fast, but I didn't need to walk and I felt quite fine. Ready for the race!
The Adidas Mila started at 19:00, so I had to "wait around" all day, which was hard – it made me nervous. Here I am at the start, quite anxious…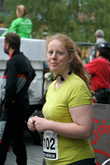 There were two firebreathers providing entertainment at the start, but as I was standing quite far back I didn't see any of this! All I noticed was some flame at some point and wondered what was going on. Good thing Paul took these great photos 🙂
And off we went! I've been running on my own all these months, and it was strange to run among so many people now. I found it quite tough to keep my own pace and ignore all the others. After about 2 km, it got calmer and I was running with the same group of people for the rest of the race. It was great to reach the halfway point, have a sip of water and know I was on my way back! I was running faster than I normally do, and this got me in trouble eventually – I had to walk a few times to catch my breath. The supporters along the way were great though, cheering you on and making you smile :).
The last km seemed the longest one, but having the finish in sight helped a lot. I also managed to beat my time from earlier this week, and finished in 1h12min30sec. Not bad!! I'm very proud of what I achieved in those 5 months of running… where at first 3 minutes of running were an eternity, and here I am running for more than an hour :). I am still a very slow runner (I finished 476 out of the 524 female runners…) but hopefully that will improve with time. Running is quite addictive, and I won't stop here!
What's next? There's a Polar Night Half Marathon in early January, and Paul suggested I could run the half marathon by then… and that he might join me 🙂 Hmm, I don't know yet. It's a great goal to work towards, but it requires a lot of training and I definitely have to become a bit faster. It's still more than 6 months away though, so perhaps it's doable? We'll see! I might give it a go 🙂 There's also a 10km race during that event, so if it doesn't work out I'll enter that one.
Either way, I found a new hobby 🙂 I love the freedom of being able to work out whenever, wherever. I've run on snow under the northern lights, at 1 in the morning in the midnight sun, in Tromsø, in Oslo, in Helsinki… and enjoying my new level of fitness 🙂