For the past week, this is what the weather looked like… (and although these photos look black & white, they aren't – it really was that grey!). It rained a lot, and the rain was heavy – the kind of weather where I'd rather sit inside with a cup of tea than to even *think* of going outside. These photos were taken on Paul's birthday (last Saturday). We wanted to get out for a bit after having been inside a lot. I came to regret it, as I fell on the beach bruising my legs and my arm, just after taking the second photo – the wet rocks were so slippery!
It was extra frustrating for Paul, as the boat that he bought had been delivered just before that weekend and he was keen to try it out. However, we thought it was important to have good weather conditions at the first try, so we waited for better weather to come…
The boat is an inflatable zodiac-type boat. You can read all about it on its very own website :D. We have named it Drijfsijs, which is Amsterdam slang for any bird that floats on the water (mostly used for sea gulls and ducks, but even swans would qualify 😉 ).
Finally, on Thursday the rain stopped and the clouds disappeared. More rain was expected the day after, so we decided we shouldn't waste the opportunity! We drove to a nearby launching point that Paul had spotted. It's not an official boat ramp, but it's a nice beach with a parking lot very nearby, and out of the way of the "crowds" at Telegrafbukta – perfect. While Paul pumped up the boat (it only took him 15 minutes!), I was taking photos of the flowers (good deal 😉 ) and the green grass, quite overwhelmed by how colourful the world suddenly had become 😀
The engine is new and that means you have to start using it slowly. The first 15 minutes it had to go as slow as possible. No problem in this nice sunny weather 🙂
Our original plans for the evening were a dinner in town with Nicolas, so we called him to ask if he wanted to come for a boat trip instead. He was quite keen, and so we picked him up from the jetty at Telegrafbukta (the one in the very first photo). The tide was low and the ladder didn't quite reach down to the waterlevel, so he needed to do some gymnastics before getting into the boat 😀 Below is a map showing our route, we aimed for the island of Grindøya, less than 2 km away.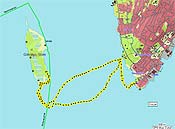 By now we could use the engine up to half throttle so we could go a bit faster. It took us about half an hour to reach the island. Of course, on such a nice evening, we weren't the only ones there – there was another zodiac and 2 kayaks.
It's a beautiful place, we had a bbq on the rocks overlooking the sandy beach and enjoyed the views of the mountains around us. A great evening! We also explored Grindøya on foot a bit, although we couldn't go very far as most of the island is closed off at this time of year, to protect the nesting birds.
After our walk, we left the island and dropped Nicolas off at the jetty. By now, the tide had come up and the stairs were a bit easier to get to ;). When we got back to the launching place, I was a bit too keen to get out of the water and discovered I should get higher wellies – I managed to step into slightly too deep water 😐 COLD!!!
It was a fun first trip, and I'm looking forward to the many more adventures we'll have with our boat!