Russia trip part 2: Murmansk
Russia trip part 2: Murmansk
It took a while, but finally part 2 of our trip to Russia – with LOTS of photos!
From Kirkenes we drove to the Russian border. Nobody asked us any questions at the border, Steve had to fill in some forms as the owner of the car, but otherwise it wasn't much of a hassle. After about 20 minutes, we were in Russia! Here is a map of our route to Murmansk. The normal route from Kirkenes to Murmansk follows the road further north, and passes through several towns. Some of those are closed, but we were hoping to visit some others. However, we ended up on a different route, for mysterious reasons and to our own confusion. But more about that later…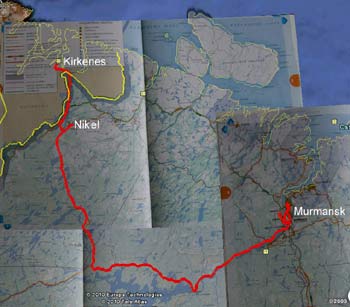 The first part of the drive is through the border zone, where you are not allowed to take photos or even stop the car except in an emergency. After a while, we reached Nikel. You pass a huge sign with the name of the town when you enter, something every Russian town seems to have. The main reason for existence of Nikel is a big nickel smelter (which makes it quite a polluted town). The photo on the right is part of this smelter.
We got some money out of an ATM in Nikel and walked around for a bit. The town looks like it was once quite nice, but now all the paint is peeling off and the buildings look like they could use some maintenance 😉
I found this music video that was filmed in Nikel quite recently. I love the song, and the video is beautifully made!
After leaving Nickel, we followed signs to Murmansk. We had to go through a passport control at the start of this road, but then we were on our way. I had my gps on and started to wonder what was going on, as we kept driving south instead of east. Somehow we ended up on a different road to Murmansk, one that didn't get much traffic at all – and from the condition of the road it looked like not many snowploughs had passed either! We started to worry a bit, until we saw a snowplough coming from the opposite direction. We flagged him down and asked if the road was going to Murmansk, which he confirmed. So we decided to keep going. The road was really going through the middle of nowhere, we hardly saw any buildings or other cars. We had to drive quite slowly because of the bad conditions, so it took a long time before we reached a bigger road which took us east to Murmansk. In total it was about 300 km from Kirkenes to Murmansk. Below is an example of the road we took, if it wasn't for the trees you wouldn't know where the road was! The other photo is our hotel in Murmansk.
We arrived quite late, and only had time to go for dinner. The next day it was time to explore! This is the logo for Murmansk; northern lights, a ship and an exceptionally big fish :D. You also find signs of the USSR and Lenin everywhere.
From the hotel, we walked to the train station, the mint coloured building in the picture below. It was quite busy there, lots of people carrying skis were just getting off a train. The other photo is taken by Steve, it's a decorated pedestrian tunnel near the station. Paul was amazed that the people in Russia actually do wear fur hats quite a lot!
We crossed the railway tracks using a pedestrian bridge, which gave a good view of all the trains parked there. So many! Lots of them filled with coal.
At the waterside, we found a ship called NS Lenin – it's the first nuclear icebreaker ever built. It's big! Paul and Steve walked up to the guard and managed to understand that the ship was not open for visitors today, but would be tomorrow at 12. We decided to come back the next day, as it would be great to see the ship from the inside!
Near the ship were fences full of locks… it is apparently a tradition to come to a place like this on your wedding day and attach a lock to the fence. Most have names and dates written on them, either just with nail polish or something, or inscribed. Quite impressive to see so many!
This photo is taken at the same place, the building is a kind of harbour office I believe.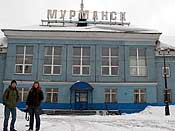 We tried to follow the waterfront, but often were stopped by a barrier. There was lots of industry there and lots of these areas were closed off unless you worked there. In the end we did what seemed quite normal here: we walked along the train tracks. In this area we also found some colourful wooden buildings. And this mural at a petrol station 😀
There is a very large statue of a soldier on a hill overlooking Murmansk, and we thought we might be able to climb this hill from the waterfront, even though the main access is from the other side. We found some stairs going up the hill and walked up, passing a group of people who were using a well to fill up jerry cans with water. A bit further up we saw many wooden buildings which looked quite nice. When passing one of them, a guy called out to us. Apparently the road we were following was going nowhere. W
hen he found out we were foreign, he invited us inside for a coffee. It was quite an interesting visit! It turned out to be a dacha – a kind of summer house. He didn't live there permanently (he said he lived only 500 m away, in the city) and was still renovating it. He was there with 2 young children. He showed us lots of photos of his family and friends. He had worked on a fishing boat in Norway for a while and learnt some English. When we left, we had to take some photos as he wanted a souvenir 🙂
We decided to walk back to the hotel and drive to the soldier instead. There were lots of dachas in this area, they looked quite nice. I don't really understand why people don't live there permanently instead of in the large apartment blocks but I guess there is a reason for that. We also found this abandoned van. These vans are common in Russia – they look like a Russian version of the VW camper van 🙂
Just a picture of some art on a building wall. Most of the art you find is related to ships. I love the aurora in this one!

On the main square, there was a big heart made out of ice. It looks like some people attached scarves to the bottom of it, no idea why. Two giggly girls kept jumping up, reaching for something… turns out there were coins frozen into the ice, and they were trying to get one out 😀
By mid afternoon, we had done a lot of walking – time for a break! We passed this huge bakery/cafe, with lots of choice. Lots of cakes 🙂 I chose a banana chocolate one (no surprise there) and ordered a hot chocolate to go with it. The hot chocolate was more like chocolate sauce, very thick – but very nice 🙂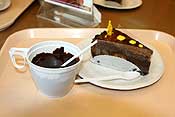 After walking back to the hotel, we drove to the soldier up on the hill. He's called Alosha and symbolises the unknown soldier. The statue is more than 30 m high and really quite impressive. You can see how small the people are next to him…
It seems quite a popular place for people to visit. There is a flame in front of it, and people try to throw coins into the flame…
The soldier is placed on top of a hill overlooking the city, so the view from there is quite good. Very impressive to see the city and all the industry from up there, while hearing all the sounds from the trains and the cranes.
Here is a panorama of the view…

LOTS and LOTS of cranes in the harbour…
On the way back we stopped at a nice church. There was a service going on, so we didn't stay very long. Next to the church is this memorial to people who died at sea in the Arctic.
In the evening we went for dinner at a place recommended by the girl behind the reception at our hotel. It was quite a funky and modern restaurant. Most restaurants we went to in Russia seem to serve everything from sushi to pasta to pizza to meat dishes, whatever you prefer. The deserts in this place were really nice, I had a fruit spring roll and it was GOOD. Pity we didn't get a photo of the hostess of the restaurant – she was wearing a pink silk catsuit and very high heels…
Afterwards we went to a cafe for some coffee/tea. Pity I had eaten so much, cause here they had even more amazing cakes and deserts!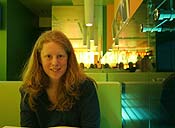 Back at the hotel, Paul took some photos of the apartment block behind it. The first one was taken earlier in the day when it was still light. This photo is inspired by a photo we saw in an exhibition about Murmansk in a museum in Tromsø which in turn inspired us to come there!
The next day we checked out of the hotel and drove to the ship. There were lots of people around now, and even a few touring buses! At 12, a tour started and we joined. It was all in Russian and we didn't understand any of it, but it was nice to walk around the ship anyway. This ship was used between 1959 and 1989 as this mural was showing…
Of course Lenin was everywhere…
We got to see the engine room and the control room:
With a lot of buttons 😉 the second photo is the nuclear reactor, which you could see through a very small window.
Then we visited the bridge, which had very small windows, and lots of phones!
This map shows some of the routes the ship took.
Steve as captain of the ship 🙂 Notice how the captain did not have a chair, just something to lean against.

After our tour of the ship, we left Murmansk and drove south to our next destination: Kandalaksja. But that will have to wait until next time!
(Link to Part I: Tromsø to Kirkenes and to Part 3: Kandalaksja & Rovaniemi)