Russia trip part 1: Tromsø to Kirkenes
Russia trip part 1: Tromsø to Kirkenes
During Easter break we went on a road trip to Russia with Stephen. Paul has been curious to visit Murmansk for a long time, and one late evening (with the help of a few gin & tonics) the plan to drive to Russia was born. We used a tourist office in Kirkenes (Pasvikturist) who arranged the visa plus the required hotel booking in Murmansk (you have to be "invited" by the hotel in order to apply for a visa). We spent a few evenings looking at maps to decide on a route (where one day of driving was decided by the length of 1 spoon!) and booked all our accommodations on the way.
I will post the photos/stories of this trip in several parts, as it would be way too long for one blog entry! This first part will cover our trip from Tromsø to Kirkenes, where we picked up our visa before crossing the border into Russia.
Below is a map of the route we took (click to see a larger version). From Tromsø to Kirkenes you can either follow the road along the coast until Alta, or drive inland all the way (partly through Finland). We chose the inland route as it's slightly faster and we were curious to visit some towns in that part. We took a bit more than 2 days to reach Kirkenes: we spent our first night near Karasjok, and the second in Finland about 80 km before reaching Kirkenes. In total the route is about 800 km.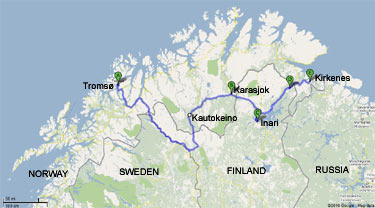 We left on a sunny Saturday morning – with beautiful reflections in the fjords 🙂 Paul was trying to get a better photo by climbing on the road barrier. He looks very small, but in fact it's just that there's so much snow on top of the barrier! This often means you don't have much of a view from the car…
We arrived in Kautokeino early in the evening. I was very curious to see this area of Norway, called "Finnmarksvidda" or Finnmark plateau. I write forecasts for this area but have never been there! This is real "Sami land", a high plateau of rolling hills where not many people live – ideal for reindeer herding! At Easter, there is a big Sami festival in Kautokeino but we were there a week too early. Instead, we visited Juhl's silver gallery – a fantastic art gallery/shop! Unfortunately we arrived there 17:45 while they were closing at 18:00 but we still had some time to browse around. They have a silver workshop but they also sell lots of glass and other items.
It's an incredible building, you go from one surprise to another. Suddenly you find chickens, or you look into the eyes of a sheep while browsing some glass items…
There was a ceiling full of mirrors – find my reflection in the photo below 🙂 The architecture of the building was really nice as well, with lots of sloping ceilings and unusual corners.
It was located a little out of town up on a hill and from the large glass windows you could overlook Kautokeino. Beautiful!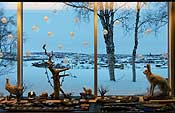 Probably it was best for my wallet that they were closing, I only bought some beautiful small glass Easter eggs. The prices were very reasonable though, and they had so many beautiful things. If you're ever close to Kautokeino, I'd really recommend a visit – and do allow a bit more time than we did!
It takes just under 2 hours to drive from Kautokeino to Karasjok, but I wished it lasted longer. It was such a magical landscape, blueish in the last light of the day combined with the light of the moon. We saw many reindeer. My favourite moment was seeing a large herd of reindeer crossing single file over a frozen lake… Unfortunately we didn't get a photo of that, but we did take some photos of a group crossing the road.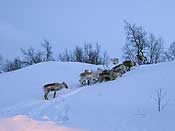 We had called ahead to our accommodation to ask if we could have dinner there. We arrived in the dark, a bit unsure about where to go, when the door of a large cabin opened and a girl came out to tell us dinner was ready, and that she would show us our cabin so we could drop our stuff. What a warm welcome 🙂 We were staying at a husky farm called Engholm. The owner built and designed all cabins himself, and he's so creative! Almost everything is made out of wood in a beautiful and very original way. Below you can see our cabin from the outside and from the inside 🙂 It was really nice and cosy – we all wished we could have stayed more than just one night!
The next morning after breakfast we walked around the farm. Wood, wood, wood 🙂
Of course we went to say hello to the dogs! Each has their own little house 🙂
They are really friendly, and some have amazing blue eyes. They love to get some attention 🙂
There was a group of Germans about to leave for a multi day ski trip. Sven (the owner) would join them by dogsled so he could prepare their camp before they got there. We watched the team getting the sled ready.
And off he went! I actually had to jump out of the way after taking this picture, or I would have been run over by a dog sled 😉
Such a great place, we were sorry to leave. They organize many multiple day dogsled trips, and we are considering coming back to join one of these trips.
The husky farm is about 6 km from Karasjok so that was our first stop for the day. It was Palm Sunday though, and everything was closed. We went for a walk on the frozen river for a bit.

And visited this little church. From the outside only, it didn't seem to be in use. I loved this colourful house overlooking the river…
After our short stop in Karasjok, we drove on to Inari in Finland. This was the only "major" place on our way to our accommodation. It's a very small town, but it has a really good museum: Siida, the Sami museum. I was most impressed by their large permanent exhibition about the seasons in northern Scandinavia. It explained how plants and animals adapt to the long cold winter and the short summer, how they find food when everything is covered by snow, etc. Really interesting, and all illustrated with beautiful photographs. We spent a couple of hours there, without noticing how time was flying until somebody came to tell us they were now closed!
We drove along the huge lake of Inarijarvi for a while, until we reached our accommodation near the border with Norway ("D" on the map). Not quite as impressive as our first night, but that was hard to beat! We had a nice meal there and as we were in Finland, of course they had a sauna 🙂 The other people staying there were all on snowscooter trips.
The next day was Monday and we had a short drive to Kirkenes where we picked up our passports with Russian visa. We didn't stay there very long, as we were eager to cross the border now that we were so close 🙂
Link to Part 2: Murmansk and to Part 3: Kandalaksja & Rovaniemi