Ice Crystals
Ice Crystals
Last Saturday we went for a trip with Sevim (who's now my colleague!) to enjoy the last bit of sunshine. Although the sun will still come above the horizon next weekend, it won't come above the mountains… The weather was still looking very nice, so we set out to climb Rødtinden on Kvaløya. We were quite slow, as we were fascinated by the beautiful ice crystals everywhere! We kept taking pictures 🙂
They come in so many different shapes, and some were very large. I really regretted not bringing my macro lens on this trip!!
Sometimes we found patches of what looked like snow, but in close up turned out to be a huge pile of ice crystals! We almost forgot to enjoy the view 😉 It was a beautiful day, here is Tromsdalstinden in the last light of the day…
When the sun disappeared behind the mountain, we decided to abandon our plan to reach the top, and turn around. A large part of the mountain was like a swamp turned into a skating rink (but with some steep slopes!) and we didn't fancy finding our way through that in the dark. At the bottom of the slope, we followed this beautiful river that was all frozen over…
One last photo taken just before we got back to the car. It was a great walk, and I am glad we enjoyed the last bit of sunshine!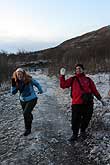 I started at my new job today, it went well. I am quite tired now, speaking and listening to Norwegian all day requires so much concentration for me. But it's going well, and I'm really enjoying it!