Frosty Tromsø
Frosty Tromsø
We came back to Tromsø last night. Today we walked to the south tip of the island (Telegrafbukta) to watch the sunset. We almost missed it – at 12:30 we just saw the last glimpse of sunlight before it disappeared behind the mountains! The weather is cold and clear, and everything is covered in white frost. We walked along the coast for a while, enjoying the beautiful views…
We walked on the jetty seen in the pictures above. I took a photo of these bird footprints. For a sense of scale, click here and remember that Paul has big feet 😉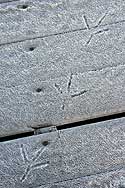 Everything is covered with thick frost, like this branch that Paul held against the sunset so I could take a photo. The Tromsø palms (or giant hogweed) are now like skeletons, they are quite pretty against the winter sky.
We walked to this beautiful old boathouse, with grass growing on the roof…
After 1.5 hours in the cold, we were more than ready for a hot chocolate at home 🙂 It's great to be back!
This blog might go a bit quiet, I just found out today that Monday is my first day at my new job!! I have to be there at 8 in the morning too, I'll have to get used to early mornings again…