Kat Flint is one of my favourite singers/songwriters. I first saw her at a Cara Dillon gig in Norwich (she was the support act but I thought she was better than the main act!). This is her at that gig: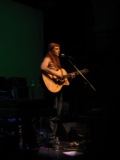 I have seen her perform two more times since then, both times in London (once at an open air concert in a park!). The gigs are really nice and often small and cosy, which means I actually got to talk to her – she's really nice!
I supported her with some money when she decided to produce an album without a record company, and in return I got the album with a really nice handmade cover. It's one of my favourite cd's and I listen to it a LOT 🙂 Her first cd used to be in my alarm clock and I'd listen to it every morning!
Anyway, she now has her first official single out! With a video to… This is the video of her song "Go Faster Stripes". Hope you like it as much as I do!
[youtube=http://www.youtube.com/watch?v=N5bQZuv6vhk]
I could have actually been in this video… would have loved to! Unfortunately it was filmed in the weekend that I spent working to prepare for a meeting 🙁