First week (and a bit) in Tromsø
First week (and a bit) in Tromsø
Hello!
Sorry for my lack of updates recently, December was extremely busy! We've been in Tromsø for more than a week now. We spent the first two nights in a hotel. These photos were taken on New Year's Eve. The sun doesn't come above the horizon but there are still some hours of twilight with very beautiful light:
At night we took the cable car up the mountain to watch the fireworks over Tromsø island. It was very busy, in fact we were very lucky to get into the last cable car up, everybody in the queue behind us was sent home! They also lit fireworks from the top, it was very pretty!
And as if all that wasn't enough, the northern lights were visible too! The photo on the right is a new year's card I've made out of a photo we took up there.
We moved into the new flat on the 1st of January, it's a really nice place! Paul started working on the 2nd, so I've been working from home as well. This is the view from the (covered) balcony in the morning: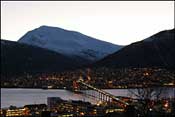 Very amazing! Last weekend we had time to explore a bit, and we discovered a frozen lake on top of the island, not far from our flat. There were people skating and playing ice hockey. I haven't skated in so long!! I've immediately asked my parents to send my skates here, I can't wait to try them 🙂 These are some photos we took at the lake:
At night the northern lights were visible again, and this time they were very active and really impressive! We decided to go back to the lake to take photos from there. Unfortunately they almost disappeared by the time we got there so we didn't get any photos of the very impressive part of the show. It was still beautiful though! And quite special to be out on a frozen lake in the dark with nobody else around…
On Sunday we saw clouds for the first time, and that really shows how the days are really one long sunrise/sunset here! The colors were just amazing:
This morning when we woke up it was snowing like crazy! And it kept on snowing all day, so in no time we had a LOT of snow, very exciting! I went for a walk to town and took some photos. It takes only about 15 minutes to get there, downhill on the way so it takes a bit longer to come back as the hill is quite steep! In the first photo you can see our flat, if you enlarge it I have put an arrow pointing at our balcony.
With and without flash – as you can see it was snowing heavily! I came back as a real snowman 😉
This is just around the corner from the flat, there is actually a skeleton in the window of the little hexagonal hut – it scared me the first time I walked past!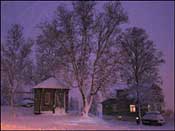 Ok, now you have an impression of our first week in Tromsø! I'm really enjoying it here. I'll be here for another two weeks, then I have to be in Norwich for a bit. More soon!