December update
December update
Hello!
Wow it's been a long time since I wrote anything here. It's been a very busy time! There's so much to do to prepare for the move to Norway, and of course I also have to work! I've had a few important meetings in a row, even worked through some weekends… I'm looking forward to Christmas!
Here are some of the highlights of December so far…
I went home (to the Netherlands) in the first weekend of December, for Sinterklaas! It was fantastic, we had 13 people participating and a huge amount of presents, "surprises" and poems. I've laughed so much, it really was an amazing evening with my family. Too bad Paul couldn't make it this year, as he was preparing for his viva.
Here some photos of this evening:
Kaya with her Nijntje and my sister with her look-a-like 😉
My brother with his new guitar and my dad and Anneke showing him how to play it!
Paul & Kaya, and the "thumbs up" photo – my brother was annoying me by constantly putting his thumb up when I was taking a photo! He soon got everyone to join in, great 😉
Joop & Anneke, and everyone watching the hilarious quiz that my brother had to take
The best surprise of the night: Kaya made this portrait of the whole family for Jan, it's really great!! She also wrote a poem that describes every member of the family in a funny way.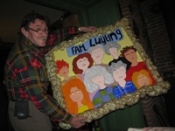 It was really nice to be at home, even if it was just for a short weekend!
Back in Norwich, I also had a dinner (and secret Santa!) with some very dear girlfriends 🙂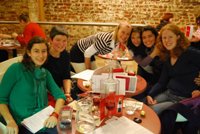 Last Monday I went to a Christmas (folk) concert of Kate Rusby with Paul, Nem and Colin. It was amazing, I just love her voice and her music. I've been to three of her concerts now 🙂
Some good news, "we" (Paul!) have found a flat in Tromsø! It's pretty big and fully furnished. It's only for 6 months, but that's fine. It'll be easier to find something from there, it was quite difficult from here! The view from the balcony looks amazing 🙂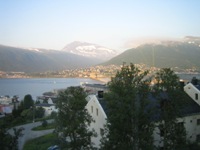 We're going there on the 30th, I'll come back sometime in January but not sure when yet. Exciting!
Ok that's all, I still have some work to finish tonight!
Hanneke