Fireworks at the Lord Mayor Celebrations
Fireworks at the Lord Mayor Celebrations
These photos are taken last Saturday, at the fireworks show at the Castle… The show only took 10 minutes, but it was spectacular!
People waiting for the fireworks to start…
And there they were…
Finally a photo of me taking pictures of the fireworks 😉 And in the other one you can see the smoke after the fireworks had finished. This is a long exposure and turned out quite nice!
We also walked over the fun fair in Chapelfield Gardens. I took those photos of the swing…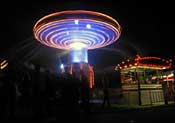 That's all 🙂 Scroll down for more photos of that day, taken at the parade.
This week was a bit of holiday for me. Paul's mum came to visit and we went to see Holkham Hall and Holkham Beach yesterday. Today we walked around the Norwich, and as the weather was (finally!) really nice, I got some very nice photos. I will post some of those next week.
Have a good weekend!
Hanneke